MGM Resorts Releases Audio of Jesus Campos Reporting 'Shots Fired,' Company Scrutinized for Potential Witness Tampering
Posted on: October 30, 2017, 09:08h.
Last updated on: October 30, 2017, 09:12h.
MGM Resorts has finally released the audio recording of Mandalay Bay security guard Jesus Campos reporting that shots had been fired from the 32nd floor on the night of October 1, when Stephen Paddock killed 58 people attending the Route 91 Harvest country music festival below.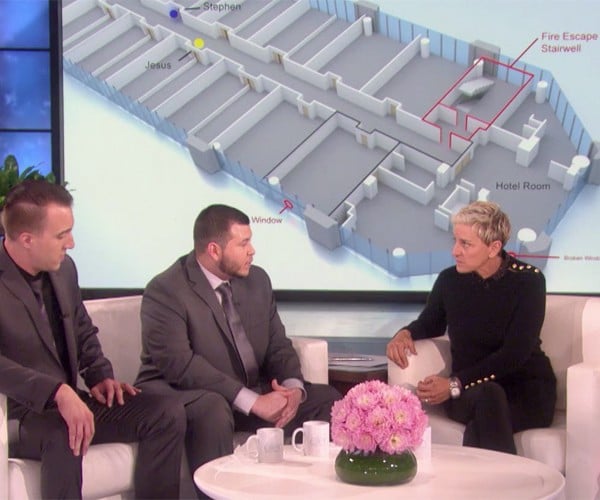 The unarmed Campos was the first to arrive outside Paddock's hotel suite. Gunshots sprayed through the door upon his appearance in the hallway, striking him once in the leg. He took cover in a set back door frame, and directed a Mandalay Bay engineer to do the same when the latter responded to fix a lodged security stairway door that Paddock had purposely blocked.
In the 24-second released audio clip, Campos can be heard reporting, "Hey, there are shots fired in 32135." Campos' voice is surprisingly calm, almost as if he's calling in the most mundane of security breaches.
It's been 30 days since the 58 concert attendees lost their lives, but investigators and FBI profilers have been unable to pinpoint a motive for the mass shooting as of yet. Paddock took his own life after firing out his hotel suite windows for 10 minutes straight.
Critical Masses
Along with issuing the audio recording, MGM Resorts confirmed that Campos is being provided a free room inside an undisclosed company resort. He's also on paid leave while recovering from his gunshot wound.
MGM says Campos accepted the free lodging offer in the wake of the killing, because his home in Las Vegas' Sunrise Manor area was being hounded with media reporters. But attorneys suing on behalf of the victims say that accepting that protection makes Campos vulnerable to being influenced by MGM's legal team.
"We will certainly want to know the details of where he stayed, why he disappeared, who paid for his stay and, most importantly, what, if anything, he was told, and by whom," California-based wrongful death lawyer Richard Bridgford, who is representing some plaintiffs in the shooting, told the Las Vegas Review-Journal. "It goes to the credibility of the witness, [and his potential for] bias."
Attorneys Question Motives
MGM says its primary focus is doing "whatever we can" to aid victims and their families, company personnel, and assisting in the ongoing investigation. But some legal critics are concerned that it's also potentially tampering with the lead witness, whose testimony will play a critical role in what will likely be numerous lawsuits filed against the gaming operator in the months ahead.
"There's a suspicion that they are trying to shape his testimony," Las Vegas attorney Will Kemp told the RJ last week. "Obviously they want him to come out with a version of the timeline that's favorable to them."
The timelines reached by Clark County Sheriff Joe Lombardo and MGM Resorts initially differed.
Lombardo and his team at Las Vegas Metro first believed Campos had reached the 32nd floor hallway at 9:59 pm local time, but didn't radio in the "shots fired" call until 10:05.  The Sheriff later amended that timeline, after learning that Campos reached the 32nd floor via an emergency stairwell at 9:59, but had been unable to enter via the barricaded door. It took him a full six minutes to access the floor through another route, which was when Paddock began firing.