MGM Resorts Disputes Las Vegas Metro Revised October 1 Shooting Timeline
Posted on: October 11, 2017, 11:25h.
Last updated on: October 11, 2017, 11:26h.
MGM Resorts, the parent company of Mandalay Bay where the October 1 shooting that killed 58 people took place, is now taking issue with the latest timeline of events as laid out by Las Vegas Metro police head and Clark County Sheriff Joe Lombardo.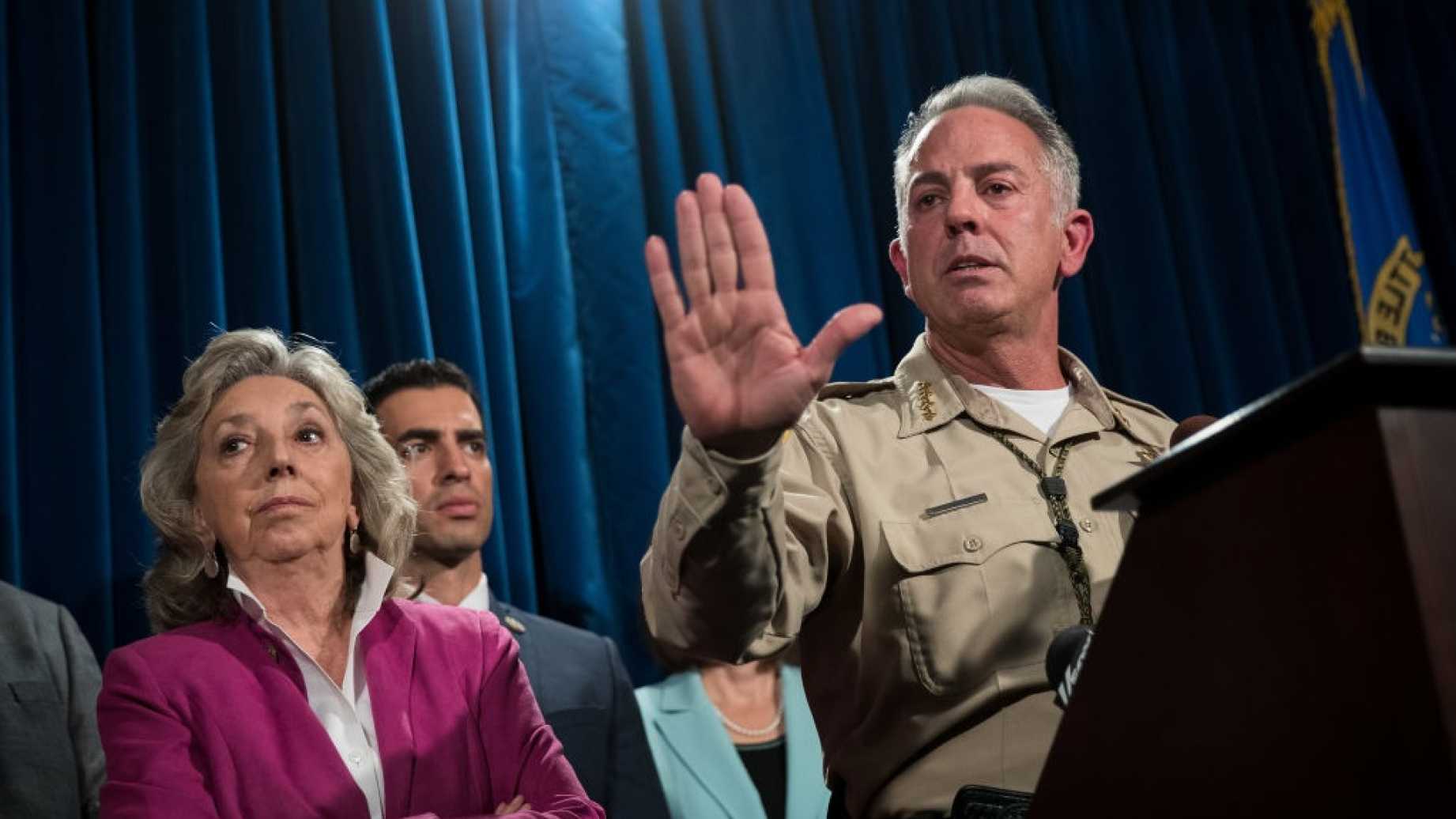 On Monday, Lombardo said that Mandalay Bay security guard Jesus Campos was shot on the 32nd floor by Stephen Paddock prior to the gunman opening fire on the Route 91 Harvest Festival outdoor country music concert.
If Lombardo's account is indeed the correct chain of events, security and law enforcement experts believe the mass shooting should have been stopped more quickly. But in a statement, an MGM PR spokesperson said the investigation is ongoing and no one should be rushing to conclusions.
MGM Resorts spokeswoman Debra DeShong stated, "As evidenced by law enforcement briefings over the past week, many facts are still unverified and continue to change as events are under review. We cannot be certain about the most recent timeline that has been communicated publically [sic], and we believe what is currently being expressed may not be accurate."
But Lombardo has told the Las Vegas Review-Journal that he stands by his latest account, while admitting it could change as more information emerges.
Potential Legal Fallout
At stake, as MGM no doubt looks at future class action lawsuits, could be some very compelling information. For example, Fox News senior judicial analyst Judge Andrew Napolitano said on the TV news show that MGM should have required Campos to be "carrying with him a recording device, a device which would have allowed the head of security or somebody in security to listen in. He was shot at 200 times by an automatic weapon."
Campos finally radioed to security after Paddock fired some 200 rounds through the door. Campos was miraculously only hit in the leg.
"So Mandalay Bay knew of the existence and presence and workability of the automatic weapon six minutes before he started killing people," Napolitano continued. "That should have triggered an enormous response."
Napolitano isn't alone in questioning whether the Las Vegas shooting could have been at least partially mitigated, or even prevented altogether.
"This changes everything," former NYPD Sergeant Joseph Giacalone told the Associated Press. "There absolutely was an opportunity in that timeframe that some of this could've been mitigated."
Others, however, said the reported six-minute timeframe between when Campos was hit and when Paddock opened fire on the crowd below wouldn't have been enough time for police to thwart the shooting spree entirely regardless. Former FBI Assistant Director Ron Hosko told the AP that it would have taken more time to devise an appropriate plan and get adequate personnel to the room.
LVCVA Takes Action
Although coming from a different motivation, perhaps no agency responded with more alacrity to the Las Vegas shooting than the city's Convention and Visitors Authority. At a meeting this week, the LVCVA revealed it began working on its marketing response to the incident just one minute after Paddock began firing.
The agency responsible for promoting tourism, conventions, meetings, and special events (including the Route 91 Harvest Festival) said it went into crisis mode within an hour. It also swiftly embraced the #VegasStrong hashtag that has been shared and posted around the world.