MGM Grand and Cirque du Soleil Cited in KA Performer's Death
Posted on: October 31, 2013, 05:30h.
Last updated on: October 31, 2013, 06:53h.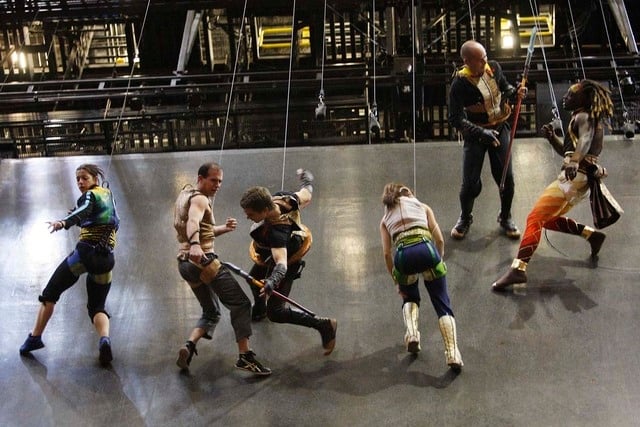 In shows like the Cirque du Soleil franchise across Las Vegas – which constantly push the envelope on stunning aerial feats, jumps and drops – it's not immediately apparent when a real tragedy occurs and one of the performers is fatally injured.
And for audience members watching "Ka" at the MGM Grand on June 29, it was confusion and then shock when they learned they had in fact witnessed the first fatal fall in the Montreal-based Cirque's 29-year history.  It happened when 31-year-old French-born aerialist Sarah Guillot-Guyard's guide wire broke while she was suspended in mid-air above the enormous stage, causing her to fall 94 feet. It is unclear if she actually died instantly, but was pronounced dead upon transport to University Medical Center's Trauma Unit, with the cause of death being multiple blunt force injuries.
OSHA Investigation Complete
Now the Nevada Occupational Safety and Health Administration – which briefly shut the show down following the incident – has cited both Cirque du Soleil and the MGM Grand Hotel in Las Vegas for safety and record-keeping violations in the young woman's death. In addition, OSHA said that Sarah Guillot-Guyard herself was partially responsible for the tragedy, noting that her "rapid ascent" was part of the reason her rope broke on June 29th.
Specifically, OSHA said that rapid ascent caused the rope to come off of its grooved roller and pulley, which subsequently made it scrape against a shear point and break. The accident happened during a "Battle Spearmen Warriors" scene, where performers become locked in a mock battle. Like most Cirque shows, this one had two performances a night, and this occurred during the later show. As the aerialists rappeled along a vertical wall (see photo), they had nothing to hold them in place besides these wires that took them as high as 120 feet up; each performer must control their own guide wires via a harness with hand controls. The scene was the climax of "Ka."
With the four-month investigation now completed, OSHA has cited Cirque du Soleil with six proposed safety violations, while the MGM Grand – where the "Ka" theater is housed – received only three citations. The final scene of the show has since been amended. Specifically, Cirque has been cited for not protecting the show's performers from bumping into an overhead grid during the show, and also for failing to provide the necessary safety training to Guillot-Guyard.
Small Fines Issued
The two companies can appeal the citations; if they do not, Cirque will have to pay a relatively paltry $25,000 fine, while MGM Grand's will be $7,000 (something that probably represents less than a 15-second profit margin on a slow night for them).
A public information officer for the Department of Business and Industry calls the violations noted as "fairly minor."
Guillot-Guyard, who had a 22-year performance history and had been with Cirque for seven years at the time of her death, left behind two young children. Following completion of an autopsy and the investigation, her body was returned for burial to her home in Paris at the Cimetière de Montmartre.