MGM CEO Jim Murren Will Step Down Before Contract Ends, Gives No Reason For Surprise Move
Posted on: February 12, 2020, 08:09h.
Last updated on: February 13, 2020, 12:16h.
The gaming industry was caught by surprise on Wednesday when MGM Resorts International announced that Chairman and CEO Jim Murren has decided to step down from his position.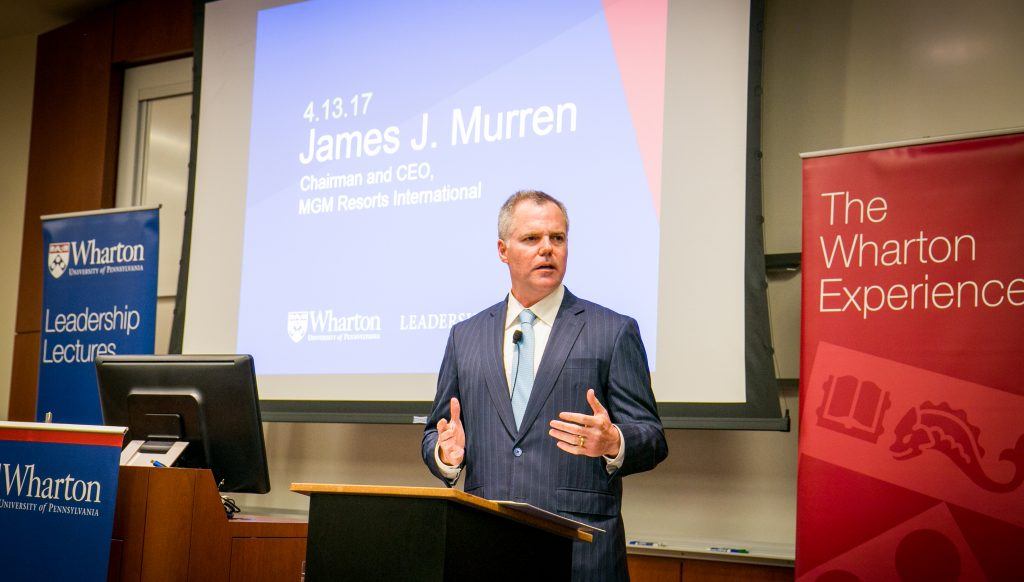 No timetable was given in the company's release, which dropped just hours before the company's fourth quarter and 2019 earnings call. Murren will stay on board until a replacement is hired, the company said in its statement, and he pledged a seamless transition. His contract with MGM is set to expire on Dec. 31, 2021.
I want to make it very clear, I'm not leaving MGM anytime soon," Murren said, concluding his remarks on the financial call. "And so, I know for sure, I'll be on the next call with you."
Murren started with Las Vegas-based company in 1998 and became its chief executive a decade later. During his tenure as CEO, he helped bring major professional sports to a town once shunned by the major leagues. MGM joined forces with Anschutz Entertainment Group in 2014 to build T-Mobile Arena, a multipurpose arena on the Strip. In 2016, the NHL approved the Vegas Golden Knights as an expansion team to play there.
MGM has retained an unnamed executive search firm to work alongside a committee of board members to find Murren's successor. That person will lead a company that owns and operates 29 hotels, resorts, and gaming venues worldwide. Many of those properties are on the south end of the Las Vegas Strip, including the MGM Grand, Park MGM, New York-New York, the Luxor, and the Excalibur.
'Turned Resorts Into Showcases'
In a statement, Roland Hernandez, MGM's lead independent director, thanked Murren for his leadership.
Jim has led the Company through growth, transforming it into a global entertainment company with a worldwide footprint and creating value for MGM Resorts shareholders," Hernandez said. "As CEO, he has spearheaded significant achievements across our properties, including the development of the CityCenter destination, and has turned resorts into showcases of entertainment and sophisticated architecture."
According to MGM's filings with the US Securities and Exchange Commission (SEC), Murren drew a minimum base salary of $2 million annually. The contract also provides for an annual target bonus of 200 percent the base salary, or a minimum of $4 million, and up to a maximum bonus of 175 percent of the target bonus, or a minimum $7 million. The contract calls for the bonuses to be paid in a combination of stock and cash.
With Murren's announcement, MGM will file an updated document with the SEC in the coming days.
His departure is the third such announcement of a major Vegas-based gaming company since early 2018. Two years ago, Steve Wynn resigned from Wynn Resorts and eventually sold his stake after accusations of sexual misconduct and harassment were made against him. Caesars Entertainment CEO Mark Frissora left the company last year. While Tony Rodio leads the company now, it will soon be led by Eldorado Resorts executives as part of a $17.3 billion merger between the two companies.
Murren at MGM: A Look Back
Murren's time at MGM has been highlighted by the company's growth. Some of that has gone well, such as the MGM National Harbor in Maryland that opened just outside of Washington, DC. Others, such as MGM Springfield in Massachusetts, has not gone as planned.
The noted Republican also made headlines for coming out against Donald Trump in the 2016 presidential election, bucking other casino leaders and investors – including Sheldon Adelson, Phil Ruffin, and Carl Icahn – who supported Trump's successful campaign
But one event will always stand out under Murren's tenure: the Oct. 1, 2017 shootings at the Route 91 Harvest music festival in Las Vegas. Nearly 60 died and hundreds suffered injuries from the deadliest mass shooting in US history, an event carried out by Stephen Paddock, who opened fire on the crowd for more than 10 minutes from his 32nd story room at MGM's Mandalay Bay.
MGM received sharp criticism after the company filed a lawsuit against the shooting victims. The purpose of the suit was to consolidate claims, but the immediate reaction was rather critical of the company's motives. That led to Murren apologizing and further explaining why the company took the action.
On Oct. 3, two years and two days after the shooting, MGM announced it had reached a settlement with nearly all the plaintiffs in the case. The settlement is expected to cost up to $800 million and be completed by the end of this year.
"Our goal has always been to resolve these matters so our community and the victims and their families can move forward in the healing process. This agreement with the Plaintiffs' Counsel is a major step, and one that we hoped for a long time would be possible," Murren said in a statement at the time.
On Wednesday, Murren said business at Mandalay Bay has recovered at the casino, as convention business is a big driver of its success. Last year, the resort had its lowest attrition levels in years, he added.
"It's kind of business as usual at Mandalay," Murren added.
Revenue Up in 2019
On the earnings call, MGM announced consolidated net revenues increased by 10 percent to $12.9 billion last year. Nearly half of the gain in revenues came from MGM China, which itself saw a 19 percent jump to $2.9 billion last year.
The company's US regional operations, including such recent acquisitions as the Empire City Casino in New York and MGM Northfield Park near Cleveland, also strongly contributed to the revenue gain.
The company, however, did withdraw its financial targets for 2020, saying it expects "several headwinds" in the months ahead that may lead to uncertainty. Those headwinds include the effect of the coronavirus on business.
Murren said he'd keep his focus during his remaining days on growing the company's sports and entertainment operations, as well as leading the effort to land a highly coveted Japanese casino.