UFC Hall of Fame Inductee Matt Serra Takes on One Last Challenger, Heavyweight Championship Hits Saturday Night
Posted on: July 7, 2018, 10:00h.
Last updated on: July 6, 2018, 01:38h.
Heading towards his Thursday night UFC Hall of Fame induction ceremony in Las Vegas, Matt Serra showed what made him great on Wednesday night. The former pro mixed martial art pugilist and Brazilian Jiu-Jitsu warrior probably thought his brawling days were behind him, but it turned out the fighting legend had one more easy win left.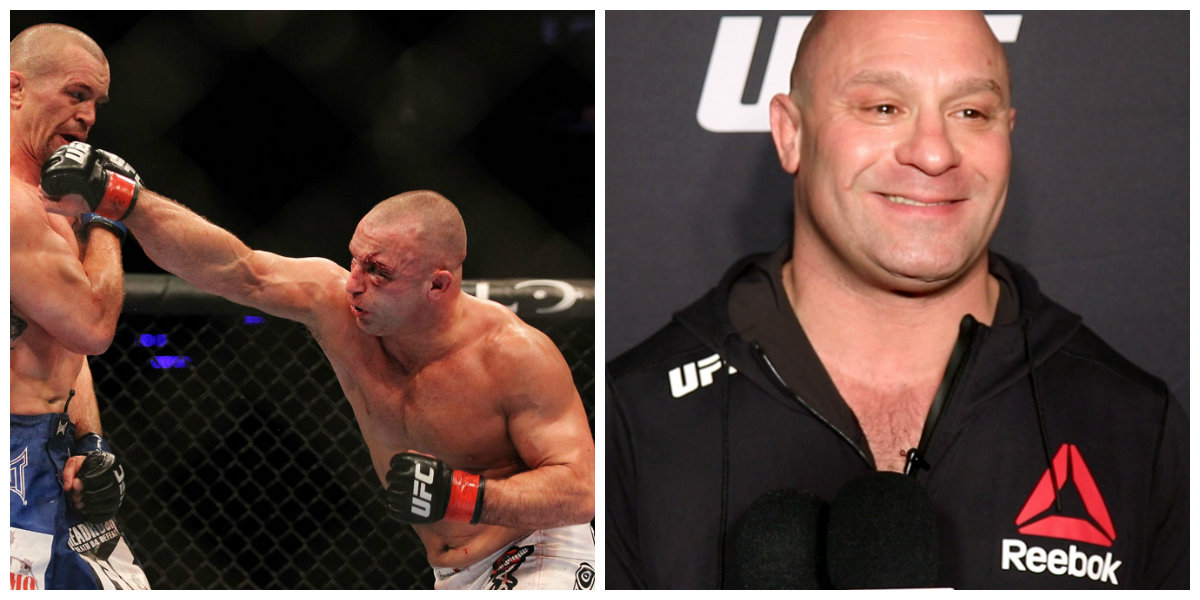 In fact, it may have been the easiest TKO of his career.
The former UFC welterweight champion was caught on video by a customer physically subduing a man who appeared to be very drunk — and very unsure of who was sitting on top of him. According to Serra's Instagram account, the man was "some drunk a–hole that was threatening waiters" before taking a swing at the mixed martial artist.
The fallout can be seen in this clip:
"I'm going to f*** you up", the unnamed man shouts while flat on his back, as Serra toys with him like a cat playing with a wounded mouse.
Serra can only laugh as he repeatedly tells the man to "calm down," while waiting for security to show up.
The shirtless and belligerent drunk continuously claims that he's going to press charges against the former champ.
A security guard finally appears, and Serra decides he's done with the drunk, turning to the guard and asking "Do you want to take over, or…?"
UFC President Dana White later revealed on Twitter that it all went down at the way-off-Strip Red Rock Casino in Summerlin.
Call to the Hall
The next day, Serra was honored for a career which saw him take down much tougher opponents, including one of the best ever. The New York native was inducted into the UFC Hall of Fame as the 15th fighter to be enshrined into the Pioneer Wing.
He fought under the UFC banner over the course of nine years, racking up an 11-7 record before retiring in 2013. However, fight fans will remember him best for one fight in particular.
In 2007, Serra stepped into the ring with George St. Pierre, one of the best mixed martial artists of all time, at UFC69. A huge underdog in the fight, he shocked the world by knocking out the MMA legend in the first round, stealing away the welterweight belt.
The Canadian would regain his title in a rematch one year later, but Serra's victory is one that fight fans will never forget.
Joining him in the 2018 Hall of Fame class is Ronda Rousey, the first female to gain induction in to the exclusive club. Rousey not only dominated during her time in the ring, but also went on to mainstream fame as well.
Superfight on Tap
All this is leading up a heavyweight championship tilt taking place in Las Vegas Saturday night.
UFC 226 will pit heavyweight title holder Stipe Miocic against light heavyweight champion Daniel Cormier in a bout which many say is worthy of the "Super Fight" nickname.
Those kinds of monikers are usually reserved for Connor McGregor tilts, but the Irish superstar may not be back in the octagon anytime soon.
Bookmakers, however, don't see it shaping up as much of a competitive match. The bigger Miocic has been installed as a heavy favorite, with sports books laying odds anywhere from 2/5 to 10/23. That means a $100 bet on Miocic will earn you $40.
If Cormier can hang with the defending champion, he could be a value bet, paying off at about 2/1 odds at most books.
The undercard gets underway tonight at 7 pm at T-Mobile Arena.