Mayweather Could Join Billionaire Athletes Club after McGregor Fight
Posted on: August 28, 2017, 05:45h.
Last updated on: November 4, 2020, 06:26h.
In what could amount to one of the most envious golden parachutes, Floyd Mayweather could be set to retire a billionaire. The boxer is reportedly going to make $300-$400 million in total from his victorious fight with Conor McGregor, and in doing so would join an exclusive list of athletes to have achieved such a financial milestone.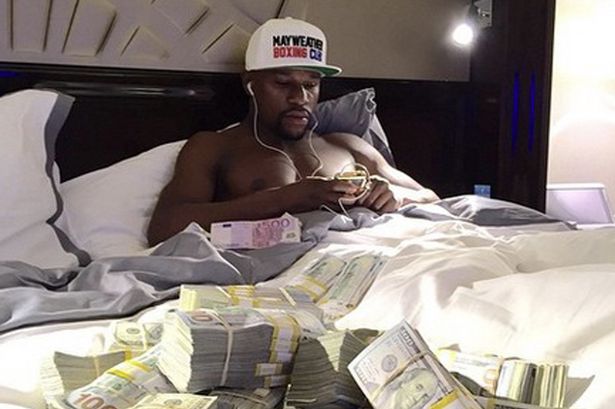 According to Forbes magazine, the man nicknamed "Money" will be swimming in a lot of cash, able to top $1 billion in earnings from his 50 professional fights. This sum includes prize purses, as well as Mayweather's share of ticket and pay-per-view sales. Product endorsements are also included in the figure.
Before Saturday, Mayweather's estimated lifetime earnings were about $700 million.
"I don't think he's done too bad in his career," Leonard Ellerbe, CEO of Mayweather Promotions, told CNN.
Exclusive Fraternity
In surpassing the billionaire benchmark, Mayweather would join basketball legend Michael Jordan, golfer Tiger Woods, and auto racing's Michael Schumacher.
Forbes determined Woods to be a billionaire in 2009, but after off-the-links scandals cost him endorsement deals, in 2016 the magazine lowered his estimated net worth to about $740 million. Though Woods hasn't won a major tournament since 2008, his earning potential isn't yet maxed out, with his golf-course design business capable of bringing him back above a billion.
That's how golfers Jack Nicklaus and Arnold Palmer did it. Purses and endorsements weren't nearly what they are now then when the two competed in the 1960s and 1970s. They did earn some money on the Champions Tour, but both made fortunes of more than $1 billion with golf course design companies.
Schumacher, as a Formula 1 driver, had a worldwide following that allowed him to capitalize on markets outside the United States. He made his big money with seven F1 titles and endorsements.
But he king of cash among athletes is Jordan. Though his career salary only totaled $93 million, with endorsements including a lifetime deal with Nike, he's earned $1.7 billion. His other main income sources have included Gatorade, Hanes, and the Charlotte Hornets, of which he is a part-owner.
Big Money Focus
Some current and former athletes are knocking on the door, with a couple looking promising to join the billionaire ballers club in the next few years. Most likely would be LeBron James. The Cleveland Cavaliers forward currently is at $640 million and has several years of play ahead of him. Couple that with his $1 billion deal with Nike that is still paying out and he'll probably be the first to cross the billion-dollar bar.
Magic Johnson is the most likely former player that is on his way to $1 billion. His current worth is about $600 million but he reportedly has invested well, with a partial ownership of the LA Dodgers. His company Magic Johnson Enterprises owns movie theaters, apartment buildings, and other businesses in minority communities.
Nike owner Phil Knight offered Johnson stock in his company when he was a player and the shoemaker was just getting its start. In one of his few regrettable financial decisions, Johnson turned down that offer, delaying his climb to $1 billion.
For Mayweather moving forward, some contend his career earnings are actually closer to $400 million, not $700 million. CNBC argued that even if it $700 million is the accurate figure, and he got $300 million for his latest bout, after taxes that would leave him at least $100 million short.