Massachusetts Casino Repeal Campaigns Begin
Posted on: August 20, 2014, 06:49h.
Last updated on: June 13, 2022, 10:07h.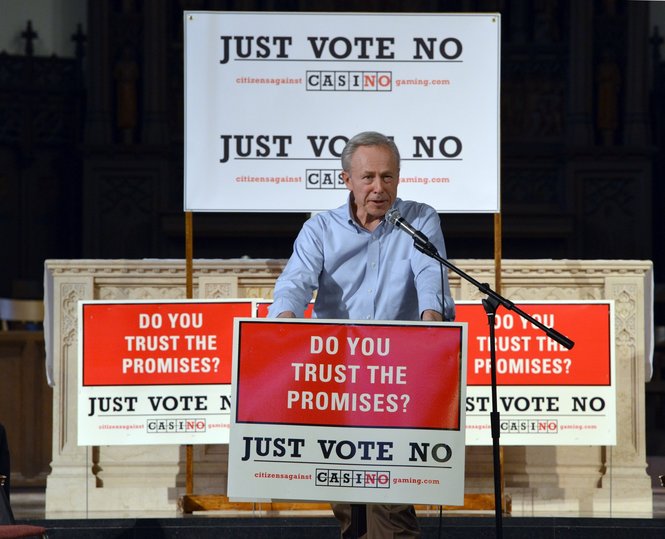 The Massachusetts casino repeal vote promises to be one of the biggest political gaming battles of 2014.
It pits major casino developers and their supporters against anti-casino advocates who are hoping to roll back the law that allowed for three casinos and a slot parlor to be built in the state. And with under three months until that vote will take place, it's time for the real campaigning to begin.
Both pro- and anti-casino forces have announced that they'll be starting up their campaign operations this week in an effort to persuade voters to come down on their side of the contentious issue.
The statewide vote, scheduled for November, will determine whether the state's casino law will be repealed, or if casino developers can go forward with their plans to build Las Vegas-style resorts.
Political Groups Begin Lining Up on Both Sides
On the pro-casino side, efforts appear to be led by the Committee to Protect Massachusetts Jobs. The political group, funded primarily by MGM Resorts, Mohegan Sun and Penn National, said on Monday that they've been preparing for three weeks to launch "an extensive ground effort."
Pro-casino forces have touted the thousands of jobs they say will be created if the casinos are allowed to be built and operated in the state
They'll be opposed by anti-casino groups like Repeal the Casino Deal, the organization that successfully managed to get the repeal question on the ballot in the first place. That group says that they started their own canvassing and field organizations this past weekend.
For "Repeal," the goal appears to be reaching out to undecided voters that can be persuaded to oppose the casino bill, especially those in communities that haven't yet considered casinos and thus might be less educated on the issue.
"The casino bosses want to make sure this campaign is about everything other than casinos—with a group that conveniently leaves casinos out of its title and website, materials and campaign theme which conveniently ignores the very real impacts this casino mess with have on communities," said campaign spokesman Stephen Eisele.
Meanwhile, pro-casino forces have touted the thousands of jobs they say will be created if the casinos are allowed to be built and operated in the state. The website for the Committee to Protect Massachusetts Jobs also lists a number of prominent individuals and groups that support their efforts, including legislators, chambers of commerce and labor unions.
Grassroots Effort vs. Casino Money
While Repeal the Casino Deal can't hope to compete with the money that will be spent by the casino companies, they hope their grassroots efforts can produce results. The group already boasts nearly 1,000 volunteers who canvass and work phone banks to get their message out.
"We feel the more voters know about casinos, the less likely they'll be to vote for them," said campaign manager Darek Barcikowski. "If you look at Atlantic City and other communities that bought into the promises of casinos, we believe you'll agree casinos are not economic engines; they're economic vacuum cleaners."
Although the results of the November vote certainly have the potential for high drama, there are still other issues that need to be sorted out in the meantime. Most prominently, the battle for the Greater Boston area casino license is still to be decided. Wynn Resorts wants to build a casino in Everett, while Mohegan Sun and Suffolk Downs are proposing a resort in Revere. The state gaming commission is expected to choose to award a license to one of these bids by September.