Maryland Lottery Player Wins 'Pick 5' For Second Time in as Many Years
Posted on: September 7, 2023, 12:08h.
Last updated on: September 8, 2023, 02:19h.
Maryland Lottery officials say a player from Baltimore County won her second major "Pick 5" prize in as many years after she scored a $50,000 jackpot during the Aug. 10 drawing.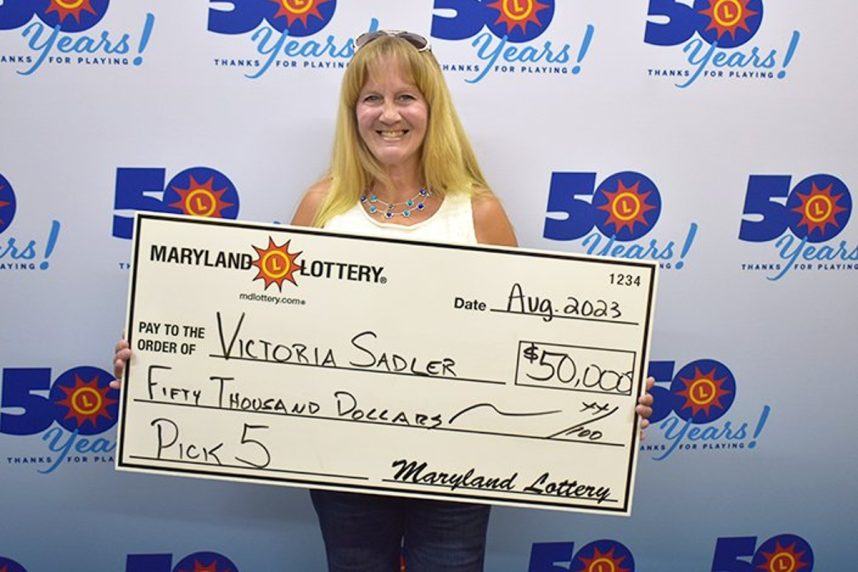 Pick 5 is drawn twice daily. Players pick five numbers from 0-9 and a wager(s) — straight, box, front pair, back pair, front three, back three, front four, and/or back four. Each wager requires a $0.50 to $1 bet.
Maryland Lottery reps say 59-year-old Victoria Sadler of Nottingham won a $25,000 Pick 5 prize last year by choosing the straight bet, and her ticket numbers matched the five drawn numbers in order. Her $25,000 prize was on just a $0.50 bet.
Believing luck was on her side, Sadler didn't stop playing the Maryland Lottery. That decision turned out to be in her favor after she won an even larger lottery prize last month.
Grandson Delivers Lucky Run
Sadler told lottery officials she has since upped her ante to $1 per Pick 5 wager. She purchased a Pick 5 gameplay on Aug. 10 at the Royal Farms convenience store at 1801 Washington Blvd. in Baltimore and put $1 on the straight bet.
Her $1 ticket and her five numbers — 1-1-1-6-4 — matched in order for the five drawn numbers to receive the game's top prize of $50,000.
Sadler says she's used her grandson's birthdate of Jan. 11 each time in her winning Pick 5 plays. The 6-4 represents her birth year of 1964.
With $75,000 in lottery winnings over the past two years, Sadler told the Maryland Lottery that she plans to invest the funds before taking her family, with grandson in tow, to Walt Disney World in Florida.
The odds of matching the Pick 5 straight bet option are just one in 100,000.
Bonus 5 Double Winner
Sadler isn't the only Maryland Lottery player to recently experience a lucky streak. The lottery reported today that a Montgomery man wishing to remain anonymous last month won his second major prize playing the lottery's "Bonus Match 5" game.
Bonus Match 5 is played seven nights a week. The lottery draws five winning numbers ranging from one to 39. A Bonus Ball is then drawn from the remaining 34 numbers.
The anonymous player, who asked to be identified only as "Mr. Happy," is a nurse who said he purchased a $6 Bonus Match 5 ticket on Aug. 16 while on his break. The drawn numbers that night — 7-14-29-35-39 and the Bonus Ball 37 — matched the numbers on his ticket slip to win the game's top prize of $50,000.
The odds of winning the Bonus Match 5 jackpot are one in 575,757.
Mr. Happy previously won a substantial Bonus Match 5 prize, though the lottery did not detail when that hit occurred. Mr. Happy says he plans to pay his sons' college tuition with his winnings and pay down his mortgage with the rest.