March Madness Opening Rounds Slam Dunk for Las Vegas Sportsbooks
Posted on: March 19, 2018, 12:00h.
Last updated on: March 19, 2018, 03:25h.
March Madness made plenty of sports bettors go crazy during the opening rounds of the NCAA tournament.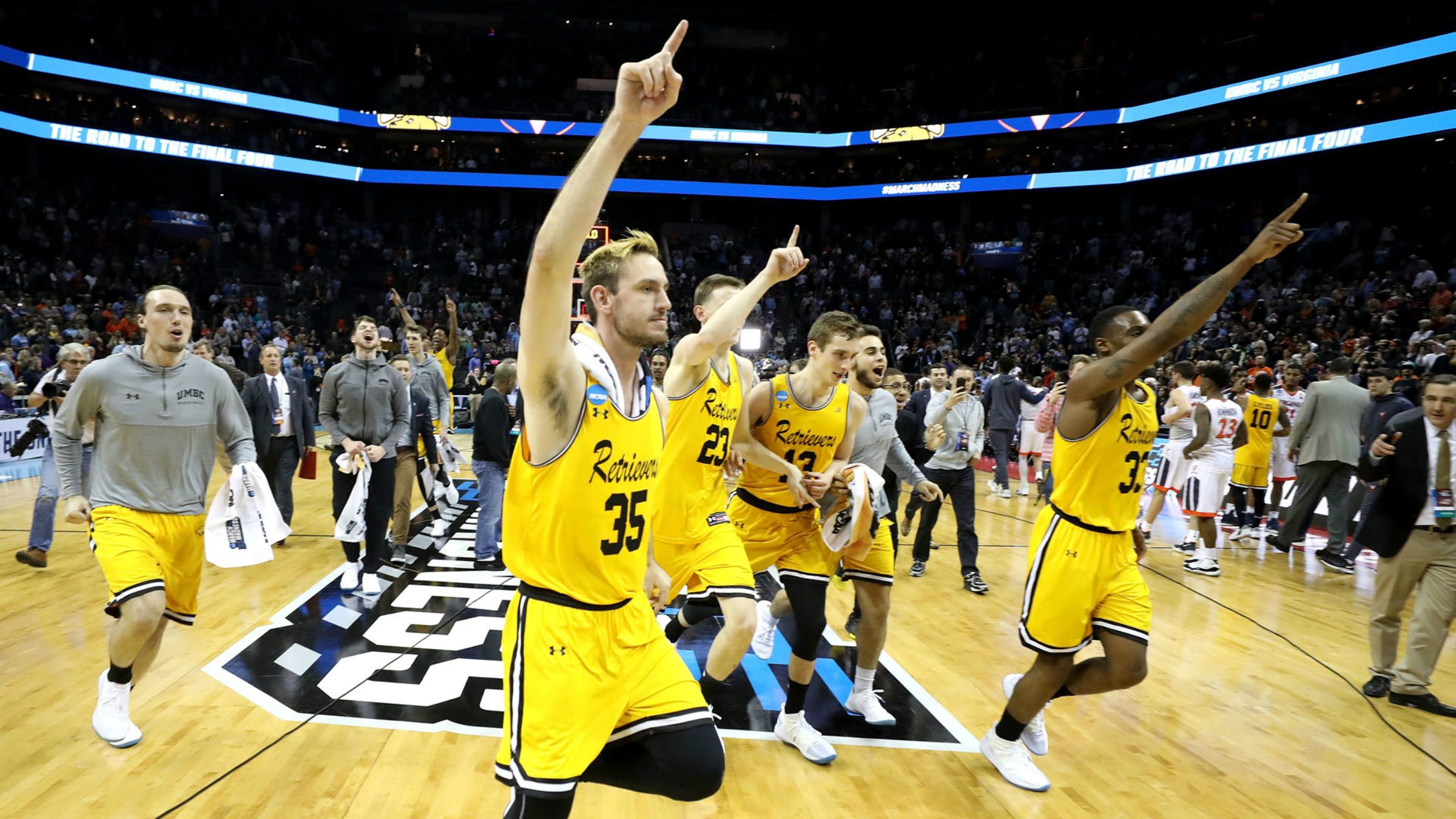 Numerous highly wagered upsets went in favor of the house, as the 68-team bracket was dwindled down to 16. The biggest upset was #16 UMBC defeating #1 Virginia, the top overall seed in the entire competition. Before Friday's game, #1 seeds were 135-0 in the First Round.
With odds at 20/1 at The Venetian's CG Technology sportsbook, a group of UMBC alums wagered $800 on the most improbable upset. Perhaps rooting for last-minute buzzer-beater heroics, the bettors found their Maryland team tied at halftime 21-21.
But just five minutes into the second half, their $800 bet quickly transitioned from a seemingly idiotic wager to one that was poised to pay a large return. The Retrievers went up 41-27 with 15:00 to play, and never looked back.
The $800 bet came from eight men who each risked $100. Their collective net payout was $16,000, or $2,000 per man.
Cavalier Defeat Massive Win
The Virginia upset won sportsbooks tens of thousands of dollars. One bettor risked $20,000 on a three-team moneyline parlay on Purdue, North Carolina, and Virginia all winning their First Round games.
The Boilermakers and Tar Heels did just that, but when the Cavaliers lost, the $20,000 ticket slip, which would have only net $870, became worthless.
MGM said its worst-case scenario would have been a Virginia title, as its sportsbooks took five bets preseason on the Cavaliers winning it all on odds at 100/1. The company said it also more recently took a five-figure wager on the school at 20/1 that "would pay well into the six figures," sportsbook director Jay Rood told ESPN.
ESPN's Darren Rovell also reported that William Hill took a $1,294 wager at some point as Virginia trailed UMBC. But the Cavaliers were still heavily favored at the time, and the bet, should Virginia have come back to win, would have net only $12.95.
Sportsbooks Winning
Virginia's early March Madness exit wasn't the only major win for Las Vegas sportsbooks. ESPN's David Purdum, who covers all things gambling for the sports network, reported Friday that more bets were placed on Arizona than any other team at multiple casinos.
The Westgate SuperBook confirmed it was one such book, saying the Wildcats generated the most tickets, and the second-most money. #4 Arizona lost to #13 Buffalo 89-68.
The team that the SuperBook took the most money on was Michigan State. After surviving Bucknell in the opening round, the #3 Spartans lost to #11 Syracuse 55-53 on Sunday.
Always popular in Las Vegas, North Carolina's Sunday loss to Texas A&M is also allowing sportsbooks to keep many thousands of dollars on the Tar Heels repeating as NCAA champions.
Sixteen Remain
Two of the four top seeds are gone (Xavier lost to Florida State 75-70 on Sunday), leaving Villanova and Kansas as the remaining #1 teams. But online sportsbook Bovada is taking more money on a well-known #2 seed.
Duke is now Bovada's odds-on favorite to win March Madness at +325. Villanova is next at +450, followed by Kentucky +700, Gonzaga +700, Michigan +800, and then Kansas +850.
Similar Guides On This Topic