Major League Baseball (MLB) Teams With Swish Analytics, as Sports Bettors Demand More Calculated Approach
Posted on: August 27, 2019, 07:14h.
Last updated on: August 27, 2019, 12:22h.
Major League Baseball (MLB) has partnered with Swish Analytics for the San Francisco-based sports betting tech firm to distribute official league data in real time.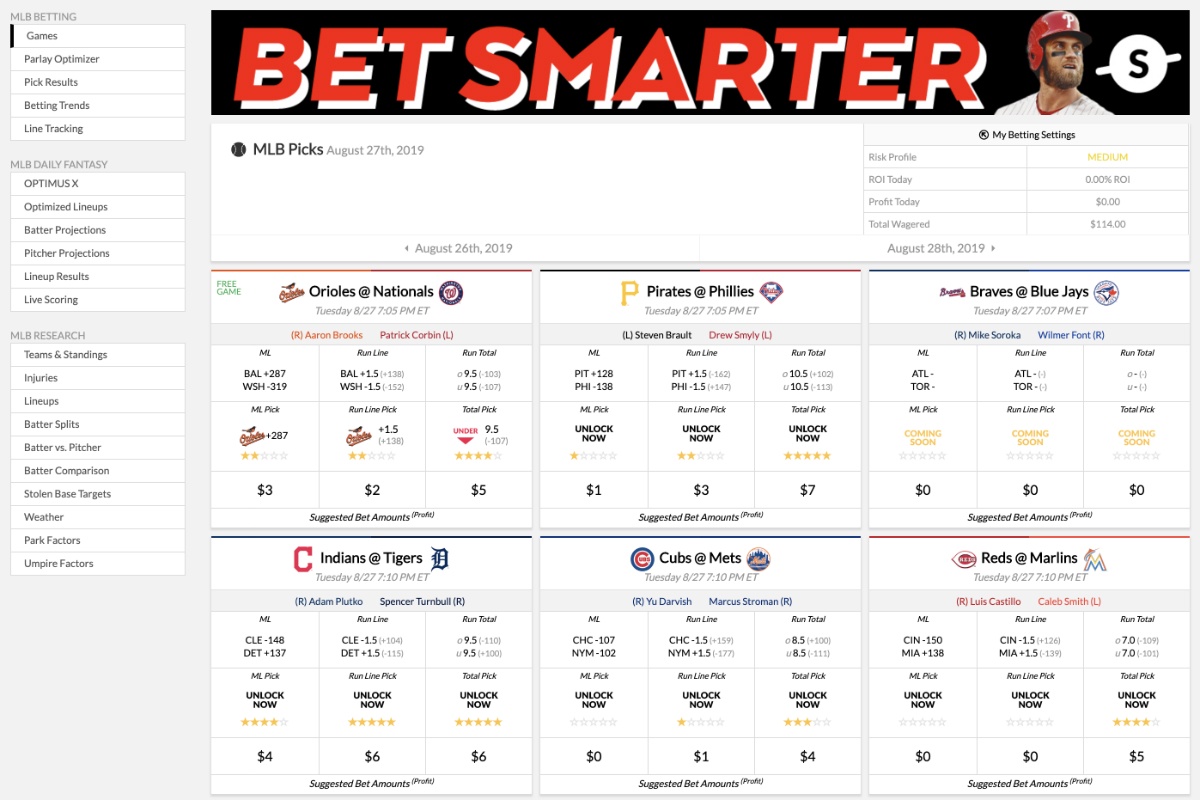 Swish Analytics joins Sportradar and Stats Perform as the third statistics company to be designated as an "Authorized MLB Data Distributor" in the United States.
Swish Analytics provides tools and projections to sports betting and daily fantasy sports players on DraftKings, FanDuel, and Yahoo. The firm is also developing free-to-play games in an effort to increase fan engagement.
Swish co-founder Bobby Skoff said in a release that the MLB deal will allow the company to grow its presence in the gaming market and "ensure that our full suite of pre-match, in-play, and at-bat betting products defines the next generation of engagement for MLB fans."
MLB has been on a partnering kick as of late. Along with the Sportradar and Stats Perform deal, the league has recently inked MGM Resorts, FanDuel, and DraftKings as "Authorized Gaming Operators."
All in the Numbers
Outsiders observing the expansion of sports betting in the US – which is now live and operational in 11 states – might think it's just another form of gambling. But those who consider themselves professionals at breaking down odds in their favor have a much different opinion.
Pro sports bettor James Holzhauer's 32-game winning streak on Jeopardy! gave some credence to the notion that successful sports betting involves much more than simply luck. DraftKings analyst Adam Levitan tweeted during the run, "Mainstream world now understands professional gambler isn't code for scum. Can be humble, gracious, family-oriented, honorable and wicked smart. Great run."
As sports betting invades more states, many players are turning to such analytical services as Swish to help better their results. Swish says its products allows for "smarter sports betting" by using "accurate, algorithm-driven predictions and easy-to-use tools."
Sports Betting and Wall Street
There are some involved in the sports betting industry who are going as far to say that the gambling isn't much different than investing in stocks. The Meadowlands Racetrack and its FanDuel sportsbook in Northern New Jersey announced a partnership this week with SportsGrid.com, a network that provides betting insights and predictions.
SportsGrid President Lou Maione, who formerly worked on Wall Street, told Fox Business today, "Content is king, whether it's in the financial world or the sports world. If you parallel it to the financial world, think (as if) the players are your stocks."
We make sure that the data and the odds work out in the favor of the gambler and we give them as much information as possible to make them successful," Maione said.
The Meadowlands has become the richest sportsbook in the world, owner Jeff Gural said. The New York businessman says he's on pace to print $500 million worth of ticket slips in year one.
"People tell me it's just the beginning," Gural stated. "Inning one we're going to do $500 million. I believe the biggest sportsbook in Las Vegas does $300 million. In one year, we've surpassed by a lot a company that's been in Vegas for a long time."
Similar Guides On This Topic