Macau Ends COVID-19 Mask Policy, but Residents and Guests Continue to Wear Them
Posted on: February 27, 2023, 07:25h.
Last updated on: February 27, 2023, 09:02h.
Macau health authorities over the weekend largely ended the enclave's COVID-19 mask policy as epidemic conditions remain stable in the casino hub.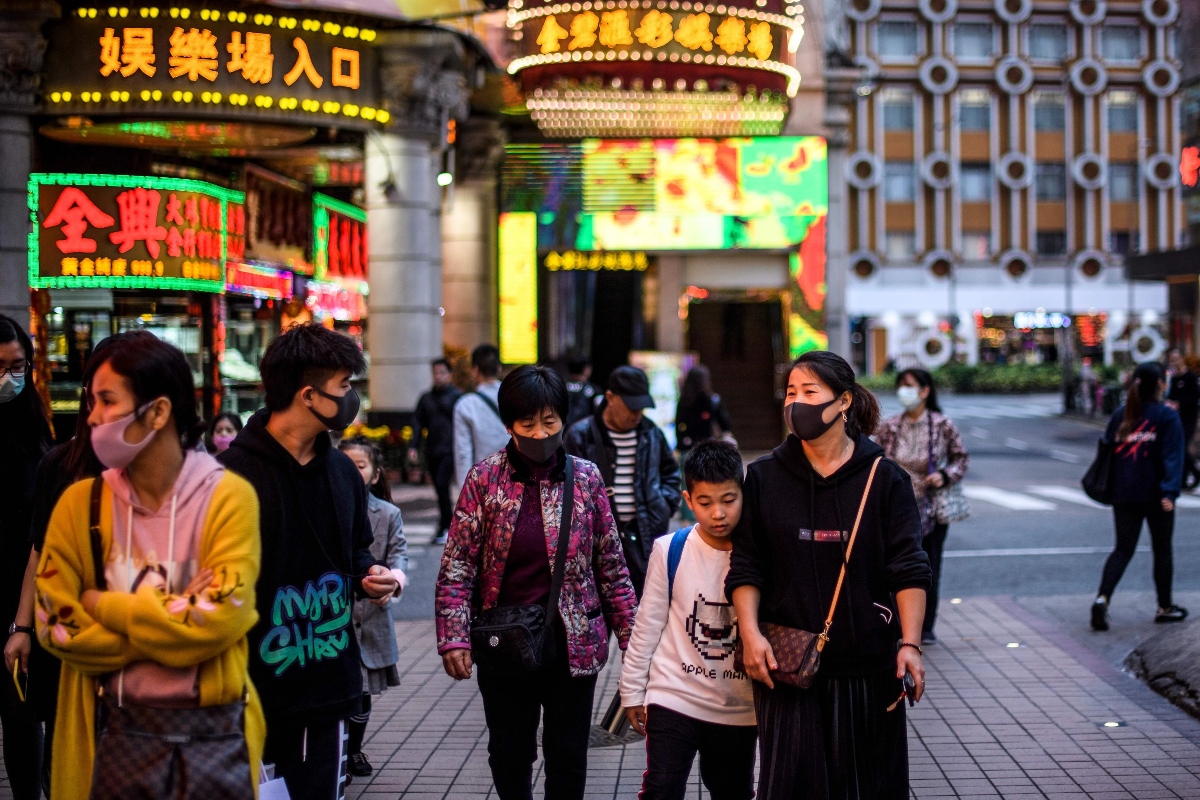 Macau's local government had encouraged all city residents and visitors to cover their faces with protective masks since the onset of the coronavirus. Masks, however, were only mandatory during a one-month span during the region's most severe COVID-19 outbreak experienced last July into early August.
Macau's Novel Coronavirus Response and Coordination Center said over the weekend that, effective Monday, masks are no longer needed outdoors and in most indoor places.
The epidemic situation in Macau has continuously remained stable over the last two months," the health emergency agency said in a release. "Under general situations, one is not required to wear a mask when staying in outdoor places."
Indoor places, the coronavirus coordination center said, should use their own discrepancy in determining whether masks are warranted. The center said that health care centers and public transportation other than taxis and rideshares will continue to require masking.
Casino Employees Still Masking
Personnel from Asian gaming media outlet GGRAsia visited a few Macau casinos Monday to determine how the public and gaming industry workforce are responding to the new masking guidance. The news company learned that the vast majority of workers and guests are continuing to wear masks despite the local government's easing of its mask protocols.
Macau is busier than it has been in years after China President Xi Jinping in late November ended his "zero-COVID" policy that had kept normal life on hold throughout the mainland, Taiwan, and its two Special Administrative Regions — Macau and Hong Kong. But the overwhelming majority of visitors continued to don masks Monday, both inside and outside.
Macau's coronavirus response agency said people should continue to carry masks with them to adhere to specific masking requirements throughout the enclave. The center is also stressing that mandatory mask-wearing could be reimplemented should the COVID-19 situation worsen.
To prevent a coronavirus reversion, the center is encouraging residents to receive COVID-19 vaccines and boosters, maintain good personal hygiene and wear masks as required, wash hands frequently, ensure "adequate sleep, a balanced diet, and regular exercise," and cover one's mouth when sneezing or coughing.
"Immunocompromised individuals, such as the elderly and people with chronic underlying diseases, should avoid staying in crowded places and wear a mask whenever necessary," the center concluded.
Casinos Not Ordering Masks
Macau's Novel Coronavirus Response and Coordination Center said that indoor masking rules are now largely left to each business to decide. For casinos, the gaming operators are passing on the decision to their workers and guests.
All casinos allow their table game staff members to freely choose whether or not to put on a mask," said Cloee Chao Sao Fong, who heads the local casino union in town. "Patrons know they are not obliged to put on masks, but they still do."
On Wednesday, gaming revenue numbers for February will be revealed. The six casino operators are hoping to carry on their January momentum when the resorts won about $1.43 billion. January 2023 was Macau's best month in terms of gaming income since January 2020.