Macau Casino Shares Tumble as Revenues Slump
Posted on: September 29, 2014, 09:07h.
Last updated on: September 29, 2014, 09:15h.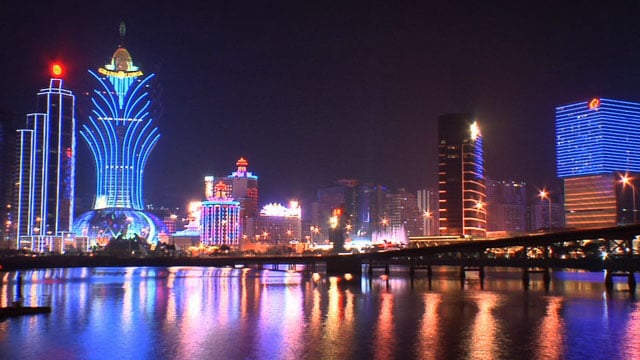 Macau casino shares tumbled further last week, with analysts forecasting a sustained period of revenue decline over the next sixth months before a predicted gradual bounce back.
Like all good gamblers, then, the world's biggest gaming hub must focus on the long-term, while it grins and bears the short-term downswing. CLSA Asia-Pacific Markets and Wells Fargo securities are the latest of a string of analysts to issue warnings to the investment community, and market uncertainty is hitting Macau's casinos where it hurts.
Shares in Galaxy Entertainment Group were most affected recently, falling 3.5 percent to a one-year low of HK$46.35, while Sands China Ltd dropped 2.9 percent to HK$41.30. CLSA analysts predicted gross gaming revenues will dip one percent in 2014, revising an earlier estimate of one percent growth. The 2015 prediction of 10 percent growth, meanwhile, was reevaluated to five percent.
"We remain strong believers in the long-term secular growth story of Macau," said Wells Fargo Securities gaming analyst Cameron McKnight, whose company believes that the market will garner $100 billion in annual gaming revenue over the next five years, "but we feel near-term uncertainty has increased."
Corruption Crackdown
A number of factors are driving market uncertainty, not the least of which is a weak Asian economy overall and a corruption crackdown by the Chinese government, which is scaring off the whales and damaging the junket industry that brings high-rolling businessmen into town.
A separate crackdown on illegal money transfers is further hurting Macau's bottom line. Visitors to Macau from the mainland are permitted to bring with them no more than 20,000 yuan ($3,200) and can only withdraw 10,000 yuan ($1,600) per day, per card, from cash machines. To swerve the restrictions, tourists are able to buy goods from local pawn shops using their debit cards and then trade them for local currency with the same pawnbroker. Unease about the idea of billions of yuan pouring out of the mainland for good, however, has prompted the Chinese government to discover a new enthusiasm for enforcing this ban.
Meanwhile, the disaffected workforce of Macau is frequently taking to the streets to demand higher wages while threatening to strike, which means casino operators face a very real labor shortage. The ban on foreign workers in Macau gives bargaining power to the unions. With a population of just over 500,000, Macau has one of the lowest unemployment rates in the world, at 1.7 percent. And without the legal ability to procure labor from outside the province, casino operators have little choice but to raise wages to attract and retain dealers, while the workers are empowered by a lack of competition to apply industrial pressure.
Positive Outlook
Add to that the introduction of a blanket smoking ban for non-VIP gamblers that goes into effect at the start of October and it's not surprising that, in contrast to the soaring profits of 2013, Macau has hit a wall this year. Meanwhile, the National Congress of the Communist Party of China is due to host its national meeting in Beijing next month, an event held every five years, which is likely to include some kind of discussion about Macau and gaming law in general. This might be bad for Macau, or, as McKnight points out, it might be good a thing. The problem is, no one knows.
"It is possible the Chinese government starts loosening credit policy and stimulating the economy in the fourth quarter, as it did in 2012," he said. "We remain positive on the long-term outlook. We note that only about eight percent annual gaming revenue growth is needed to support economic returns for the upcoming gaming supply through 2018."