Louisiana Riverboats Want to Move Onshore, Gaming Regulator Says Investment Must Accompany Relocation
Posted on: August 8, 2018, 05:00h.
Last updated on: August 8, 2018, 12:30h.
Operators of at least three Louisiana riverboat casinos have told the state's Gaming Control Board that they're interested in moving their gambling venues onshore.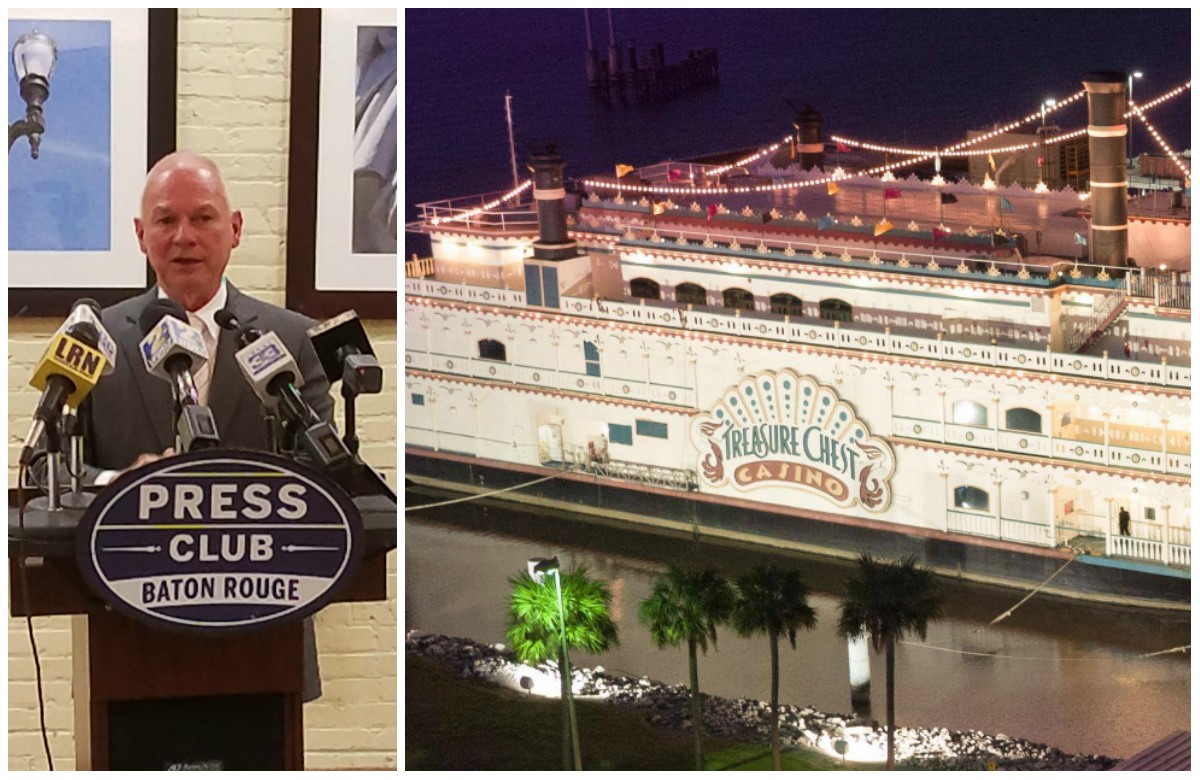 However, the regulatory agency's chief official says capital investment will be required to permit relocation.
Louisiana lawmakers passed a bill in May that allows the state's 15 riverboats to come onto land, so long as all gambling activities remain within 1,200 feet of their licensed berths. Governor John Bel Edwards (D) signed the legislation that same month.
Louisiana Gaming Control Board Chairman Ronnie Jones told the Press Club of Baton Rouge this week that three casinos have already reached out to the government agency with plans of moving onshore.
The Belle of Baton Rouge and the Treasure Chest Casino in Kenner are two of the properties. Jones said the third casino operator has yet to publicly reveal its intentions to move on land, so he therefore didn't disclose that riverboat.
Louisiana is home to 15 riverboats, four racinos, a land-based commercial casino in New Orleans, and four Native American casinos.
Investment Required
Along with permitting the riverboats to come on land, the new regulatory environment removes the 30,000-square-feet cap on casino floor space in favor of allowing each venue to house up to 2,365 gaming positions.
Casino operators urged the Riverboat Economic Development and Gaming Task Force to recommend changes to the legislature that would allow them to move gambling operations to land. Doing so better protects the venues from potential flooding, and removes costly annual barge inspections that can run as much as $100,000.
The task force did just that, and state lawmakers enacted subsequent legislation. But Jones says the purpose of the changes is to grow the gaming industry and tourism market.
"What the task force intended to do was not just move the slot machines onto land," Jones stated. "This is about building new resorts with new amenities and gambling."
To that end, Jones says his agency will require capital investments. There won't be a set fixed number, with the Gaming Control Board instead reviewing each riverboat on a case-by-case basis.
Sports Betting Coming
The Louisiana Legislature adjourned for the year in late June without passing a law to regulate sports betting. The Senate Finance Committee rejected a bill to govern the newly permitted gambling activity that came as a result of the US Supreme Court striking down the federal ban in May.
With the legislature not reconvening until January, the failure to pass sports betting regulations mean gamblers looking to place such wagers will need to travel to neighboring Mississippi.
Mississippi is one of six states to join Nevada in allowing its casinos to operate sportsbooks in the wake of the court decision.
Jones said Louisiana riverboats are already at a competitive disadvantage to Mississippi's casinos, as gambling venues in the neighboring state don't pay taxes on comps such as free meals and hotel rooms.
"We already lose a lot of business to Mississippi. This sportsbook is just a pile on," Jones concluded.