Long Shot off Tee and in Sports Books, Brooks Koepka, Wins US Open
Posted on: June 19, 2017, 10:00h.
Last updated on: June 19, 2017, 09:49h.
Usually it is the golf course that brings players to its knees in a US Open, but 40-1 long shot, Brooks Koepka, decided to reverse conventional thinking.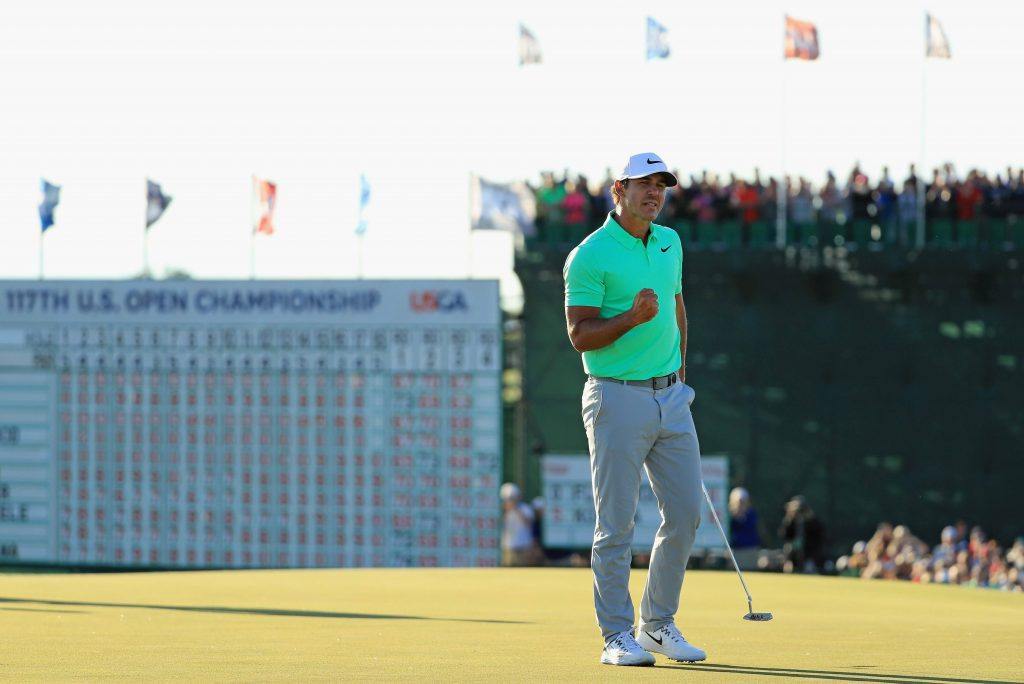 The 27-year-old muscled his way to his first major championship, Sunday, winning by four strokes and tying a record in relation to par at 16-under.
But as much as bettors who selected the former Florida State All-American were hoping he would win, those who picked Brian Harman had much more at stake. The left-handed golfer went off at 225-1 before the tournament and there was still value all the way up to the final round.
After the first round he was 28-1 and after the second day of play he was 15-1. Going into Sunday, he was posted at 11-2, but finished tied for second.
Koepka made certain that no one was going to hold that trophy besides him. He shot a final-round 67, making birdie on three of his last five holes to distance himself from the pack.
"I played really solid from the moment we got here on Monday and all the way through until (Sunday)," he said. "The ball striking was pretty solid. So all around my game is pretty solid and I couldn't be happier."
Victory Not Big Surprise
Coming in as the fifth longest driver on the PGA Tour, it was a given that Koepka's length would be an advantage. The question was could he keep the ball in the fairway and give himself opportunities to make birdies.
History wasn't on his side. Before the start of the event he ranked 151st on the PGA Tour in fairways hit and 98th in greens in regulation. He answered critics by finishing first in greens in regulation and tied for fourth in fairways hit.
Another concern for anyone handicapping the nation's championship was his experience. He had only won once on the PGA Tour since turning professional in 2012.
Looking at his performance in the biggest tournaments, however, should have been a clue. In his previous 10 major championships, he finished in the top 20 seven times, including a tie for fourth in the 2014 US Open and a tie for 13th last year.
Favorites Falter Fabulously
Those who were the top choices to win, didn't even make it past two rounds. Defending champion and No. 1 pick, Dustin Johnson was pegged at 7-1. He missed the cut. So did No. 2 player in the world, Rory McIlroy, who was next at 8-1. Jason Day, who was ranked No. 3 in the world and was tabbed at 10-1, wasn't around for the weekend either.
The only player who had odds of 10-1 or better to play all four rounds, was Jordan Spieth. The 9-1 selection finished tied for 35th.
The top of the leaderboard had plenty of potential payouts beside Koepka. Hideki Matsuyama tied for second and was 30-1. Fourth place finisher, Tommy Fleetwood was 125-1.