Las Vegas Review-Journal Gets Bought Out as Rumors Swirl That Sheldon Adelson Is the Mystery Buyer
Posted on: December 15, 2015, 01:50h.
Last updated on: December 15, 2015, 02:08h.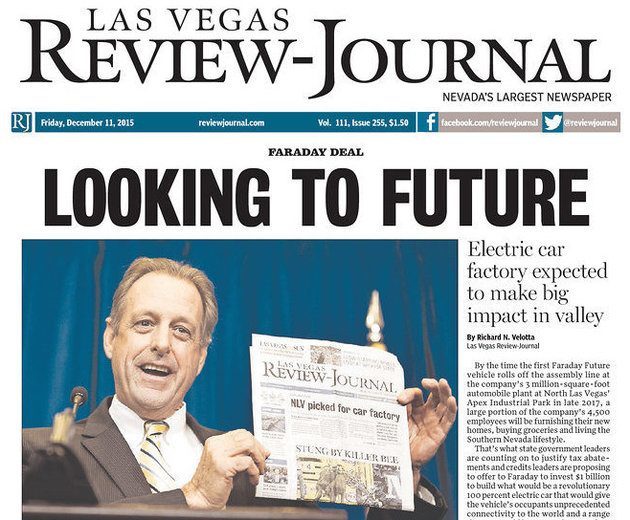 Did Sheldon Adelson, whose Las Vegas casino the Venetian is readying for tonight's final GOP debate, buy the Las Vegas Review-Journal? Many are saying "yes," but no one but the buyer him or herself knows for sure at this juncture.
The $140 million price tag for Nevada's primary newspaper would be chump change for the billionaire, of course. But as city news sources go, it's considered a lot at a time when the print publishing industry is in decline.
But the mystery surrounding the purchase is what really has folks talking, as nobody, not even apparently the newspaper's staff, knows the identity of the new owner.
What we do know is this: last Thursday, a company called News + Media Capital Group paid way over market value to take control of the newspaper from its previous owner, New Media Investment Group, which had bought it earlier in the year for just $102 million.
The owner of the very recently incorporated News + Media Capital Group has not even been divulged to staff, leaving the paper's seasoned reporters, usually so adept at getting to the bottom of a story, scratching their heads.
"Don't Worry About Who We Are"
Michael Schroeder, a News + Media Capital Group manager, told staff in a meeting on last week not to worry about the identity of their new owner.
"They want you to focus on your jobs … don't worry about who they are," Schroeder reportedly said.
He also assured them that the new owners would not interfere with the newspaper's editorial control, although an article posted on the RJ website that evening was reedited to remove references to the fact that the new owners were unknown, at the request of Schroeder.
The timing of the purchase of the most dominant media outlet in Nevada, an early-voting swing state, along with the high price paid, is fueling speculation that the mystery buyer might be a wealthy conservative.
On a visit to the Review Journal's head office this week,  GOP not-so-frontrunner Jeb Bush mused that maybe it was Donald Trump, although we think he was joking. Ultimately, though, the presidential candidate remained as baffled as the rest of us.
"Just finished hour+ @reviewjournal ed board. Only q left unanswered – who owns the newspaper?" tweeted Bush.
Adelson Speculation
A name that has cropped up in many speculative media reports is, inevitably, Sheldon Adelson, and certainly the Republican mega-donor would seem to fit the profile. He owns newspapers in Israel, where his daily free paper, Israel Hayom (Israel Today), is so pro-Netanhayu that it has been accused of compromising the foundations of Israeli democracy.
Furthermore, Adelson has a huge stake in the affairs of Las Vegas and Nevada (the first US state to legalize and regulate online gaming), and has vowed that he will spend "whatever is necessary" in his crusade to banish regulated online gambling from America.
And meanwhile, Adelson's people are refusing to answer requests for comments from the various media sources that have contacted them on the matter this week.
But not everyone is convinced that Adelson is behind all this. University of Nevada, Las Vegas associate history professor Michael Green told the Los Angeles Times that while Adelson was the first name that came to mind, something doesn't quite ring true.
"My immediate thought was, if [Adelson] bought it, he would have told us already, just by dint of the fact that he's been largely an open book," Green said.
And so, for the time being, the mysterious purchase remains a "who bought it?"