Las Vegas Oddsmakers Are March Madness' Big Winners After Two Rounds
Posted on: March 21, 2017, 05:00h.
Last updated on: March 21, 2017, 01:45h.
Las Vegas oddsmakers are welcoming in spring with open arms. After a run of 12 months that was filled with underdogs overcoming long odds, the NCAA men's basketball tournament is providing casino sportsbooks with the perfect elixir.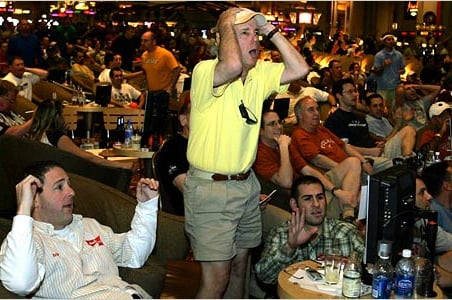 With the first week of March Madness in the books, it was the oddsmakers in Nevada that played the winning hand over the sports bettors.
With the top-seeded and defending champion Villanova Wildcats out, as well as No. 2 seeds Duke and Louisville, many brackets and wagers have been busted. And that's good news for the house.
Talking with ESPN, Frank Kunovic, director of specialty games for Caesars Entertainment, said, "We basically became Caesars Palace federal reserve and were printing money."
Vegas was due for a strong run after a 2016 that was filled with prediction and sports betting chaos. The election of Donald Trump, Leicester City winning the Premier League, the Chicago Cubs winning the World Series, Cleveland winning the NBA Finals, Clemson upending Alabama in college football, and the "Brexit" vote kept both domestic and international oddsmakers guessing.
While books in Nevada have largely weathered the storm, the March Madness victory thus far is certainly welcomed.
Duke Loss, Vegas Win
The Duke Blue Devils are the Green Bay Packers of college basketball. Each year, sportsbooks in Nevada and online take a slew of futures on both teams to win their respective championships.
With Coach K's elimination, the thousands of bet slips are null and void. Among the worthless pieces of paper includes a $12,000 wager placed at William Hill back on February 23. Duke was then at 8-1 to win the national title, meaning the bet would have returned $96,000.
The Westgate said its worst-case scenario was a Duke national championship, and that largely seemed to be the theme around town. The South Point took two $10,000 bets from the same bettor in recent weeks at 10-1 and 15-2 odds.
Villanova's loss was also welcomed in Sin City. Wisconsin's upset over the defending champs canceled numerous $10,000-plus bets on the Wildcats repeating.
Potential Losses Remain
The Golden Nugget Las Vegas will have its eyes focused on No. 7 Michigan as the Sweet Sixteen begins on Thursday evening. That's because Derek Stevens, the owner of the D Casino, placed a $12,500 wager at +8000 for the Wolverines to win it all.
Golden Nugget owner and host of CNBC's "Billion Dollar Buyer" Tilman Fertitta isn't yet sweating the bet. "I've got a million up, and you're in #SWEET16? Should be fun my friend!" the billionaire tweeted at Stevens.
The D Casino owner is one of Las Vegas' early March Madness victims. Stevens placed $11,000 on each of the 32 first-round games. He went 10-19-3 to lose $109,000.
To win his $1 million bet, Michigan will need to beat No. 3 Oregon on Thursday, then likely get past No. 1 Kansas to reach the Final Four.