Las Vegas Labor Day Weekend Estimated at 330k+ Visitors, Strip Room Rates Pricey
Posted on: September 1, 2023, 08:35h.
Last updated on: September 5, 2023, 06:59h.
Las Vegas will be busy this weekend, as the unofficial end to the summer kicks off today and runs through the Monday Labor Day holiday.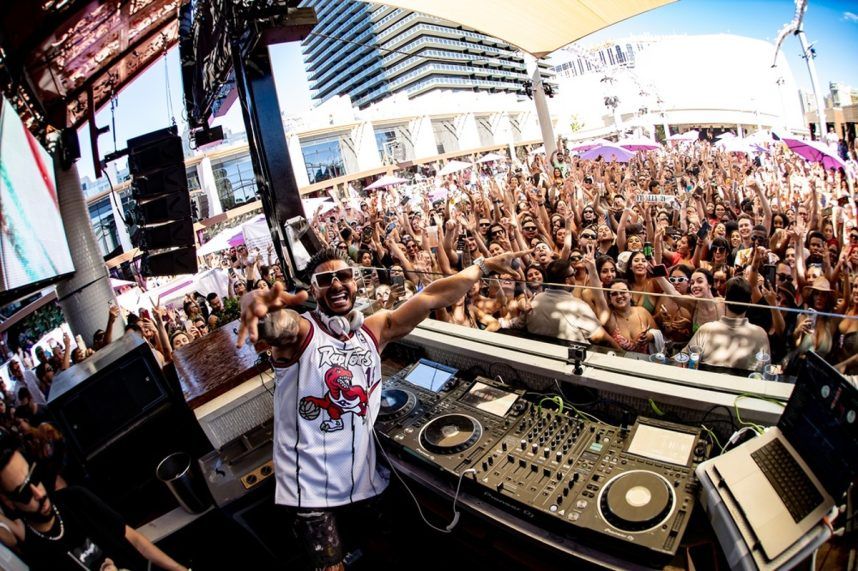 Officials with the Las Vegas Convention and Visitors Bureau (LVCVA) expect around 331,000 visitors to descend on Southern Nevada during the three-day weekend. That would be at least 5% more than last year's holiday.
The government agency tasked with promoting Las Vegas as a premier destination for leisure and business says casino hotel room bookings are strong, and occupancy rates are forecast north of 92%. Las Vegas has nearly 151,000 hotel rooms.
While rain is usually welcomed in the desert, Saturday's forecast could hamper some outdoor activities. The National Weather Service forecasts a 70% chance of rain on Saturday and a high of just 85 degrees Fahrenheit. The rain could cause some flash flooding in Clark County's rural areas.
Sunday and Monday, however, look ideal, with little chance of rain and sunny skies with highs in the upper 80s.
Last-Minute Rooms
Those who booked their Las Vegas Labor Day trips early will save considerably compared to those scrambling to find a room. Casino rooms are available for a stay from today through Monday, but they're, of course, going for higher rates than normal.
The Venetian has rooms for $383 a night, including resort fees and taxes. The Mirage is $233, and Treasure Island is $202. More luxurious properties include the Wynn at $501, Aria at $426, Caesars Palace at $432, and Bellagio at $421.
For budget travelers wishing to stay on the Strip, Harrah's, Sahara, and Luxor are all about $185 a night. The Excalibur is a bit cheaper at $169. Downtown Las Vegas offers more budget-friendly options. Four Queens is $168, the Downtown Grand is $155, and Fremont is $138.
Tourism officials believe the strong demand for Labor Day in Las Vegas will generate a total economic impact of $676.2 million. Direct spending in Clark County is estimated at $382.6 million.
Topping Charts
For the many visitors arriving in Las Vegas by car via Southern California, state transportation officials say the busiest time on Interstate 15 will be between 9 a.m. and 5 p.m. on Monday.
Nationwide, AAA expects this Labor Day to be one of the busiest on record, despite some travelers pulling back their plans because of high costs.
If not the busiest, it'll certainly be right there at the top," said AAA spokesperson Clay Ingram. "Most of our holidays this year have broken the record high set in 2019."
"We expect Labor Day this year to follow suit and probably set an all-time high," Ingram concluded.
Star-Studded Weekend
Las Vegas always has plenty of headliners, but Labor Day brings out all the stars and even more A-listers. For the 2023 holiday, notable performers include Drake at T-Mobile Arena, Lady Gaga at Park MGM, LL Cool J at MGM Grand, and Luke Bryan at Resorts World.
UNLV also kicks off its football season on Saturday against Bryant University at Allegiant Stadium. The game will attract some Las Vegas visitors who want to check out the Raiders' home digs. Tickets are as low as $15. For the Raiders' home opener on Sept. 24 against the Pittsburgh Steelers, the cheapest tickets begin at more than $400.
Most Read