Las Vegas Gaming Sector Feeling Pinch After Stock Market Freefall, Says UNLV Casino Industry Expert
Posted on: August 6, 2018, 01:00h.
Last updated on: August 6, 2018, 01:06h.
The Las Vegas gaming industry is becoming increasingly concerned with declining revenues and a substantial drop in convention attendance, according to one expert in the field who's been closely following this year's trends.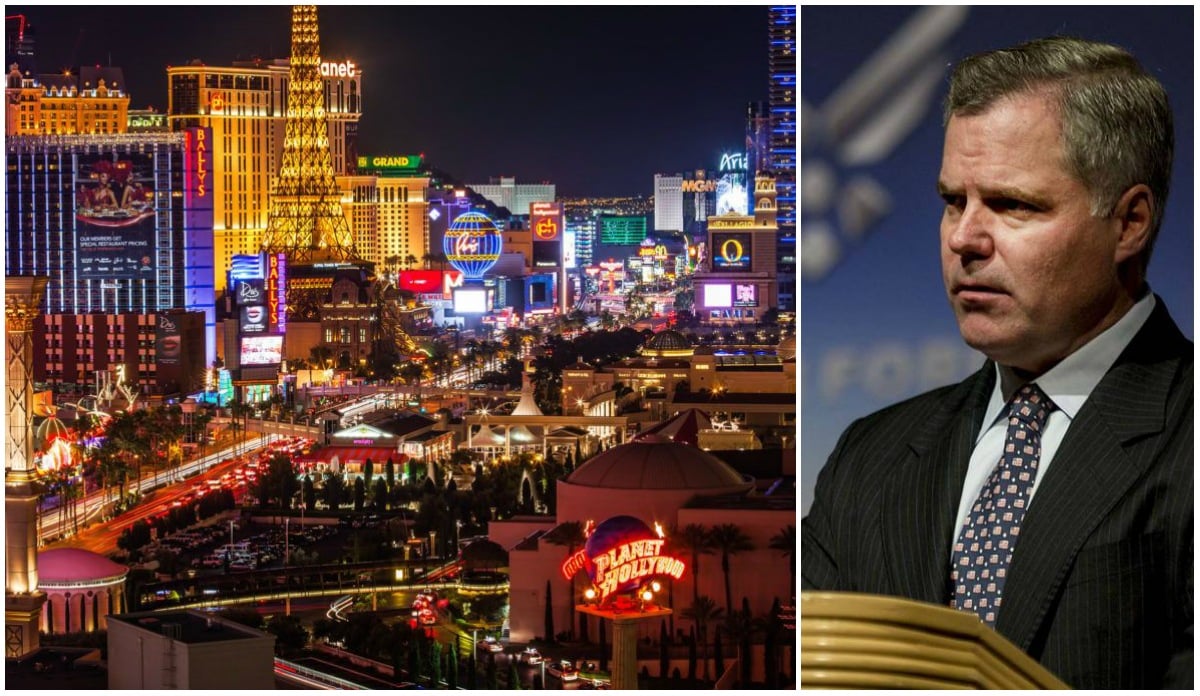 Operators continue to try to paint the overall casino and accompanying MICE (meetings, incentives, conventions, and exhibitions) industries in a positive light, but Wall Street investors went on a selling spree last week, after numerous companies missed Q2 earnings forecasts.
Sands, Caesars, MGM, and Wynn Take the Fall
After the big four Strip operators nosedived in the stock market last week, David Schwartz — executive director of UNLV's Center for Gaming Research — wrote in Forbes this week that while gaming industry CEOs are publicly stating that there's no long-term concern when it comes to Las Vegas' economic health, there's plenty of angst regarding the city's future.
There are fears that Las Vegas has finally pushed its luck too far. For nearly all Americans, there are now places to gamble that are much closer than Las Vegas, which is why the city's resorts have reinvented themselves as places to eat, drink, shop, and occasionally gamble," Schwartz stated.
Though gross gambling revenue is up two percent over the last 12 months on the Strip, visitor volume is down one percent year-to-date, and convention attendance is down more than three percent. Though convention attendees don't typically gamble as much as other visitors, they spend more on expensive dining and non-gaming entertainment, Schwartz said.
"The industry — and shareholders — have made peace with gaming being a smaller piece of the pie in post-[gambling] monopoly Vegas. But the recent news that both visitation and earnings are down has thrown a scare into investors," the researcher concluded.
Blame Game
Schwartz explains that recent changes to how the Strip does business could be making Las Vegas a less attractive vacation and business destination. The UNLV professor says the implementation of parking fees, along with increased resort fees, might be to blame.
With fewer people coming to town, casinos fell short of analyst expectations in the second quarter, in terms of net profits.
The Wall Street selloff began after Caesars CEO Mark Frissora cautioned investors during a conference call that the company predicts additional softening in overall demand in the months ahead.
Both Frissora and MGM CEO Jim Murren said Q3 is a difficult comparison. They pointed to the Floyd Mayweather and Conor McGregor August 2017 highly anticipated boxing match that packed Las Vegas as one reason visitation is expected to further show declines when the 2018 July through September numbers are released.
MGM reported earnings per share in Q2 of 21 cents, well short of the analyst consensus forecast of 29 cents. Wynn delivered net profits that equated to $1.53 earnings per share, also below the forecasted $1.97.
Market Adjustment
Schwartz doesn't believe it's time to bet against the casinos, as he says Las Vegas has endured equally difficult periods before. He points to Caesars and MGM lowering room rates in the months ahead to attract guests during the expected slow period, and says Wynn Resorts' now-validated parking program for $50 spends and up is another sign the companies will adjust to market conditions.
But Schwartz added that the poor earnings and worse predictions hits at a surprising time in Las Vegas.
What makes this summer's softness a surprise is that it bucks historical trends. In the past, lower unemployment and higher consumer confidence have translated into higher [summer season] earnings for Las Vegas casinos," Schwartz pointed out.
The US Department of Labor reports that the national unemployment rate is just 3.9 percent, the lowest it's been in more than a decade. "On paper, Las Vegas should be booming, but this summer has been a difficult one," Schwartz ended.