Las Vegas Caesars Palace Forum Shops End Free Valet Parking, Charges Are New Trend
Posted on: July 29, 2017, 02:00h.
Last updated on: July 29, 2017, 11:56h.
Whether you're just window-shopping at the Forum Shops at Caesars Palace in Las Vegas, or dropping $50K or more at one of the chichi designer stores there, the trend started last year by MGM Resorts towards paid parking just took another hit. Because before customers even enter the über high-end mall, they'll pay $7 to valet their car, an amenity that used to be complimentary.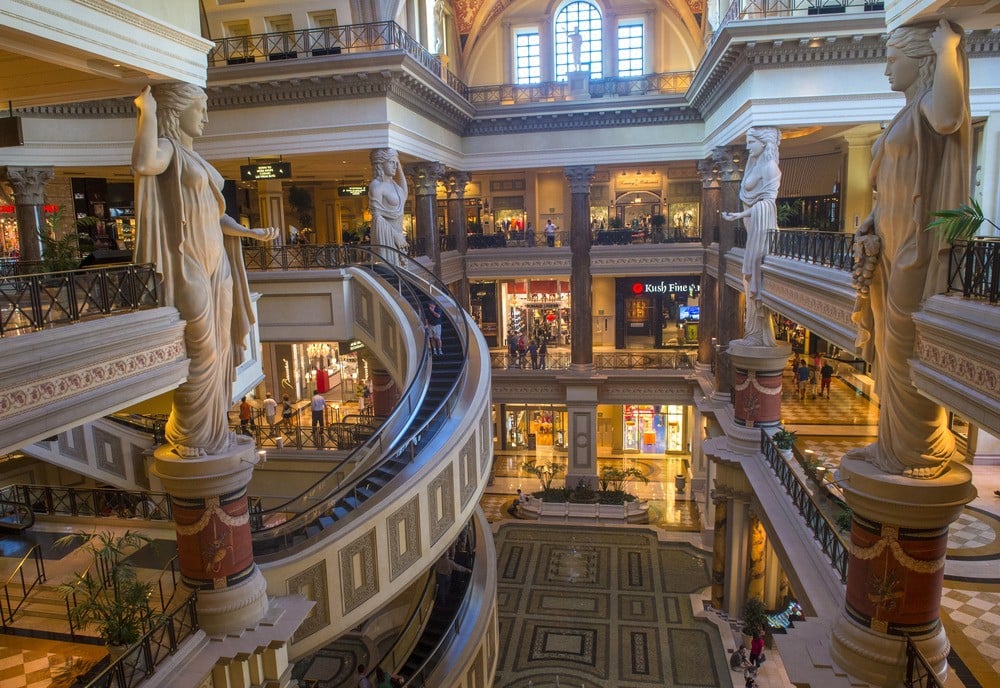 The policy began in mid-July. The facility has no specific self-parking, but if you think you'll avoid paying for valet by self-parking in the hotel's structure, think again, because parking fees there are also $7-10, depending on how long you linger, so you might as well valet at the mall (valet costs at the hotel range from $13-18, so this could be seen as some kind of backhanded bargain).
The closest free parking is now at the SLS, on the other side of the Strip and more than two miles away, according to Google Maps.
For 25 years, the collection of high-end stores provided that amenity at no cost, one that presumably would pull in tourists anxious to spend newfound winnings. But mall officials say that hotel visitors, as well as others not wanting to pay to park their car at neighboring casinos, would take advantage of the free valet service.
Just coincidentally, they realized this was a problem after MGM and Caesars both unrolled their paid parking plans to extensive customer grumbling, but apparently no substantial loss of business.
Forum Marketing Director Maureen Crampton justified the new fee, telling the Las Vegas Review- Journal this week that it's the least expensive of any (of the formerly free) valet services on the Strip. She added that Simon Property Group, which owns the mall, had discussed the fee for months before instituting it.
Sector Taking a Hit
Simon Property Group, which owns the Forum Shops and more than 300 other mall properties across the US, Europe, and Asia, has watched the industry slip in recent years. Online shopping has been the biggest threat, with an estimated eight percent of Americans purchasing products over the internet.
That's led to a stock price drop for the company. Simon went from a 52-week high on July 27, 2016 of  $229.10 down to $165.31 on July 27 a year later.
Because of the decrease in value, this year, the company eliminated stock grants tied to its long-term performance for top executives, according to its proxy statement filed with the Securities and Exchange Commission.
"The challenging business conditions in the retail industry that the company is facing," was the reason for the decision regarding stock grants and bonuses, according to the proxy statement.
New Vegas Order
Whether the charge for valet parking is because of the industry's condition or just because everybody else is now doing it, the trend towards charging for previously free services in Las Vegas casinos and their ancillary amenities seems to be here to stay.
Parking fees at MGM Resorts casinos began back in January 2016 and the program wasn't even a year old when the gaming conglomerate increased prices at 11 of its properties. Parking there will cost anywhere from $7 to $25. Caesars waited until March of this year to implement parking charges.
Drink Monitoring at Slot Bars
Free drinks have also become harder to come by in Sin City of late. The once-revered notion that even playing the penny slots in a Las Vegas casino would keep the liquor flowing seems to be going to the wayside.
Two years ago, MGM Resorts implemented a program to reduce the amount of alcohol in its cocktails. According to VitalVegas.com, the company went from 1.5 ounces of liquor in its mixed drinks to 1.25 ounces, but that's only for paying customers. A freebie will only have a single ounce.
Caesars announced earlier this month it had partnered with local company Arden Progressive Systems & Games to use its Complimentary Validation System to determine when players have "earned" a free drink with slot play at the bars. A monitoring device, as well as tracking software, is connected to slot machines to see how much money a player has invested before "complimentary" adult beverages come their way.
The Las Vegas Sands Company's Venetian and Palazzo casinos are also using the system, as well as the off-Strip Westgate.
Similar Guides On This Topic