Las Vegas Culinary Workers Union Launches Anti-Station Casinos and Deutsche Bank Radio Spots
Posted on: September 30, 2015, 07:49h.
Last updated on: September 30, 2015, 08:08h.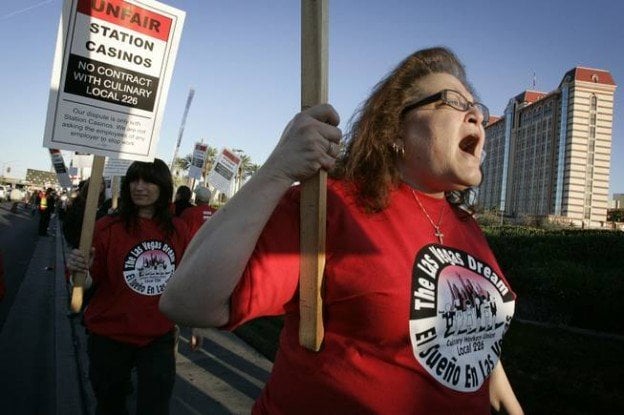 The Las Vegas Culinary Workers Union Local 226 has launched a local radio campaign in Nevada attacking Deutsche Bank, a major shareholder in Station Casinos, over its involvement with the Libor rate-rigging scandal.
Deutsche Bank was forced to pay an unprecedented $2.5 billion fine following investigations by authorities in the UK and US, which judged that at least seven of the bank's employees were guilty of manipulating Libor rates.
Libor, which stands for the London Interbank Offered Rate, essentially measures the cost of inter-bank lending, and sets out the average rate banks pay to borrow from one another. It's used as the basis for everything from trillion-dollar loans to mortgages, credit cards, and student loans.
Of course, the rates banks pay to borrow money affect how much they charge customers for loans and mortgages, and if these rates are manipulated so that the costs for the banks go up, it means the price customers pay also goes up.
Suitability Hearing
The UK Financial Conduct Authority has said employees at Deutsche Bank had a "deeply ingrained" culture of "generating profits without proper regard to the integrity of the market," and Local 226 now wants to know just how much of Station Casinos' revenue is going into paying off Deutsche Bank's fines.
The culinary workers' union, which is the biggest in Las Vegas, representing around 6,000 cooks, cleaners, bartenders, cocktail waitresses, porters, and other casino staff, is demanding that Deutsche Bank be called forward for a suitability hearing and has written a letter to Nevada Governor Brian Sandoval t0 that effect.
While Deutsche Bank owns 25 percent of Station Casinos LLC and its 19 casinos in Nevada, it has not gone through the licensing process by Nevada regulators, the union complains.
"The Gaming Commission has always maintained a high standard when it comes to licensing casinos," said Geoconda Arguello-Kline, the union's secretary-treasurer. "It is unthinkable that Deutsche Bank, the parent company of a felon, is allowed to profit from its ownership in Station Casinos without being licensed."
Bigger Picture
Of course, the idea that Deutsche Bank, one of the world's major financial institutions, is paying its fines from the pay packets of Local 226 employees is a stretch of the imagination.
The truth is, the union has a beef with Station Casinos and has been at loggerheads with the company for years over a number of issues, ranging from improved health benefits to wage increases, and has thus far failed to organize its employees with the company.
Recently it went so far as to oppose an "irresponsible" water fountain at the headquarters of the Ultimate Fighting Championship, which is owned by Station Casino bosses, the Fertitta brothers.
Last year, Local 226 had proposed major pushback action at ten downtown casinos, including Station properties, but a strike was ultimately averted at the last minute.
This was the first time the union had demanded industrial action since 1984, when members of five unions picketed the Frontier Casino for six years.