Las Vegas Cans Former Mayor Oscar Goodman Ambassador Gig, Pandemic Blamed
Posted on: April 7, 2020, 09:47h.
Last updated on: April 7, 2020, 11:05h.
Former Las Vegas Mayor Oscar Goodman is the latest person in Southern Nevada to lose his job.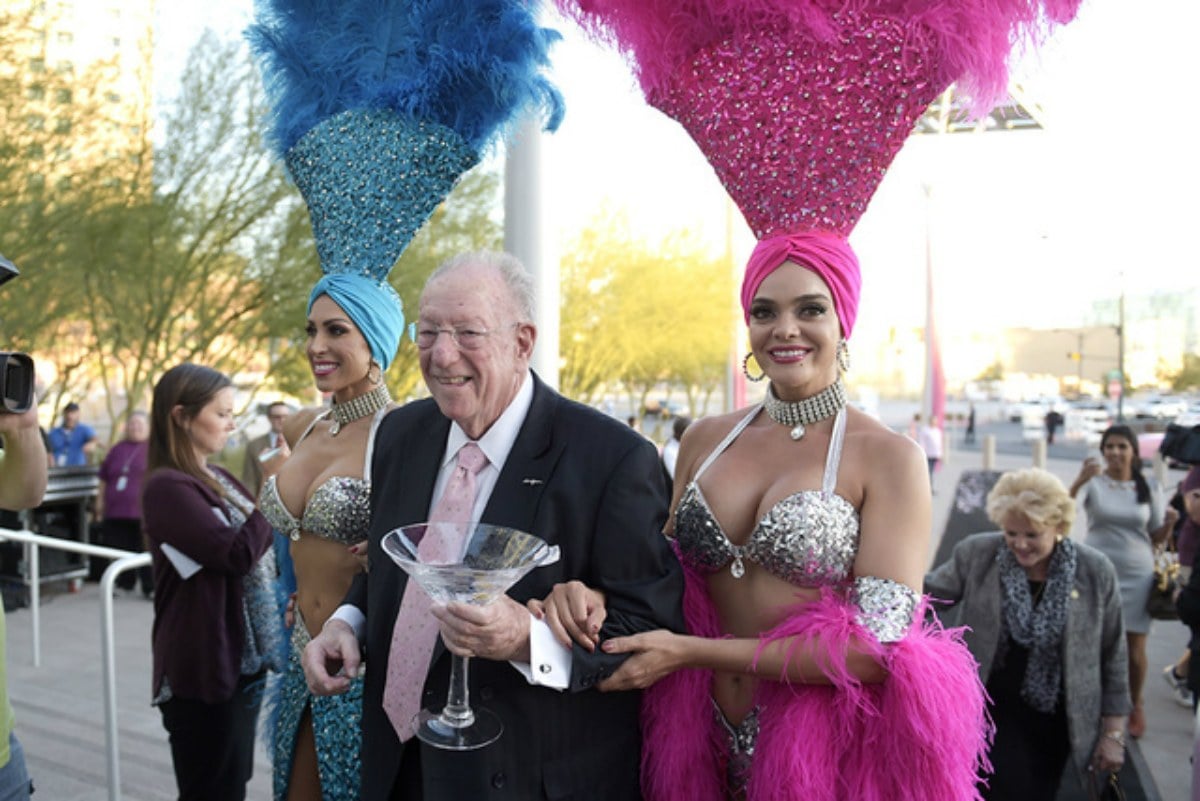 On Monday, the Las Vegas Convention and Visitors Authority (LVCVA) announced it's canceling Goodman's contract. For nearly a decade, the 80-year-old has served as the tourism agency's chief ambassador, appearing at major events with a cocktail in one hand and flanked by two showgirls on each arm.
But with Las Vegas and Nevada as a whole closed for all non-essential business through at least the end of the month, Goodman's services are no longer needed. Lost revenue, which will number into the tens of millions of dollars for the LVCVA, is also expected to result in budget cuts.
Due to impact of COVID-19 and its closure of the destination, we sadly canceled Mayor Oscar Goodman's consulting agreement as our Host Committee Chairman," LVCVA spokeswoman Lori Nelson-Kraft said in a statement.
"We greatly appreciate and value his enormous contributions over the past decade to welcome and thank our visitors," the statement continued. "Mayor Goodman has always been and will continue to be the biggest cheerleader for Las Vegas, and we adore his enthusiasm and pride for our destination."
The LVCVA has paid Goodman $72,000 annually since 2015. The tourism authority is primarily funded through hotel room occupancy taxes incurred in Clark County.
Goodman Dynasty
Oscar Goodman was born in Philadelphia. But after graduating from the University of Pennsylvania Law School, he ventured west to Sin City, where he became a high-profile lawyer representing the mob.
During his legal career, he represented many of the most notorious organized crime figures in American history, including Meyer Lansky, Nicodemo Scarfo, and Tony Spilotro, the latter the basis for the semi-factual 1995 film Casino. Spilotro was portrayed by actor Joe Pesci.
Goodman partnered with David Chesnoff, who today remains the go-to attorney for celebrities and high-profile individuals who find themselves in trouble in Las Vegas.
He pivoted to politics, and became mayor of Las Vegas in 1999 – a position he held until 2011. Goodman was succeeded by his wife, Carolyn Goodman, who remains mayor today.
Not Without Controversy
Oscar Goodman has garnered plenty of critics in Southern Nevada, perhaps none more so than Las Vegas Sands billionaire Sheldon Adelson. The Las Vegas Review-Journal, which Adelson's family has owned since 2015, has criticized both Goodman and the LVCVA, which is a direct competitor to the Sands' convention business.
In the RJ's article announcing Goodman's contract being dissolved, the paper reports, "LVCVA security officers were taken away from their convention center duties about 260 times between 2013 and May 2017 to drive Goodman to events."
I'm the most optimistic, outgoing person you'd ever want to meet. But I hate the Review-Journal," Goodman said during a 2017 event.
"They say, 'Free rides cost taxpayers.' We pay for schools. We pay for everything. And then comes a real bad fella, a fella with his own personal agenda, a competitor of the convention authority, who uses his newspaper that he bought for his own personal benefit," Goodman declared at the time.