New Downtown Las Vegas Sign Goes Retro, City Officials Embrace Vintage Showgirl Theme
Posted on: August 7, 2018, 04:00h.
Last updated on: August 7, 2018, 03:01h.
The entrance point to downtown Las Vegas from the Strip — just north of the Stratosphere — will be marked by a dramatic new sign welcoming visitors into the area for the first time officially on Tuesday.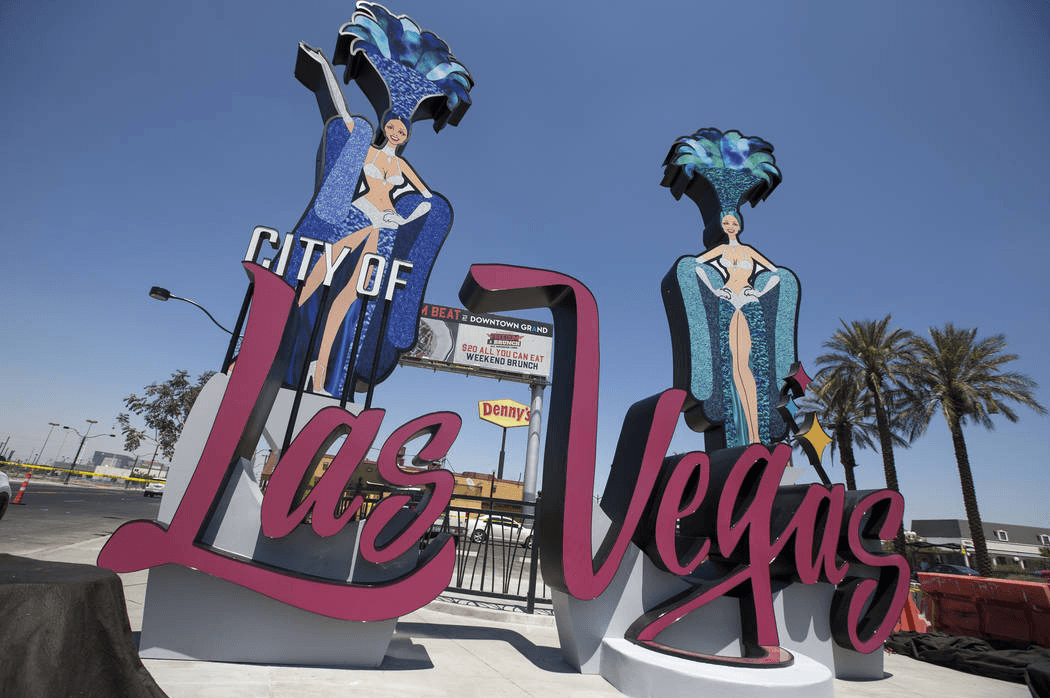 A pair of 26-foot-tall backlit showgirls will beckon northbound visitors into the City of Las Vegas, marking the shift into downtown.
The sign it replaces was a facsimile of the classic and familiar "Welcome to Fabulous Las Vegas" original that sits on the far southern end of the Strip. That facsimile became mangled when a car plowed into it in 2016.
The new — now bollard-protected — version is modeled on two showgirls who famously accompany former Las Vegas Mayor Oscar Goodman to PR events. Oscar's wife and current Las Vegas Mayor Carolyn Goodman described the new addition as "fun-filled" and "light and airy."
The showgirls flank the words "City of Las Vegas" written in a cursive magenta squiggle that was once, briefly, the city's official emblem, before being replaced once more with the original city seal when that graphic got flack for being too frou-frou.
Las Vegas' Neon Signature
Signage is important to Las Vegas. It's part of the iconography of a city whose name is iconically linked to neon. It's so central that a museum is specifically dedicated to its discarded signage on a six-acre property. The cultural detritus of this city has a unique, retro appeal, and neon leads the parade.
Along with all the recent modernization and gentrification of the downtown area — for all its esports arenas, hipster bars, and millennial communal living areas — retro Las Vegas signage is making a comeback.
Last year, an entire block of Fremont Street was demolished to make way for D Casino owner Derek Stevens' new project. That wiped out neon cowgirl "Vegas Vicky," as well as the Las Vegas Club, which in 1931, one year after it opened, was the first casino-hotel in the world to install a neon sign.
Reclaiming Heritage
Las Vegas city officials have long recognized that neon is part of the downtown area's heritage.
Last month, the city's Centennial Commission approved a $762,000 budget to reinstate and restore some of the classic signage from long-since forgotten motels along Fremont East. The dives of yesteryear are becoming iconic pop culture artifacts, the same way records are now vinyl.
As downtown modernizes, it simultaneously reclaims its past. The new sign does not contain any neon at all — it's pure LED — but it has a new retro appeal, and city officials are certain it will become an "iconic Vegas location," according to a press statement.
No doubt they hope it will follow the path of the more famous "Welcome to Fabulous Las Vegas" sign that sees long lines form for a chance at a selfie or a group mug shot. Because as everyone knows by now, what happens in Vegas always follows tourists home to show social media, friends, and family, and lure them to visit as well.
Similar Guides On This Topic