Kentucky Sports Betting Bill Goes to the Mat in Contested Televised Debate
Posted on: February 26, 2019, 11:20h.
Last updated on: February 26, 2019, 07:08h.
A Kentucky sports betting bill saw advocates on both sides of the sports gambling debate make their case on television Monday night, just as the bill is making its way through the state's General Assembly.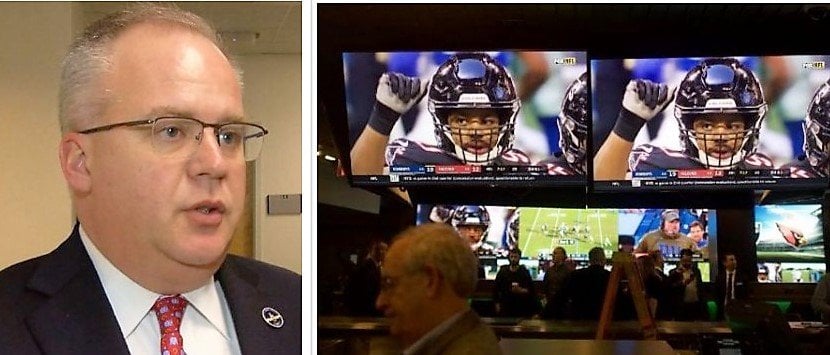 The forum — held on Kentucky Educational Television's Kentucky Tonight — pitted lawmakers sponsoring the bill against both a Baptist minister and the leader of The Family Foundation of Kentucky, a group that claims to protect "families and the values that make them strong."
It came less than a week after the House Licensing, Occupations and Administrative Regulations Committee passed House Bill 175, sponsored by state Rep. Adam Koenig (R-69th Dist.), the committee's chairman.
While proponents argued that it would allow Kentucky to generate revenue from sports that residents already enjoy, Kent Ostrander — the Family Foundation's executive director — said he worries expanded gambling will target and exploit the poorest in the state.
Corporations can't gamble, businesses can't gamble, non-profits can't gamble, churches can't gamble," Ostrander told the show's moderator Renee Shaw. "Only moms and dads and a few single people who may be [parents] at some point. All of the money comes from Kentucky families. That's where it comes from … gambling only targets the family."
Sports Betting Garners Bipartisan Support
The bill would allow the state's horse tracks and the Kentucky Speedway to apply for licenses which would allow them to accept bets on most major sporting events, except for those involving the state's college teams. Regulations for online poker and fantasy sports would also be outlined in HB 175.
Operators would pay $500,000 for the license, which would also allow for mobile betting from anywhere in the state.
Kentucky legislative proponents estimate the sports betting bill would generate between $20-$50 million in annual revenue, depending upon how many neighboring states also ultimately legalize sports books.
Five percent of those revenues would go toward helping gambling addictions programs.
The bill enjoys bipartisan support. Koenig, a Republican, has 20 cosponsors named on the bill, with 11 of those being Democrats.
Fighting Over Bill Terms
State Rep. Al Gentry — a Democratic co-sponsor of the bill — said initial plans included casino gaming that would have brought up to 10 times the money coming from just the proposed sportsbooks. But the Louisville lawmaker said proponents decided to meet with Family Foundation representatives, which ended up removing provisions for any non-sports gambling.
Gentry said the negotiations became so intense, it almost led to a deal-breaker.
"We started watering it down so much, I almost walked away, quite frankly," he said.
Gentry also rebuffed those who claim expanded gaming would come with a social cost. With casinos in West Virginia, Ohio, Indiana, and Illinois, the social cost is already in the state, as those venues market to Kentucky residents, while the state gets no tax revenue benefit from it, he said.
Koenig told Casino.org on Monday that the House will take up the measure as soon as they have the votes.
He further explained on KET that he needs 60 votes out of the 100-member chamber. Kentucky law requires bills proposed in odd-numbered years (based on a constitutional amendment) that raise revenues to pass with a three-fifths majority. He and other proponents are still talking to their colleagues about the bill.
"There's always misinformation that runs around with bills like this," he said. "So, we are informing legislators who want to get there. They just have concerns right now."