Kentucky Lawmaker Says He's Working on a New Sports Betting Bill
Posted on: January 22, 2023, 07:01h.
Last updated on: January 21, 2023, 10:57h.
A Kentucky state lawmaker said he's working on a sports betting bill that he hopes will get filed shortly after the General Assembly resumes its 2023 session next month.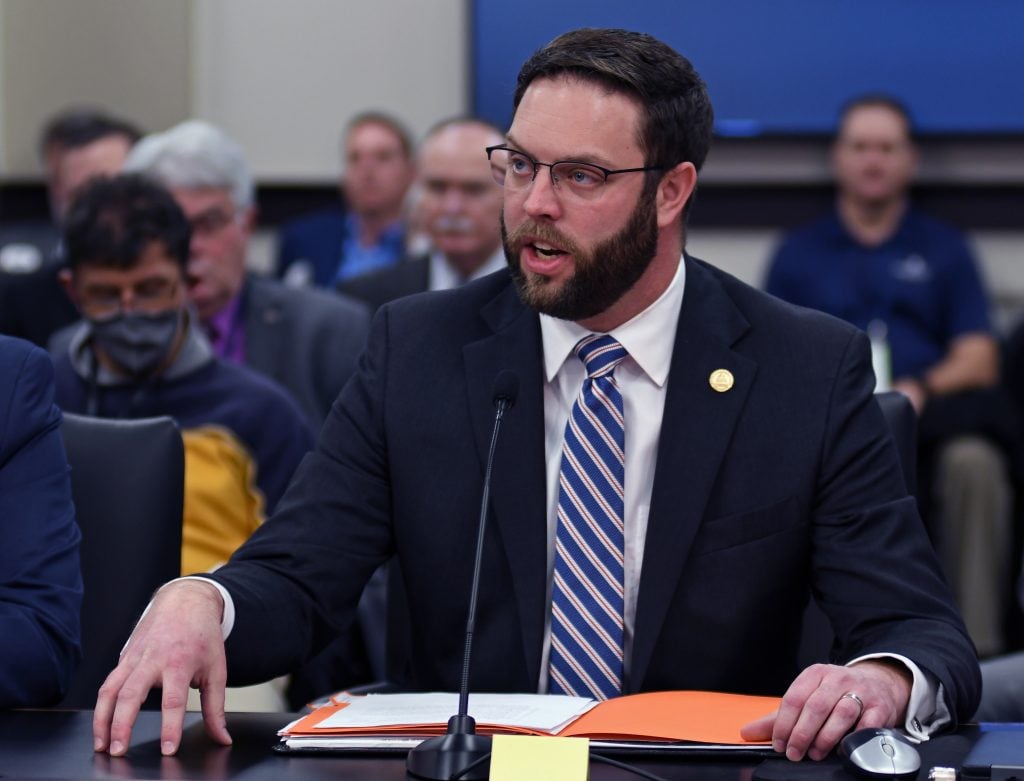 State Rep. Michael Meredith, R-Oakland, will pick up the mantle from former state Rep. Adam Koenig, who had led the charge in previous years. He told Casino.org he's working with House Speaker David Osborne, R-Prospect, and Senate Majority Floor Leader Damon Thayer, R-Georgetown, on the new legislation.
Sen. Thayer and I are communicating every couple or three days right now back and forth on different things that have popped up in discussions with the industry and other folks who have brought ideas to me," Meredith said. "I'm trying to keep him as much in the loop as possible, and he and Rep. (Al) Gentry (D-Louisville) will be two of the first people that get a draft, after the speaker gets his obviously. We are communicating though, Sen. Thayer and I are, about some of the decisions we're trying to make and getting the final drafting done, too. Just what is more palatable in his caucus, and where he thinks some of his members are on different things."
Gentry is a key Democrat on the House Licensing, Occupations, and Administrative Regulations Committee. The Louisville Democrat was a cosponsor of Koenig's bills, as was Meredith.
Meredith said he and Gentry talked during the first week of the session earlier this month. He told Casino.org that he did not want to speak for his colleague about whether Gentry would be a sponsor of his bill.
In an interview with Spectrum News this past week, Gentry said he planned to be a cosponsor again.
Last year, the House passed the sports betting bill for the first time. However, it never got a vote in the Senate. Reports indicated that the bill was short at least a couple of votes in that chamber.
Online Poker Likely Out
Since he's still working on a draft of the bill, Meredith did not share many details.
One item he did mention was that online poker, which had been included in past bills, may not be included in a new bill.
It seems to be an issue that doesn't have a lot of excitement around it, and it seems to be an issue that may pick up some votes if it's not there," the lawmaker said.
Previous bills from Koenig gave the state's racetracks the ability to offer sports betting or partner with an operator. The tax rate was 9.75% on the adjusted gross revenue for retail sportsbooks, and 14.25% for online operator revenues.
Meredith said the tax rates would likely stay close to the previous iterations.
"The main thing is the ultimate licensees will still likely be the tracks, and maybe some general flexibility on their contracting and operators that they work with," he said. "Likely online poker will be out of the new draft, and then, most of the rest of it will be some form of modernization of language from when it started a few years ago."
Meredith also plans on keeping the minimum sports betting age at 18, which is the same age limit at Kentucky racetracks and the state lottery.
Problem Gambling May Also Be Addressed
Last year, Koenig introduced a series of four gaming bills midway through the session. Besides sports betting, Koenig also offered a racing-related bill that reformed the tax structure of on-track wagering, online wagering, and historical horse racing (HHR) machines. That bill, which did pass both chambers, also brought about penny breakage, which gives bettors higher payouts for their winning bets.
Koenig also filed a bill to establish a problem gambling fund in the state with money from the PokerStars lawsuit settlement. In addition, state Rep. Killian Timoney, R-Lexington, filed a bill to ban gray games or skill games in the state.
The latter bill passed both chambers. But the Senate amended the original bill to ensure arcade games, like Skee-Ball, were not banned by the legislation. While the Senate passed the bill, the House did not vote on accepting the changes before the session ended.
Timoney has told Casino.org he plans to refile his bill this session. However, Meredith said it's unlikely the bills will be packaged like they were last year, because lawmakers aren't sure what will happen on gray games, where there has been some talk by a few lawmakers of wanting them legalized.
Meredith did say that he's interested in pursuing a problem gambling fund. However, he doesn't just want sports betting revenues to cover it.
"I think most of us think that that needs to be handled in some kind of a comprehensive fashion," he said. "Either the state creating a pot of money through the budget for that or all forms of gaming taking part… If other types of gambling are going to benefit from that, I don't think sports wagering should be the only one funding it, and so I have resisted any calls or urges to fund that specifically in the sports wagering bill. I have told everybody I would certainly work with them on something more comprehensive, either this year or next year, depending on how they want to address that issue."
Another Sports Betting Bill Already Filed
Surveys have shown sports betting to be popular in Kentucky, one of the 14 states that has not legalized the gaming product since the US Supreme Court ruled The Professional and Amateur Sports Protection Act of 1992 (PASPA) was unconstitutional nearly five years ago. And it's supported by voters in both parties, based on a survey conducted by proponents last year.
Kentucky Gov. Andy Beshear, a Democrat, included expanded gaming in his platform during his 2019 election campaign.
Beshear, who is running for reelection this year, remains a staunch supporter of sports betting. In his State of the Commonwealth address earlier this month, he called on the legislature to pass it this year. A day after that Jan. 4 speech, House Minority Floor Leader Derrick Graham, D-Frankfort, filed House Bill 106, which would legalize sports wagering.
While Graham's bill appears identical to last year's sports betting bill, his will not likely gain traction in the legislature. That's because of the Republican party having super majorities in both chambers.
In the House, the GOP controls 80 of the 100 seats. In the Senate, the party controls 31 of the 38 seats. And the relationship between Beshear and Republican legislative leaders is, at most times, very contentious.
About the Kentucky General Assembly
For those unfamiliar, here's a brief primer on the Kentucky General Assembly.
In odd-year sessions, lawmakers meet for 30 days spread out over three months. The session starts the first week in January but pauses for four weeks after that. During that time, legislators work on drafts of potential bills, which could be filed after the legislature reconvenes on Feb. 7.
The last day a bill can be filed in the House is Feb. 22. The session must end by March 30. After March 16, there's a 10-day break for Beshear to consider vetoing bills that have been passed. Lawmakers will come back on March 29 for two final days where they can override those vetoes.
They can still pass new legislation at that point, but it gets a little frantic during those last days.
Also, the bill will need more yes votes in both chambers this year than in an even-year session. Per the Kentucky Constitution, any bill offered in an odd-year session that generates revenue needs three-fifths majorities in both the House and the Senate. Lawmakers vote on two-year budgets in even-year sessions.