Keeneland Requests Five Race Days in July After COVID-19 Canceled Spring Meet at Kentucky Track
Posted on: May 22, 2020, 10:22h.
Last updated on: May 23, 2020, 06:08h.
Keeneland announced Friday evening it submitted a request to the Race Dates Committee of the Kentucky Horse Racing Commission (KHRC) to run an abbreviated meet in July to make up for the dates the Lexington track lost in April because of the coronavirus.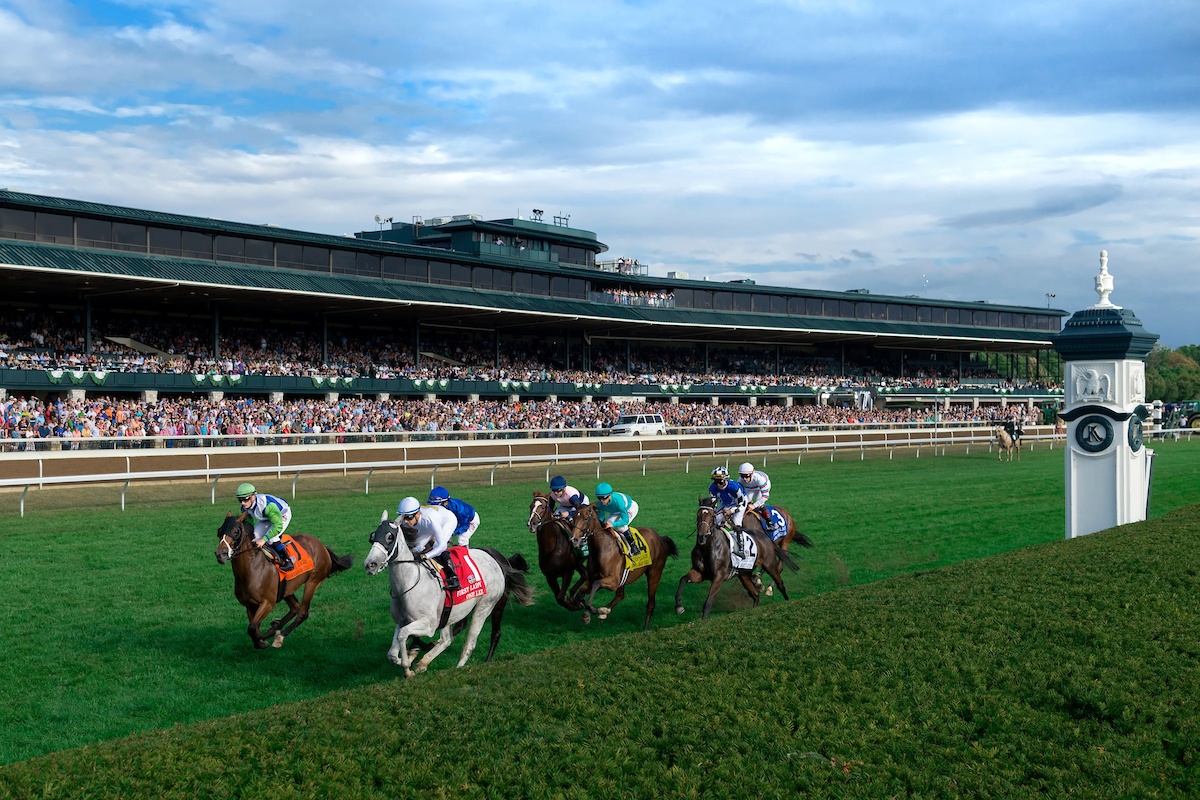 Racing would start on July 8 and conclude on July 12.
In a statement, Keeneland also said it will share the planned procedures with both Gov. Andy Beshear's office and local health officials. Those procedures would match what Churchill Downs is already using, and that includes racing without fans at the historic track.
"We are excited about the return of racing to Keeneland, and know this will be welcome news for our horsemen, fans and the Central Kentucky community," Keeneland President and CEO Bill Thomason said in the release. "This purse money represents significant income for horsemen, and while the races will be spectator-free, the Keeneland team is hard at work on creative ways to involve fans watching at home and to enhance our simulcast product for handicappers."
Track officials plan to run either nine or 10 races each day, and 10 stakes races that were supposed to run during the canceled 16-day meet last month would highlight the race cards.
Racing in Kentucky resumed last weekend at Churchill Downs. While the Louisville track is barring spectators, the track has reported daily handles far outpacing the amounts wagered from comparable days last year, although there were far more tracks competing for bettors' action last year. 
Kentucky Derby Prep on the Docket
The highlight will be the Grade II Blue Grass Stakes set for July 11. The Kentucky Derby prep race is one of six graded stakes race Keeneland will hold that day, with combined purses of $1.8 million.
These stakes races are important targets on the racing calendar for owners and breeders alike, and we are very happy to have the opportunity to conduct them," Keeneland Vice President of Racing and Sales Bob Elliston said. "The purses of some stakes, as well as maiden special weight and allowance races, are reduced from planned 2020 Spring Meet levels. Keeneland is unique in that during the course of a race meet, we put every bit of revenue we generate – from wagering, dining, concessions, gate, seating, and sponsorships – back into purse money. The Summer Meet purse projections are based on current Association cash and Kentucky Thoroughbred Development Fund."
The winner of the 1-1/8-mile race will earn 100 qualifying points for the Derby, essentially guaranteeing that horse a spot in the Sept. 5 Run for the Roses at Churchill Downs.
It remains to be seen what kind of field the Blue Grass will draw. The Grade I Belmont Stakes, a Triple Crown race like the Kentucky Derby, takes place on June 20, and the week after the Blue Grass, the Grade I Haskell Invitational will take place at New Jersey's Monmouth Park.
Horses racing in the Grade III Matt Winn Stakes, a smaller Derby prep at Churchill Downs that takes place this Saturday and will award 50 qualifying points to the winner, may be positioned for the Blue Grass if they pass on the Belmont.
Fall Meet, Breeders' Cup Coming Up
The days Keeneland requests are currently assigned to Ellis Park in Henderson. However, since the COVID-19 outbreak began, the state's tracks have been working with one another on rearranging race dates. Ellis already agreed to allow Churchill to run the Derby cards during the first week of September.
The next KHRC meeting is set for June 16. But it's possible a special called meeting Race Dates Committee or the full Commission could take place to consider Keeneland's request.
Keeneland is still set to hold its traditional fall meet from Oct. 2-24, and two weeks later, the track for the second time will host the Breeders' Cup championship races on Nov. 6-7.