Horse Racing: Keeneland Cancels Spring Meet, Aqueduct Stays Open, Monmouth Park Delays Opening Day
Posted on: March 16, 2020, 04:31h.
Last updated on: March 16, 2020, 06:19h.
Keeneland announced Monday that its annual spring meet would be canceled this year because of the COVID-19 outbreak.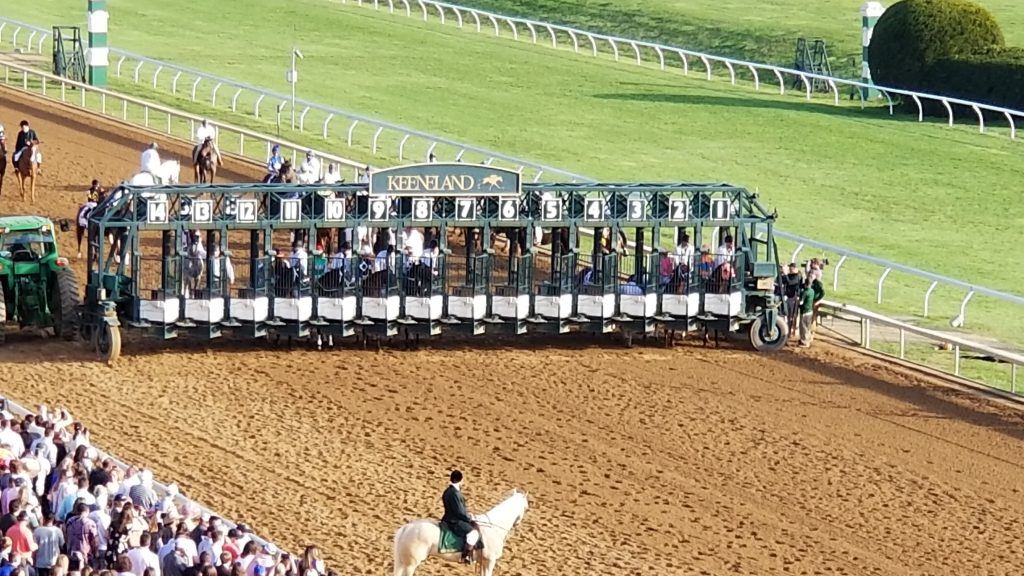 The Lexington, Ky., track was to run from April 2-24. It comes a day after the Red Mile, a Lexington harness track that partners with Keeneland to operate a historical horse racing (HHR) parlor, announced the closure of the parlor for two weeks, effective Monday, because of the coronavirus pandemic. The state's three other HHR parlors also announced their closure on Sunday.
Keeneland's signature event during its spring meet is the Blue Grass Stakes, one of the final prep races for the Kentucky Derby. Churchill Downs officials announced on Monday it will hold a teleconference Tuesday "regarding the timing" of the 146th running of the historic race.
The Derby, scheduled for May 2, is in position to be postponed because the US Centers for Disease Control and Prevention (CDC) advisory recommended any event attended by 50 or more individuals be canceled or rescheduled.
In a statement, Keeneland Association President and CEO Bill Thomason said the decision to cancel the meet was an "agonizing" one.
Since the beginning of this pandemic, we have diligently worked with local, state, and national partners in health and government to ensure our actions are the most responsible we can take," he said. "We all find ourselves in uncharted territory. But nothing is more important to Keeneland than protecting the health and safety of our athletes, stable employees, horsemen, patrons, track employees, and the community at large."
Keeneland still is scheduled to run its fall meet in October. It will also host the Breeders' Cup on Nov. 6-7.
Monmouth Park, Aqueduct Also Make Announcements
Keeneland wasn't the only horse track to make an announcement Monday.
New Jersey's Monmouth Park announced that its simulcasting center and sportsbook will close at 8 p.m. ET Monday night. In addition, live racing will not take place at the Oceanport track now until May 23.
The track's opening day was supposed to be May 2.
While Keeneland's canceled and Monmouth Park is pushing back its start, Aqueduct plans to continue racing at this time, according to a statement from the New York Racing Association (NYRA).
It will, though, continue to prohibit fans from attending the races, as it did this past weekend.
"Now that we have experienced racing under these conditions for three days, we remain confident in our ability to safely conduct racing operations behind closed doors, and with only the staff that are required under the rules of racing in New York," NYRA President and CEO Dave O'Rourke said in a statement. "Of course, we will constantly evaluate this situation over the coming days in advance of Friday, and make further adjustments as necessary."
Betting Mostly Consistent With Last Year
Aqueduct wasn't the only one to run fan-free last week, as tracks across the nation made the decision to continue racing, but still took steps to help control the spread of the coronavirus.
All in all, the betting numbers at some of the major tracks indicated similar wagering levels from the same weekend in 2019.
Aqueduct's Sunday handle of $5.8 million was about $150,000 better than the corresponding date last year, and the Saturday handle of $6.1 million was off just about $25,000.
Laurel Park in Maryland reported a $3.5 million handle for its Saturday card, down nearly 10 percent from last year.
The one outlier was Oaklawn Racing and Gaming. The Arkansas track reported a handle of $10.1 million on Saturday, when it held the Grade II Rebel Stakes. That was down by 27.3 percent, but that was due mainly to last year's Rebel running in two divisions because oflast year's closure at Santa Anita.
On Sunday, Oaklawn's handle rebounded, with $4 million in wagering. That was up 25.6 percent from last year.