New Startup Platform Kalshi Allows Parimutuel Betting on Just About Anything
Posted on: April 6, 2019, 01:00h.
Last updated on: April 4, 2019, 06:22h.
Sports betting is popular around the world, and many bookmakers also offer odds on political and entertainment markets. But a new startup called Kalshi is looking to expand betting even further, allowing for bets on just about any question that can be definitively answered.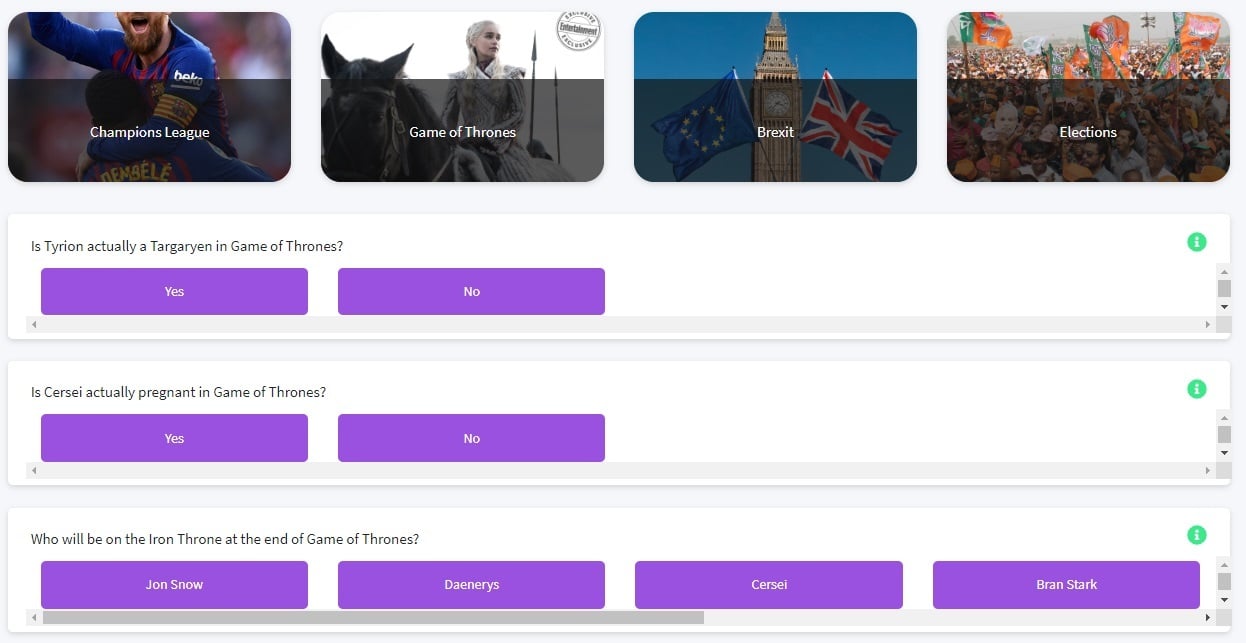 Kalshi is the brainchild of Tarek Mansour and Luana Lara, two 22-year-olds who studied computer science together at MIT before launching the San Francisco-based startup.
Questions and Answers
The basic concept of Kalshi is fairly simple. Users are welcome to post questions, which are reviewed by the site. Assuming the outcome is easily settled and not open to interpretation, Kalshi will put it up within a few hours.
At that point, bettors can put money down on any answer on any of the questions on the site. Once the question resolves, those on the right side of the bet will be paid out the money that was wagered on the wrong answers. Essentially, it's a form of parimutuel betting similar to being paid out of the pool of wagers at a horse race.
At the moment, the questions available on the site are limited to the kinds of topics you might see on traditional betting sites: upcoming Champions League matches, upcoming elections around the world, and the final season of Game of Thrones.
But the parimutuel nature of the site does lead to some interesting markets, especially since bettors can see how previous players have divvied up their bets. For instance, gamblers can bet on how many goals Lionel Messi will score on Saturday against Atletico Madrid, who will sit on the Iron Throne when Game of Thrones goes off the air, or who will win the upcoming Panamanian elections.
Traditionally, these have been the kinds of questions reserved for prediction markets like PredictIt. The parimutuel nature of Kalshi leads to a similar feel, though bettors don't actually know how much they stand to win until after all bets have been taken.
Kalshi Gets Y Combinator Seed Money
While the unique setup is probably Kashi's greatest strength, it could also be a potential weakness, as there isn't much precedent for how a site like this fits into current online gambling laws. The site's FAQ notes that Kalshi has a license from Curacao, but warns users that is it up to them to check their local laws to say if playing is legal.
"The reason we don't see more tech startups tackle this opportunity is because of the regulatory barriers that make it hard to get a product up and running," Y Combinator CEO Michael Seibel told Forbes. "The Kalshi founders have the determination to overcome these regulatory challenges and the passion to create an innovative product."
Y Combinator is an investment group that provides seed funding for a variety of startups, with Kalshi among that number. According to Crunchbase, Kalshi raised $150,000 in its first round of funding.
At least so far, the amount of betting on the site appears to be minimal. A leaderboard shows a user by the name of "kevinlee" as the most successful player so far – having won a grand total of $745 since Kalshi's launch in March.