Joshua-Ruiz II Likely for November or December; Ruiz Wants $50M for Rematch in UK
Posted on: June 8, 2019, 03:00h.
Last updated on: June 8, 2019, 09:59h.
We still don't know when, exactly, Anthony Joshua's rematch with new unified heavyweight champion Andy Ruiz Jr. will take place, nor do we know where. However, both sides had plenty to say about the bout, which will be one of the most anticipated fights of the year.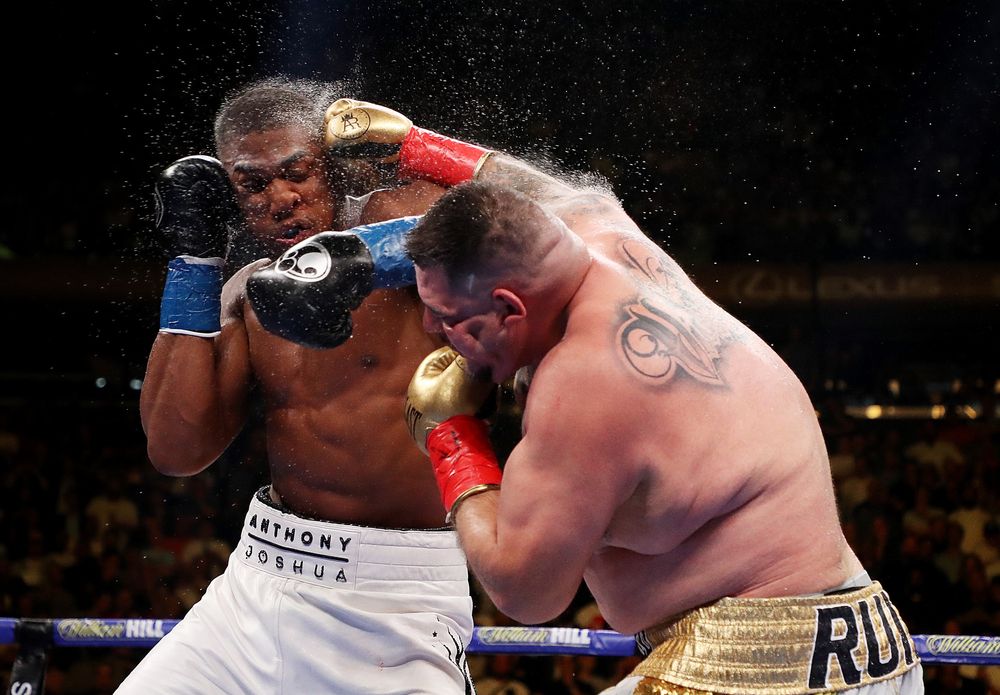 In an interview posted Friday with DAZN's Chris Mannix, promoter Eddie Hearn said he talked with his fighter in the days after the match, and in those discussions, Joshua was insistent about his next bout being against Ruiz.
The difference now is, he really wants to fight," Hearn said. "Building up to the Ruiz fight, I don't say he didn't want the fight, but you know there wasn't the desire on fighting Andy Ruiz… Now, he knows he has to beat him."
Ruiz signed on to fight the British champion at Madison Square Garden with less than two months to prepare. The Mexican-American boxer replaced Jarrell Miller after he failed a drug test, and the contract for the fight included a rematch clause if Ruiz won.
While The Independent reported after last Saturday's bout that Joshua's camp would trigger the rematch clause, Hearn told Mannix he discounted those immediate post-fight feelings, especially after learning Joshua received a concussion in the bout.
Hearn added that Joshua does not remember anything that happened after the third round of the fight. He would last four more rounds before Ruiz ended the bout with two knockdowns in the seventh round. Referee Mike Griffin stopped the bout shortly after the second, midway through the round.
$50 Million for Rematch?
Both sides confirmed the rematch would occur sometime in either November or December, with Hearn estimating the date being locked down in a couple of weeks.
The hangup appears to be where the bout will take place. Hearn has talked about it taking place in Great Britain, although he said Joshua mentioned holding it at the Garden to build on a possible redemption storyline.
In an interview Thursday with Fight Hub TV, Ruiz said he would like for the rematch to take place either in the States or Mexico, but he would be open to fighting in the United Kingdom for the WBA, IBF, WBF, and IBO belts.
If they meet his price.
"If they want me to go over there, they got to give me $50 million," Ruiz said.
Hearn, in his own interview with Fight Hub, reminded people that Joshua and his handlers picked Ruiz for the fight in the first place. So, any dreams Ruiz has of a mega payday may have to wait one bout.
"If Andy Ruiz beats Joshua again, he's free, he's golden," Hearn said Friday. "Now, you're talking about superstardom."
First Odds Posted
A couple of offshore sportsbooks have already posted their odds for the rematch, and while they still tab Ruiz as the underdog, his odds aren't nearly as steep as they were last week.
Both Sportsbetting.ag and BetOnline.ag list Joshua at -350, meaning a $350 bet would win $100. Those books also list Ruiz at +275, meaning a $100 bet would net $275. BetUSRacing.ag also lists Joshua at -350 but gives Ruiz +250 odds.
For perspective, DraftKings listed Joshua at -3335 last Saturday and Ruiz at +950. The online sportsbook reported that 96 percent of the money it took on the bout went on Joshua.