Joseph Graziano Sentenced for Owning Illegal Gambling Website
Posted on: July 29, 2015, 12:30h.
Last updated on: July 29, 2015, 12:32h.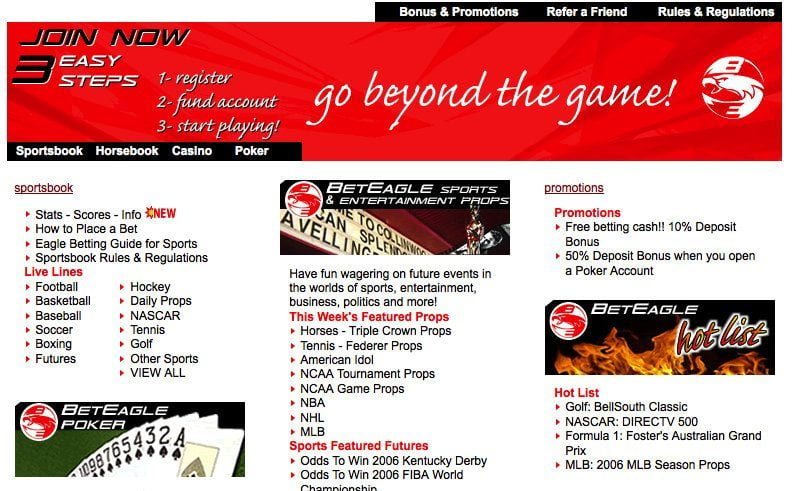 New Jersey has famously become one of the first states to welcome online gambling with open arms, but that doesn't mean that just anyone can run a betting site and get away with it.
Joseph Graziano was sentenced to 18 months in prison after pleading guilty to a racketeering conspiracy charge related to his ownership of Beteagle.com.
The sentence was imposed by US District Judge Claire Cecchi on Tuesday. According to authorities, Beteagle.com was not only a sports betting site that offered real money gambling to Americans, but also had ties to the Genovese Crime Family.
While Graziano owned the site, he was not the leader of the operation.
The US Attorney's Office says that the real ringleader was Joseph "Pepe" Lascala, a made member of the Genovese family who is still awaiting charges in the case.
In addition to the jail time, Graziano will have to pay a $16,000 fine and forfeit $1 million to the US government. He will also serve three years of supervised release once his prison term is up.
Gamblers Collected Winnings, Paid Debts in Person
Beteagle.com may have looked like a typical sports betting site, but behind the scenes, authorities say it was essentially little different than any mob-backed bookie organization.
The "bookies" referred to themselves as agents instead, and while money wasn't transferred on the website, winnings were paid out and debts were collected in person.
If a gambler couldn't pay up, the family would threaten them in order to collect. It was a mix of modern technology and the classic bookmaking structure that organized crime has been using for a century or more.
The site proved to be a lucrative scheme.
On surveillance recordings, Graziano could be heard bragging about how much money he was making by operating the site.
"If at the end of the year I can make two million and I gotta give away, like four or five hundred, that's a million and a half, you know," Graziano said. "My money."
Graziano worked in conjunction with Dominick Barone to run Beteagle.com. Barone was sentenced last month, and is also facing 18 months in prison.
Sports Betting Remains Illegal, For Now
This is far from the only case in which organized criminals have entered the business of sports betting, and taking the bets remains a lucrative opportunities for them, as the activity is illegal throughout most of the United States.
Just last month, six members of the Lucchese family pleaded guilty to racketeering charges in New Jersey for operating an international sports betting ring that took in billions of dollars in bets.
While dealing with offshore sites or mob-linked bookies may be the only options for New Jersey residents who want to bet on sports at the moment, that may not be the case for long.
The state has been fighting in federal court in an effort to allow racetracks and casinos in New Jersey to offer sports betting to residents legally.
Oral arguments for that case, which pits the state against the NCAA and the major North American sports leagues, were heard in front of the Third Circuit Court of Appeals in March.
Legal experts expected a ruling from the court in June, but no decision has been released as of yet.