John McCain Says US Legalized Sports Betting Should Be Considered
Posted on: February 4, 2015, 01:29h.
Last updated on: February 4, 2015, 01:32h.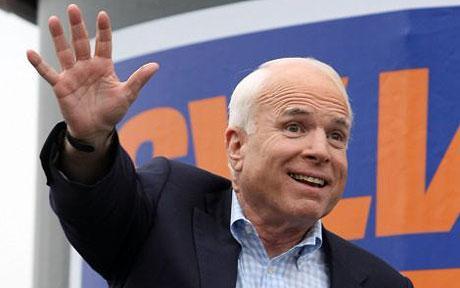 Senator John McCain (R-Arizona) has joined the growing chorus of public figures calling for a larger discussion over whether the United States should revisit its laws on sports betting and expand the right to offer such bets to additional states.
McCain says he would favor allowing any state that already allows for legal gambling to also legalize sports betting if they wished to do so, though he wouldn't support allowing for such bets to be placed online.
"We need a debate in Congress," said McCain. "We need to have a talk with the American people and we need to probably have hearings in Congress on the whole issue so we can build consensus."
PASPA Currently Bans Sports Betting in Most States
Based on the 1992 Professional and Amateur Sports Protection Act (PASPA), only four states are allowed to offer any form of sports betting, and only Nevada casinos have the ability to run full-fledged sports books. Revisiting PASPA could cause that to change dramatically: 40 states have either tribal or commercial casinos (or both), and nearly every state has at least a state lottery system (with Utah and Hawaii being the exceptions).
McCain's comments came on an ESPN podcast discussion of sports betting that took place in the days before the Super Bowl. The American Gaming Association estimated that $3.8 billion would be bet illegally on the NFL's championship game, dwarfing the approximately $100 million they expected to be wagered legally in Las Vegas sports books.
"From a casino industry perspective, we're not sure what the right solution is here," AGA President Geoff Freeman said during the same discussion. "This is a discussion we are having internally in this industry, and that's a discussion that needs to happen."
NBA Commish Says Discussions Are Ongoing Among Sports Leagues
The comments come just months after NBA commissioner Adam Silver came out in favor of regulating online gambling, saying that it would be better for such wagering to take place in regulated markets, rather than illegally and with no oversight. More recently, Silver says, he's had discussions with others in the sports industry about the future legalization of sports betting in the United States.
"I have talked to the commissioners in the other leagues about [legalizing sports betting]," Silver told ESPN The Magazine in an interview. "I leave it to them to make any public statements they want to make on it. I will say that certainly all of them are interested in having a better understanding of the issue, and I know have assigned people in their organizations to study intensively the issue as well."
ESPN also cited sources that say that lawyers for the various major sports leagues have had discussions about the pros and cons of legalizing sports betting.
Traditionally, all four major sports leagues (the NFL, MLB, NBA and NHL) have opposed legal gambling on their games, as has the NCAA, which governs most collegiate sports. Last year, the leagues filed a lawsuit after New Jersey attempted once again to regulate sports betting at racetracks and Atlantic City casinos.
The only other league commissioner to publicly discuss sports betting recently was the NHL's Gary Bettman, who talked about the subject in an interview with CNN and expressed worries about how legal gambling could impact the atmosphere at games.
However, ESPN cited sources who say that the NHL may be more open to legalization than those comments would suggest, and the NHL is said to be considering placing an expansion franchise in Las Vegas.