Jimmy Kimmel to Host Las Vegas Comedy Benefit for Ailing Godson
Posted on: May 16, 2023, 12:43h.
Last updated on: May 17, 2023, 12:10h.
Jimmy Kimmel is returning home for a heartbreaking reason. The Las Vegas native will host "It's No Joke," a night of standup at Jimmy Kimmel's Comedy Club at The LINQ Promenade on Friday, May 26.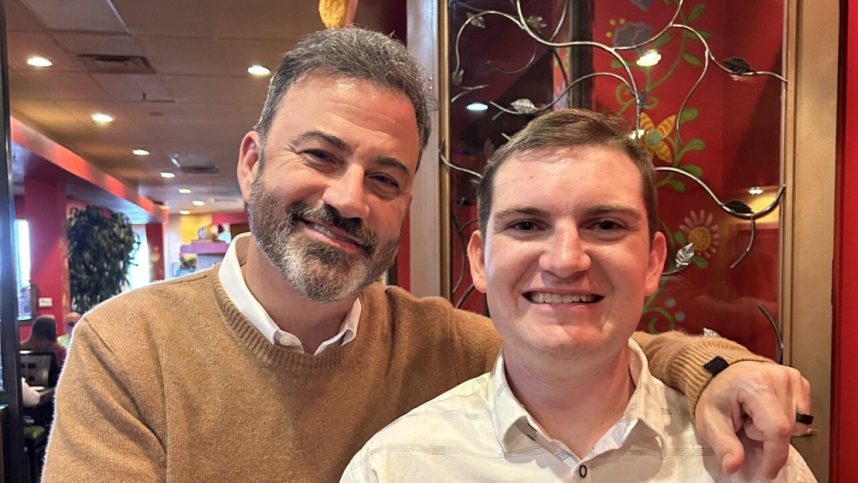 The show is a benefit for ALS, the devastating neurodegenerative disease that Kimmel's 29-year-old godson, Joey Porrello, was diagnosed with last year.
"It's No Joke" will feature last year's Oscars host, as well as comics Jeff Ross, Nick Kroll, Sarah Silverman, and "surprise guests" Kimmel says he can't announce yet. All proceeds from ticket sales will benefit Project ALS, which has raised $110 million to fund ALS research over 23 years.
"Joey is the kid you want to have," Kimmel told KTNV-TV/Las Vegas while choking back tears. "He's smart, he's nice, he's funny, he's an athlete, he's a soccer player."
Porrello, who is married with two young children, 3-year-old Ottilie and 10-month-old Wally, is a former civil engineer who was forced to quit his job in February. He is slowly losing his ability to communicate. Kimmel graduated from Clark High School in 1985 along with Joey's father, Tommy Porrello, the son of Tommy Sr., who played trumpet on Neil Diamond's "Sweet Caroline."
"Jimmy is a great guy who always supports his friends," Tommy Jr. told Casino.org.
The mean survival time after diagnosis with ALS, also known as Lou Gehrig's Disease, is 2-5 years.
"You just can't imagine that something like this could happen to anyone, really," Kimmel told KTNV. "But to somebody who is so alive, we need to do something about it."
Charity Begins at Home
Some of Kimmel's earliest comedy memories growing up in Las Vegas were of Jerry Lewis' annual Labor Day telethons for the Muscular Dystrophy Association. That event broadcast from the Sahara in Las Vegas until 1982, when it moved to Caesars Palace until 1989.
That made a big impact on me because my dad loved the telethon," Kimmel told the Las Vegas Review-Journal. "We would watch it in its entirety, and I'd even go to see it live."
Kimmel opened his 8,000-square-foot Las Vegas comedy club in 2019, 16 years into hosting his late-night ABC-TV talk show. He said he had no trouble lining up a stellar roster willing to forgo a payday for "It's No Joke."
"The comedy community — we never actually call it that, but we should — is a very charitable group of people," Kimmel told the R-J. "They're so quick to offer their help and time."
"It's No Joke" is limited to 175 tickets starting at $500. Tables for six are also available starting at $6,000. Click here for information.
To read more about Joey Porrello, check out his Instagram account @JoeyDoesALS.