Jeopardy James the Horse Doesn't Match His Namesake, Finishes Second in Racing Debut
Posted on: July 25, 2019, 04:01h.
Last updated on: July 25, 2019, 04:01h.
A horse named for professional sports gambler and Jeopardy! record holder James Holzhauer made his racing debut Thursday at Delaware Park. While Jeopardy James did not win in his first race, the 2-year-colt shows plenty of promise.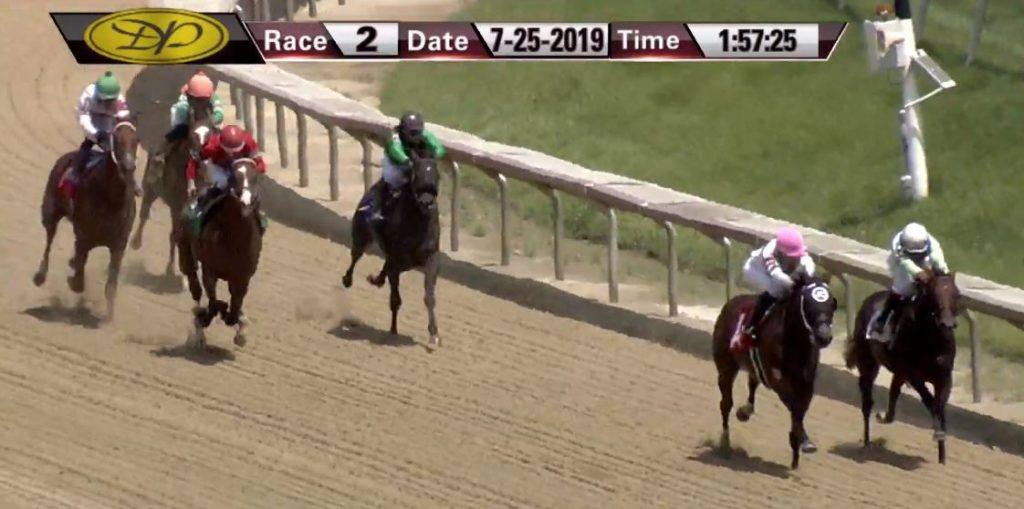 Running in a maiden race for 2-year-olds, Jeopardy James grazed the gate which led to a slow start. Nonetheless, under jockey Paco Lopez, he quickly found his stride and challenged The Minit I See U, the eventual winner, for most of the 5-1/2-furlong race. At the 3/8ths pole, the two were seven lengths ahead of the other four horses in the field.
Jeopardy James ultimately faded down the stretch and held to claim second in a photo finish.
Delaware Park handicappers made him the 9-5 morning line favorite, and moments before post time, his odds were 1-9. That's almost unheard-of odds for any horse in a maiden race, which feature horses seeking their first victory.
He ended up going off at 3-5 and paid out $2.10 and $2.10. That meant bettors who placed a $2 bet to place or show got back a dime.
And by failing to win, the horse did not land in a Daily Double.
'Surreal' Naming
After TVG announced on Twitter the horse would race Thursday, Holzhauer himself got online to comment, referencing Emma Boettcher, the contestant who ended his 32-match winning streak. Holzhauer finished his run on the long-running game show as the second-winningest player in Jeopardy! history, but he holds the top 10 single-game performances in the current version of the show, which has aired for 35 years.
If there's a competing horse named Jeopardy Emma, I have a hot tip on an exacta https://t.co/8BEjw5cMDJ

— James Holzhauer (@James_Holzhauer) July 25, 2019
That run ended on June 3. According to Shannon Luce of the Jockey Club, which maintains the registry of horse names, Jeopardy James was registered on June 4.
Holzhauer told Casino.org in an email Thursday that he only learned about the horse the previous day.
I have entered Bill Simmons's Tyson Zone where life is so surreal that nothing surprises me anymore," he said.
And, no, he did not put down any money on his namesake.
Lael Stable owns Jeopardy James. Roy Jackson, who owns the stable along with his wife, told The Philaldelphia Inquirer why they named their colt after Holzhauer.
"Gretchen and I watch Jeopardy! at night when we're home and we saw him win all the time," Jackson said.
Jeopardy James Solid Pedigree
Jeopardy James' race at Delaware Park garnered a win-place-show handle of $49,715. Of the $30,324 bet in the win pool, he accounted for $15,122. In all, bettors gambled $25,223 that he'd finish in the money, including $6,462 of the show pool of $9,775.
While the connotation to Holzhauer, who has seen his celebrity stature rise since his Jeopardy run, may have played a role in the betting interest on the colt, a study of his background shows the interest also has merit.
For starters, Jeopardy James' sire, or father, is Speightstown, who won 10 times in 16 races, including the Grade I Breeders Cup Sprint as a 6-year-old in 2004. Speightstown has sired 15 Grade I stakes winners since retiring to stud.
That might be why Lael Stable paid $585,000 for him at the Ocala Breeders' Sale in April. That's after he was sold at Keeneland's yearling auction last September for $135,000. Lael Stables, best known for owning 2006 Kentucky Derby winner Barbaro, also own I'm So Fancy, which won the Grade III WinStar Matchmaker Stakes Saturday at Monmouth Park.
In addition, trainer Arnaud Delacour ranked in the top 10 at Delaware Park with eight wins in 32 races. He also leads all trainers at the track with meet earnings of $556,820.
Chris Sobocinski, racing information coordinator at Delaware Park, told Casino.org bettors at the Wilmington track also like to bet on Lopez, who doesn't race there often. Entering Thursday, Lopez has won 99 times in 457 races this year. That includes seven graded stakes races.