James Packer Rings in the New Year with Mariah Carey Proposal and $10 Million Diamond
Posted on: January 25, 2016, 01:02h.
Last updated on: January 26, 2016, 01:04h.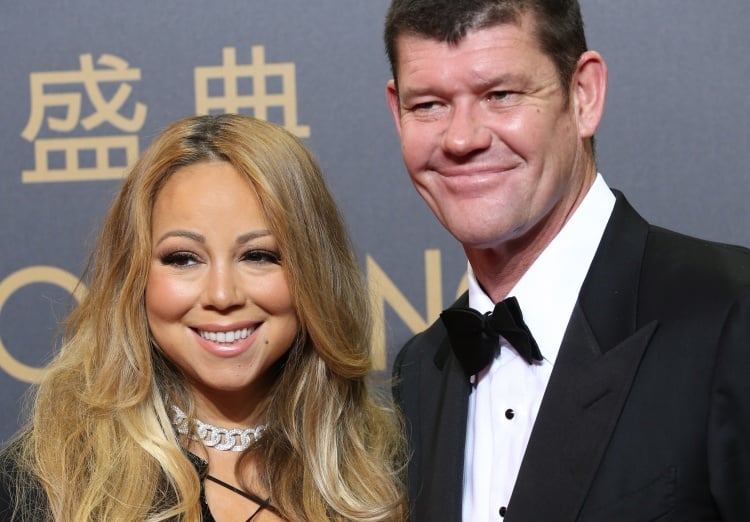 James Packer may not have given his girlfriend of six months, fabled singer Mariah Carey, one of his Crown Resorts as an engagement present, but he's given her the next best thing.
Packer presented the Las Vegas entertainer with a 35-carat diamond ring worth an estimated $10 million on Friday when he asked for her hand.
Packer's media, real estate, and gaming fortunes, said to be worth $3.5 billion as of 2015, make the ring perfectly affordable for the already twice-married Packer. Neither Packer nor Carey's divorces from their last spouses are completely finalized yet.
As for Mariah Carey, who herself is worth an estimated $520 million, she said "yes." She also has two prior marriages under her belt, the latest to entertainer Nick Cannon, with whom she has fraternal twins.
Running Rings Around Any Other Proposal
Carey and Packer met last summer while attending a movie premiere in Aspen, Colorado.
"We were talking and laughing … so we hit it off," Carey said of her budding romance at the time.
According to celebrity insiders, the pair immediately bonded and began traveling the world together, with photos of them relishing each other's company aboard his yacht quickly hitting the paparrazi circuit.
The couple hasn't announced a wedding date or location.  Rumors of pre-nups also abound.
Las Vegas Connections
Carey has a lucrative performance contract at Caesars Palace in Las Vegas. On February 2nd, she will begin the third and final leg of her residency there, and few tickets reportedly remain for her last nine shows.
Caesars' Colosseum, Carey's venue, also serves as home for megastars Celine Dion (recently widowed and on hiatus until February) and Elton John when performing on the Las Vegas Strip.
Meanwhile, as a gaming tycoon, Packer is no stranger to Sin City himself. The Australian's Alon Las Vegas property, where the New Frontier once stood, is slated to open in 2017. The new casino is expected to cost $4 billion.
Packer stepped down as chairman of Crown Resorts in 2015, but continues to oversee his private investment firm that still has majority ownership in the business. The 3.5-million-square-foot resort could be the perfect setting for what will likely be a wedding for the record books, if the couple can wait that long.
Well-known for being a diva and her over-the-top lifestyle, Carey and then-husband Nick Cannon shutdown Disneyland in order to renew their wedding vows for a fourth time in 2013, so we can probably expect an extravaganza for the latest Mrs.-Packard-to-be's nuptials.
Third Time's the Charm?
Carey's first marriage to music executive Tommy Mottola lasted five years. At 22 years her senior, Mottola married Carey when she was just 23.
Her second marriage came 11 years after her split from Mottola. This time it was Carey in the senior role, as she is 10 years older than Cannon. For her third go at marriage, Carey is marrying someone finally her own age, Packer being just two years older than the superstar.
"As soon as their friendship turned romantic, they have wanted to spend every moment together," a source told E! News. "If you spend even five minutes with them, you can't help but believe in true love."
Packer is hoping to give Carey, who has made a career singing about love, the fairytale ending the singer has so long sought. But whether attempt number three for both will stick is certainly a bet we'll likely see in a sports book somewhere.