Iowa Sports Betting Revenue Looking Up for Fall Football
Posted on: August 28, 2023, 01:58h.
Last updated on: August 28, 2023, 03:35h.
Iowa's sports betting market is welcoming preseason football and building on some momentum in summer sports wagering revenue.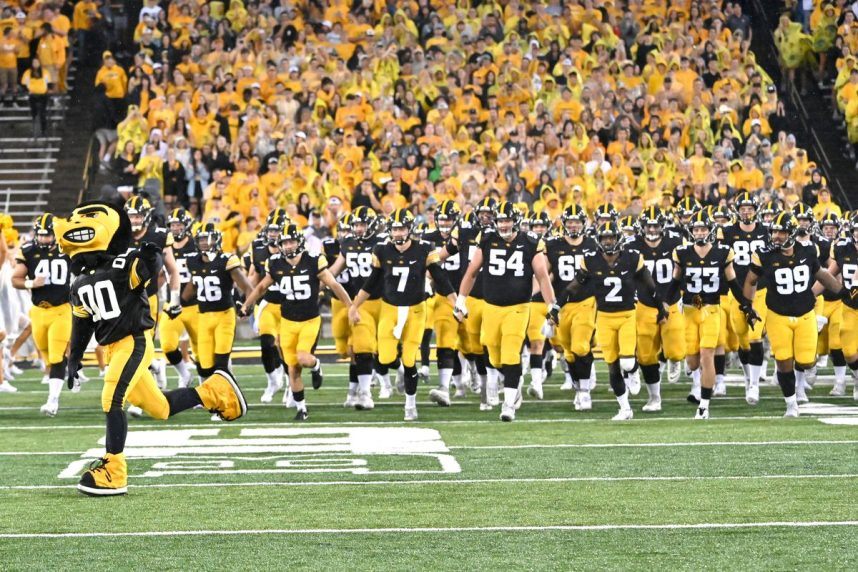 The state's handle stayed above $100 million in July. That is a slight decrease from earlier this year, but because of a roughly 10% hold in July, operators actually increased their revenue, as did the Hawkeye State's coffers.
Hold and spending are expected to increase with preseason football now, the kickoff of NCAA regular-season games at the end of the month, and the start of the NFL regular season on September 7. The latest numbers from the Iowa Racing and Gaming Commission show sportsbooks took in $10.6 million in net receipts in July.
That's more than 40% higher than June's $7.1 million. The state collected $713,722 from July's receipts, which is a 25% increase.
On the other hand, player spending for July was down from the previous month. Total handle for the month was $109.7 million, compared to $115.6 million in June, amounting to a 5.4% decrease.
Online spending in July totaled $101.3 million, with retail wagering at $8.4 million. While the July handle is the fourth consecutive month of spending decline, summer can be slower, and fall is typically busier. Fall tends to pick up the dollars for casinos, too.
Iowa Casinos Aim For $2B, Currently Falling Short
According to the latest release from the Iowa Racing and Gaming Commission (IRGC), Iowa's 19 brick-and-mortar casinos are roughly in line with previous July performances.
The Iowa Racing and Gaming Commission (IRGC) reports that adjusted gross revenue for the month was roughly $150 million. That's down just over 4% from 2022, but so far this year, revenues are fairly consistent.
The IRGC report measures slots and table games for the 19 casinos. The second half of this year will need to see an increase if the state is to reach the $2 billion milestone. There is some momentum to build on, though; 2022 was a record year, with Iowa casinos reporting $1.76 billion for traditional casino games and slots with an additional $139 million in sports wagering.
While admissions to the state's casinos were also a record in 2022, so far in 2023, they are down approximately 2%.
The biggest difference in July was the amount of fees casinos paid to the state and municipal governments. That amount dropped by nearly $2 million compared to last year.
Iowans' Poker Face
Following up on reporting from Casino.org on Iowa football players betting on their own games. Iowa State confirmed defensive lineman Isaiah Lee has left the program.
Lee was accused of wagering on his team's games, including one where he bet against the Cyclones. Lee started all 12 games last season and was among the athletes charged last week in connection with the state's investigation into illegal sports wagering at Iowa State and Iowa.
Meanwhile, a new survey says Iowans have the best poker face.
According to BetMGM, Iowans are the best in the US at keeping a straight face. The survey covered 3,100 people from 44 states. People in the Hawkeye state scored a perfect 100, revealing, according to BetMGM, that Iowans lie or spin the truth more frequently than any other state. On top of that, Iowans are the most successful in getting away with it.
The survey considered four factors: frequency, proficiency, comfort level while lying, and, of course, the success rate in getting away with a lie.
Massachusetts residents came in second with a 70 score out of 100. The survey says Ohio has the worst liars, scoring 9.4 out of 100.