Iowa Sports Betting Bill Signed Into Law, Becomes 11th State to Legalize
Posted on: May 13, 2019, 08:26h.
Last updated on: May 15, 2019, 06:17h.
Iowa Gov. Kim Reynolds signed a bill into law on Monday afternoon that made the state the 11th in the country to legalize sports betting.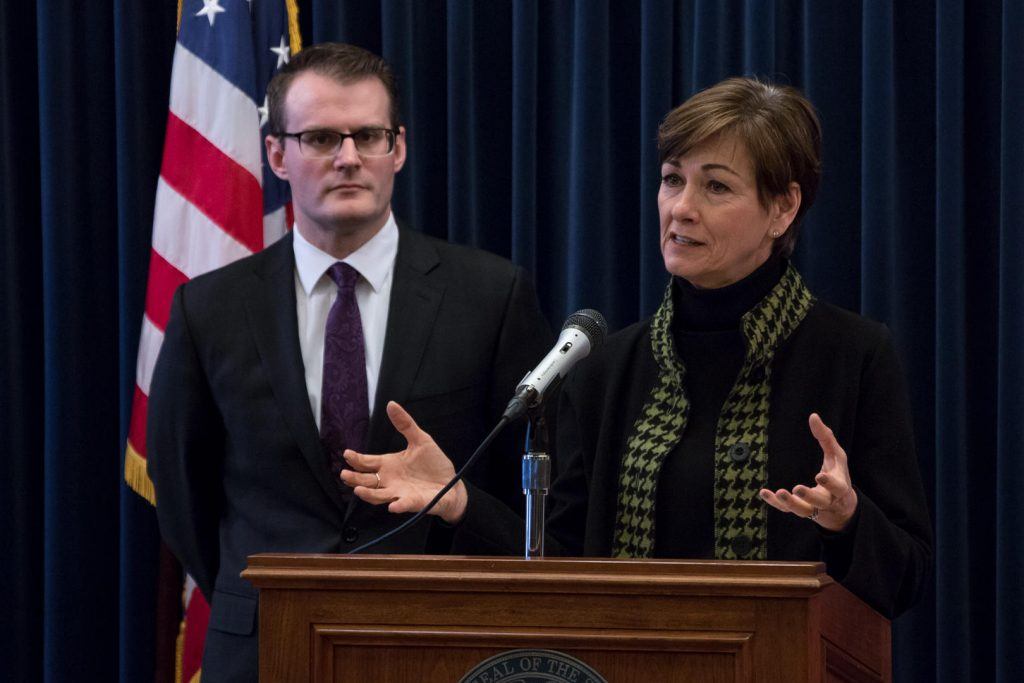 The law, which will take effect on July 1, allows the state's 22 casinos to establish retail sportsbooks. The sportsbooks also will have the ability to offer mobile sports betting. However, customers who wish to establish accounts anytime during the first 18 months must do so at the sportsbook.
"Iowa has model legislation. I think this is one of the best sports betting bills in the country," state Rep. Bobby Kaufmann (R-Wilton) told Casino.org on Monday. Kaufmann, along with state Sen. Roby Smith (R-Davenport), shepherded the bill through the legislature.
Reynolds' action comes three weeks after the state House of Representatives voted 67-31 to approve Senate File 617. The Senate passed the bill by a 31-18 count on April 17.
Iowa is the third state in less than two weeks to enact a sports betting law, joining Montana and Indiana. Currently, sports betting is available in Nevada, Delaware, Mississippi, New Jersey, New Mexico, Pennsylvania, Rhode Island, and West Virginia.
Tuesday will mark the one-year anniversary of the Supreme Court's decision to overturn the Professional and Amateur Sports Protection Act, which gave all states the right to legalize sports betting.
Tax Rate Matches Nevada
Unlike other states, who have set higher tax rates on sportsbooks adjusted gross revenue, Iowa's law matches Nevada's tax rate of 6.75 percent. Kaufmann said the low tax rate was to help curb illegal and offshore activity.
The bill will be enacted on July 1. After that, the Iowa Racing and Gaming Commission will begin work on creating the regulations necessary to implement sports betting in the state. How long that will take remains uncertain.
Kaufmann said most casinos want to be ready to take bets on National Football League games, which start in September.
"I know that a lot of the casinos have been preparing for this bill's possible success, and I think it's very fair to say that a lot of them are ready to get the infrastructure moving and get this thing going as soon as possible," he said.
Prairie Meadows Racetrack and Casino, located near Des Moines, has a partnership in place with William Hill for an 8,600-square-foot sportsbook and bar that was constructed earlier this year. Last month, Catfish Bend Casino in Burlington announced an agreement was reached with PointsBet,
Among the key provisions within the Iowa law include an exclusion on in-game betting on athletes from Iowa colleges or their opponents. Those betting options, examples of which include the number of passing yards or points scored by a specific player, would be available for all other collegiate and professional games.
The bill also covers fantasy sports contests. However, college sporting events will be excluded from fantasy sports until May 1, 2020, according to the legislation.
Reynolds Previously Noncommittal
After the House vote last month, the lawmaker said he was "confident" the governor would sign the bill.
However, the conservative executive did not tip her hand, saying her policy team would review the bill.
Kaufmann said he did not learn until earlier Monday that Reynolds would sign the bill into law.
Reynolds did not issue a statement following her signing. A call to her spokesperson was not returned.