Iowa Lottery Worker Arrested for Holding $16.5 Million Lottery Ticket
Posted on: January 19, 2015, 04:41h.
Last updated on: January 19, 2015, 04:46h.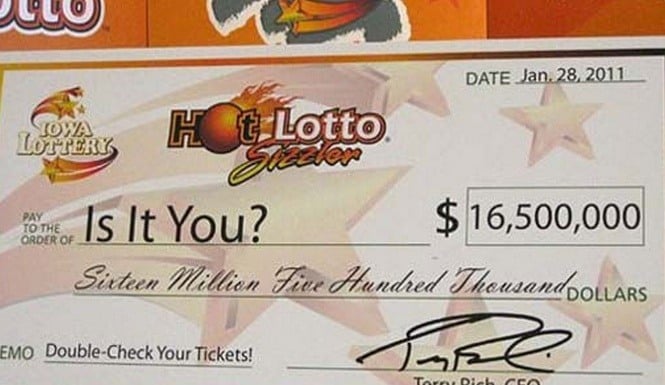 Iowa Lottery officials say they've finally solved a mysterious four-year investigation regarding the unidentified owner of a $16.5 million Hot Lotto winning ticket.
The path led authorities to an unlikely source: a lottery worker who himself is not allowed to buy a ticket, as a matter of conflict of interest.
The Iowa Division of Criminal Investigation claims 51-year-old Eddie Raymond Tipton purchased the ticket in 2010, despite being prohibited from playing due to his employment as the director of information securities with the Multi-State Lottery Association.
Investigators determined that Tipton went to great lengths to conceal his identity and collect on the winning ticket with the assistance of others.
After digging through one of the most complex scandals in the state's 26-year lottery history, detectives hit paydirt when they gave immunity to a Canadian man, Philip Johnston, who was hired by Tipton. The information received led to Tipton's arrest this week, and he is currently being held on $10,000 bail at the Polk County Jail on two felony counts of fraud.
Hot Lotto, Cold Case
Tipton is charged with purchasing a Hot Lotto ticket on December 29, 2010, at a Des Moines Quick Trip gas station.
At the time, the jackpot was valued at $16.5 million, with a cash option of $10,750,000. The Iowa Lottery revealed a winning ticket had been sold, however no winner had come forward.
In the complaint, county prosecutors assert that Tipton contacted a Texas lawyer who arranged to hire Johnston to claim the jackpot, but lottery officials refused to payout after the Canadian's story didn't add up.
The case went unsolved until just hours before the one-year claiming deadline.
In December of 2011, New York attorney Crawford Shaw presented the winning ticket on behalf of Hexam Investments Ltd., a trust set up to protect the identity of the winner. When Shaw refused to answer questions regarding the ticket purchaser's identity and those involved with its handling, payment was denied.
Authorities weren't sure whether the original owner of the ticket was the victim of a crime or had committed a crime, but they did know something smelled fishy.
When surveillance video was made public of a disguised Tipton purchasing the ticket, a former co-worker came forward. Authorities also gathered evidence after granting Johnston immunity in return for information on the original ticket owner.
Ironic Twist
Headquartered in Iowa, the Multi-State Lottery Association (MUSL) is a non-profit group consisting of 31 member states, the District of Columbia, and U.S. Virgin Islands.
In addition to the Hot Lotto, MUSL overseas Powerball and coordinates with Mega Millions. Tipton's job performance in information security may have ironically led to his downfall.
Iowa Lottery CEO Terry Rich told reporters, "We have strong security procedures in place to protect and ensure the integrity of our games and we absolutely believe this case indicated those processes worked to protect lottery players, lottery games, and lottery prizes."
Since Tipton was privy to confidential security information and protocol, he was banned from playing the lottery, but still felt his scheme wouldn't be detected. "We all know there will always be people who will try and beat the system. We have and will continue to update our security procedures to identify vulnerabilities to protect against them," Rich explained.
Hot Lotto is not a televised drawing. Instead, the lottery uses random number generators. Investigators will continue to examine the case, as they hope to determine whether Tipton somehow influenced the computer's generated numbers.