Intertain Launching London IPO, Post-Brexit, and Rebranding as Jackpotjoy
Posted on: September 8, 2016, 12:02h.
Last updated on: September 8, 2016, 12:02h.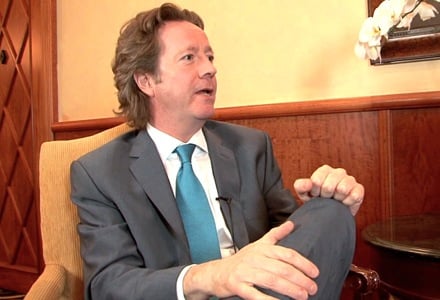 Canada's Intertain Group plans to trade on the UK stock market under the name of its online bingo brand, Jackpotjoy. Intertain acquired the Jackpotjoy brandname from Gamesys last year for £425.8 million ($566 million) and announced its intention to move to London last June.
The acquisition of Gamesys' assets made Intertain the largest bingo operator in the world, but it also meant that the vast majority of its customers were now based in the UK.
The UK market will now provide 70 percent of Intertain's revenue stream going forward.
Canada, and the Toronto Stock Exchange, was suddenly "a bit of an odd place to be," according to recently appointed Intertain CEO Andrew McIver, who added that the UK was its "natural home."
Recruiting UK Talent
As part of a drive to recruit the best in UK gaming execs, Intertain brought McIver over from Sportingbet and also appointed former Gala-Coral boss Neil Goulden as chairman of the board.
"We are excited to be taking the UK strategic initiatives to our shareholders at the meeting later this month, and to providing them with an opportunity to consider and approve the arrangement, which is necessary for us to proceed with these proposals," said Goulden.
"Accordingly, we will also voluntarily comply with certain investor protection mechanisms as if a UK premium-listed company, ensuring that we now have the right corporate governance structure in place to take the company into its next phase of growth."
Brexit Headache
There was talk of an IPO in June, and possibly even a sale, but British voters' shocking decision to leave the European Union that month put any IPO plans on hold.
McIver told the UK's Independent newspaper this week that there had been some offers to acquire the company in early summer, but the Brexit vote, and the ensuing panic in the financial markets had made it more difficult for suitors to raise debt and equity financing.
"Brexit was a bit of a problem," he admitted.
Undeterred by the whims of the British populace, Intertain has confirmed it will complete its move to the UK, and, once settled, will rebrand as Jackpotjoy. It hopes to be trading on the London Stock Exchange in the middle of next month, with a £430 million ($573 million) capitalization.
"We are excited to have reached these important milestones in implementing the UK strategic initiatives," said Goulden. "We continue to believe that these initiatives will result in a fuller and more appropriate valuation of our business and that they position Intertain for long-term growth and success."