Indiana Casinos No Fans of Controversial "Religious Freedom" Law
Posted on: April 1, 2015, 03:48h.
Last updated on: April 1, 2015, 03:51h.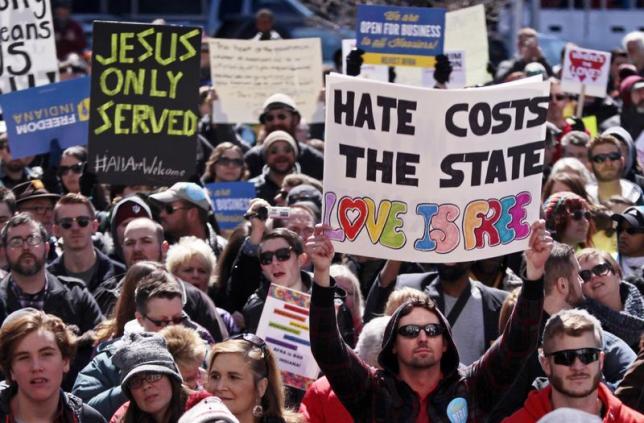 Opponents of Indiana's new so-called "religious freedom" law have found an unlikely champion in the state's ailing casino industry.
The bill, which permits state business owners to cite "religious freedom" as a legal defense, has spawned a wave of opprobrium across the United States, because it could theoretically allow businesses to deny service to gays and lesbians.
While the casino industry may be unaccustomed to wading into political debates about how religious freedom might infringe on gay rights, it does know when a thing is bad for business, and this most certainly could be.
Just hours after the bill was signed into to law last week by Indiana Governor Mike Pence, the social media campaign #BoycottIndiana was launched on Twitter, while hundreds gathered outside the statehouse in Indianapolis to voice their opposition.
Sometimes Bad Publicity Is Worse Than No Publicity
State lawmakers insist the bill has been misunderstood, but Indiana's 13 casinos are taking no chances.
Aghast at the bad publicity for the state, and fearing boycott from tourism groups and convention companies, the casinos have made their feelings heard.
"We actively oppose any forms of discriminatory legislation," said Jan Jones Blackhurst of Caesars, which owns the Horseshoe Casino and the Horseshoe Southern Indiana.
David Strow, speaking for Boyd Gaming, which owns the Blue Chip Casino in Michigan City, said, "Boyd Gaming believes strongly in diversity and inclusion, and we strive to ensure that every person feels welcome when they visit us."
Pinnacle Entertainment, owner of the Ameristar East Chicago and Belterra in Florence, meanwhile, said it was "dedicated to an environment than embraces all cultures, life experiences and backgrounds," and Full House Resorts, operator of the Rising Sun, merely wanted to reassure visitors via its CEO Dan Lee that "if you want to have a gay marriage ceremony at the Rising Star, we're here for you."
Increased Competition
Indiana's casino market suffered a 10 percent decline in gaming revenue last year, which was largely due to increased competition from Ohio and Illinois, and can ill afford to turn any customers away, regardless of their religious creed or sexual orientation.
While Ohio enjoyed a 36 percent increase in gaming revenue last year, Indiana's casino market has experienced five straight years of negative trends. Operators are currently seeking to convince lawmakers to pass a bill that would allow the state's riverboat casinos to relocate to dry land, in an effort to compete with their neighbors across the border.
However, as far as this bill goes, at least, the casinos may just get their way. Mortified at the nationwide uproar the new law has caused, Indiana lawmakers are scrambling to have the measure's language modified.
"What we had hoped for with the bill was a message of inclusion, inclusion of all religious beliefs," said Brian Bosma, speaker of the Indiana House of Representatives. "What instead has come out is a message of exclusion, and that was not the intent."