Illinois Lawmaker Wants to Legalize iGaming, But Casinos Offer No Position on Bill Yet
Posted on: February 20, 2021, 08:30h.
Last updated on: February 23, 2021, 08:58h.
An Illinois lawmaker filed a bill in the General Assembly late last week that would legalize iGaming across the state.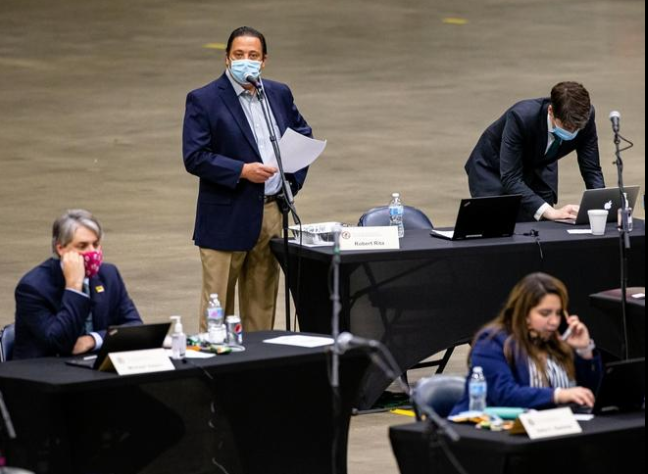 House Bill 3142, dubbed the Internet Gaming Act, would allow a casino or racetrack to offer online slots and table games, or partner with a platform operator to provide them. Each licensed facility would be able to have agreements with up to three branded skins or individual operators.
State Rep. Robert Rita, D- Blue Island, filed the legislation Thursday. It had its first reading Friday and was initially assigned to the state House Rules Committee.
Online casino gaming is not nearly as widespread as sports betting in the US. However, reports from the American Gaming Association show it's more lucrative than its gaming cousin.
In 2020, iGaming operators in four states posted gross revenues of $1.55 billion, up nearly 199 percent from the previous year. The gross revenue for sports betting operators located in 18 states plus the District of Columbia was $1.53 billion in 2020.
Currently, iGaming is allowed in Delaware, Michigan, New Jersey, Pennsylvania, and West Virginia. Michigan's online casinos launched a month ago.
Illinois isn't the only state looking at legalizing online casino gaming. Next door, Indiana lawmakers are also considering legalizing iGaming this year.
No Stance Yet from Illinois Casinos on Bill
While Rita has filed the bill, the Illinois Casino Gaming Association is taking a wait-and-see approach for now. The trade association has nine of the 10 state-licensed casinos as members.
We have not taken a position on this particular bill yet. It was introduced to have something in the works to continue discussions," ICGA Executive Director Tom Swoik told Casino.org in an email Friday.
In its current form, besides allowing each licensee to partner with three skins, it also sets the license fee for online operators at $500,000. The bill sets license renewals set at $250,000.
Taxation is markedly different for online operators compared to their brick-and-mortar counterparts. Rita proposes a flat 12 percent tax on adjusted gross revenues. According to the Illinois Gaming Board, retail casinos are taxed on a progressive scale. For table games, adjusted gross revenues up to $25 million are taxed at 15 percent, with higher revenues taxed at 20 percent. Slots and other non-table games start at 15 percent for the first $25 million, and the rate goes up to 50 percent on revenues of $200 million or higher.
The bill also currently calls for in-person registration for the first six months iGaming is in operation. That provision is somewhat surprising, given how Illinois sports betting has blossomed with a similar registration provision waived because of COVID-19.
In December, Illinois sportsbooks reported a total handle of $491.7 million. That was all done online, as the state's retail casinos were closed because of the COVID-19 pandemic.
Other Gaming Bills Also Filed
The Internet Gaming Act is one of several gaming-related bills Rita has filed for this session of the Illinois General Assembly.
On Friday, he filed House Bill 3214, which would require racetracks in the state that want to offer sports betting to fulfill two requirements. First, they must have a signed contract with the horsemen's organization serving the most owners, trainers, and jockeys or harness drivers at the meet. Second, the tracks must have an organization gaming license.
If passed, that would seemingly keep Arlington Park from offering sports betting. The track owned by Churchill Downs opted not to apply for a casino license – much to thoroughbred horsemen's chagrin – after the legislature passed expanded gaming two years ago.
On Thursday, Rita also filed House Bill 3169, which would amend the state's Video Gaming Act. Specifically, the bill would prohibit municipalities or counties from taxing video gaming terminals at truck stops, bars, and other locations within their communities. It also caps annual fees, with certain exceptions, that the local rule governments may place at $250 per machine.