AFC Preview: Houston, Tennessee Both Face Titanic Odds in NFL Divisional Playoff Games Next Weekend
Posted on: January 5, 2020, 10:27h.
Last updated on: January 6, 2020, 08:44h.
For the first time in a decade, the AFC Divisional round of the NFL Playoffs won't feature the New England Patriots. That's just one of the ramifications from the Tennessee Titans upset victory Saturday night in Foxborough, Mass.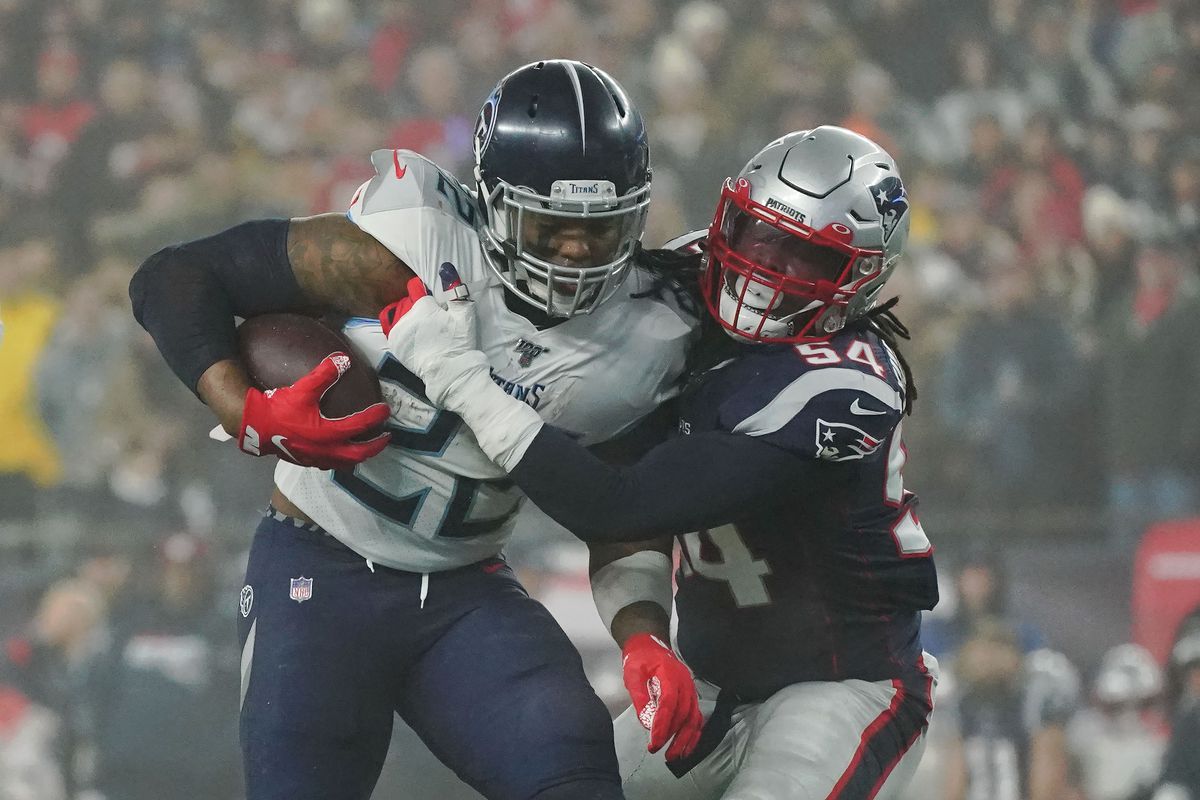 The Titans win also means there will be a new conference champion for the first time in four years. But oddsmakers aren't banking on Tennessee, who will face Baltimore next Saturday, being that team.
Meanwhile, the other Divisional round matchup features the Kansas City Chiefs hosting the Houston Texans next Sunday. The Texans needed to rally from a 16-0 second-half deficit Saturday to advance, as they beat Buffalo 22-19 in overtime
Titans-Ravens Preview
The Titans prize for knocking off the vaunted Patriots is a trip to Baltimore next Saturday night to face Lamar Jackson and the Ravens. The Ravens opened as 10-point favorites Saturday night, and the line shifted to 9.5 points at FanDuel and DraftKings by Sunday afternoon.
Being that big of an underdog will likely fit into the mindset the Titans have developed throughout the season.
I don't think nobody expected anything from us," running back Derrick Henry told reporters after the Patriots win. "Keep that underdog mentality, but just stay hungry. Just keep believing in each other, because all of us in that building, all of us together, we're the ones that have to make it happen."
Next weekend's matchup will feature two of the top three rushing attacks in the NFL. It'll also feature three 1,000-yard rushers, including Henry, who led the league in rushing with 1,540 yards. He went for 182 yards on 34 carries against the Patriots.
However, the league-leading Ravens still outrushed the Titans by more than 1,000 yards (3,296-2,223). That's thanks largely to Jackson's historic season, as he became the first player ever to throw for more than 3,000 yards (3,127) and run for 1,000 (1,206) in the same season.
Chiefs-Texans Preview
The Chiefs-Texans AFC Divisional matchup is a rematch of a regular-season contest, which featured Deshaun Watson leading Houston to a fourth-quarter rally and a 31-24 victory at Arrowhead Stadium.
Despite that, oddsmakers installed the host Chiefs as 7-point favorites, and that number ballooned by Sunday to 10 points at FanDuel and 9.5 points at DraftKings.
Kansas City ended the season on a six-game winning streak to finish with a 12-4 record. The Chiefs also earned a first-round bye after New England fell in its final game of the regular season.
Not coincidentally, the winning streak started one week after quarterback Patrick Mahomes returned after missing two games because of a dislocated kneecap.
Mahomes told reporters that during the streak, the team has performed better than it did in 2018, when it won eight of its first nine and also finished with a 12-4 record.
"I think it's just a different variety of ways of winning is the biggest thing this year," he told reporters last week. "We've won games, obviously, putting up points and doing those different things this year. But we've won games where the defense has stepped up and kind of controlled the game for us."
The 2018 Chiefs featured a top-scoring offense that helped offset a 24th-ranked defense. This year's squad features an offense that produced the sixth-most yards and a defense that yielded the seventh-fewest points.
During the streak, KC held three opponents to less than 10 points, and two more to under 17.
Super Bowl Futures Odds Update
Baltimore remains the consensus favorite to win the Super Bowl. The Ravens odds remain unchanged at +200 over at DraftKings, while FanDuel has shortened them slightly since last week to +190. The Chiefs have since gone from +450 to +350 at both books in the past week.
Tennessee and Houston still have long odds to hoist the Lombardi Trophy. DraftKings offers the Texans at +2500 and the Titans at +3000, while FanDuel lists both at +2900.
For odds on NFC teams, click here.
Similar Guides On This Topic