Houston Rockets NBA Odds Shorten on Chris Paul for Russell Westbrook Trade
Posted on: July 12, 2019, 12:34h.
Last updated on: July 12, 2019, 01:04h.
The odds on the Houston Rockets winning the team's first NBA championship since 1995 are becoming shorter in Las Vegas following the bombshell trade for superstar point guard and 2017 MVP Russell Westbrook.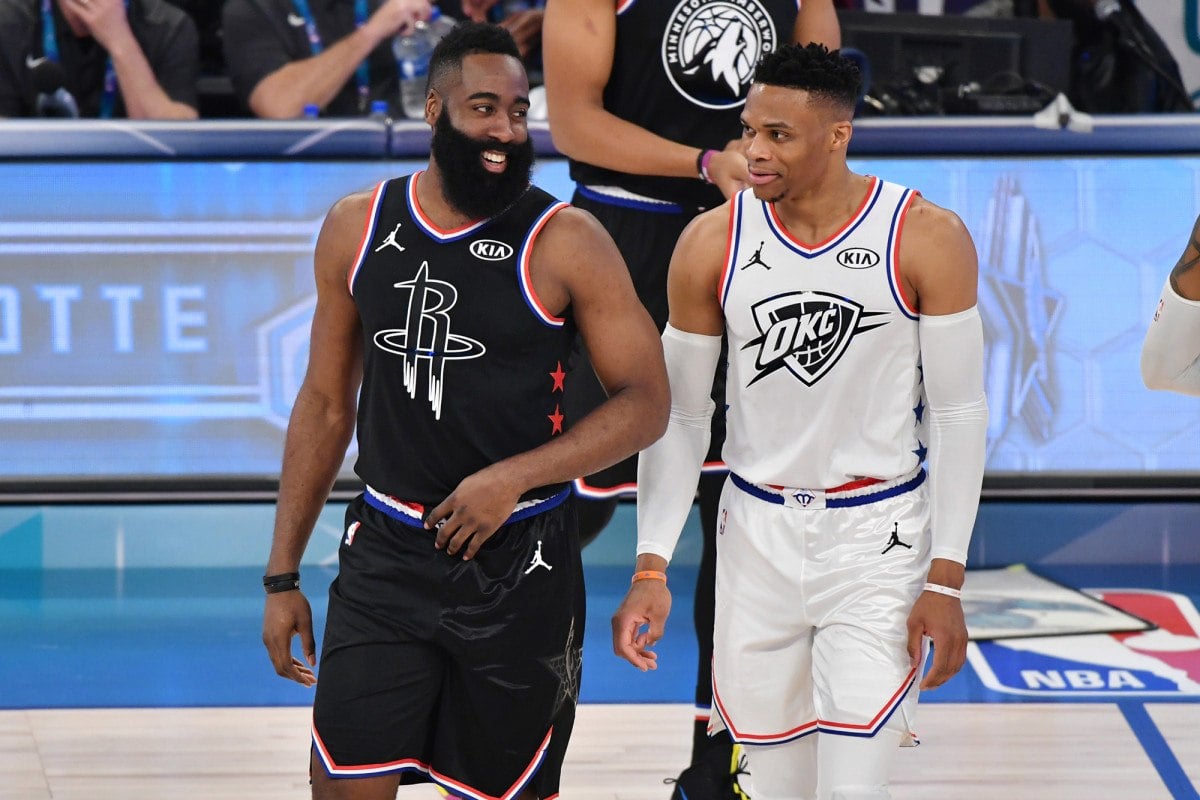 Westbrook will reteam with another MVP, James Harden, who won the award in 2018. The two played together in Oklahoma City for three seasons before the Oklahoma City Thunder traded Harden to Houston in 2012.
As a result, the Westgate SuperBook has dropped Houston's odds of winning the Larry O'Brien Trophy from 12/1 to 8/1. Those odds increase the team's implied chances of winning from 7.7 percent to 11.1 percent. A $100 bet and a Rockets title would now net $400 fewer dollars.
We're excited to have Russell Westbrook," Rockets owner Tilman Fertitta told Houston's Fox 26. "I would watch him play for Oklahoma City, and he's so athletic."
Fertitta added, "At the same time, this franchise just had the two years with the most wins it's ever had in consecutive years, and we wouldn't have accomplished that without Chris Paul. Chris Paul is unbelievable, and he's going to be sadly missed."
Worth an estimated $5.2 billion by Forbes, Fertitta bought the Houston Rockets for $2.2 billion in 2017. The Texas businessman owns the Golden Nugget line of casinos.
NBA Shootaround
The 2019-20 NBA season will be much different than in years past. Numerous superstars will be with new teams, and as a result the Las Vegas NBA odds are altering.
Notable Transactions
Kevin Durant to Brooklyn Nets
Kyrie Irving to Brooklyn Nets
Kawhi Leonard to LA Clippers
Paul George to LA Clippers
Anthony Davis to LA Lakers
Al Horford to Philadelphia 76ers
The SuperBook has the Clippers the favorites for next year after landing Leonard, the 28-year-old small forward who led the Toronto Raptors to their first title last month. The two-time Finals MVP joins George in Los Angeles, and are at 7/2 to win the championship next June.
A $100 bet nets just $350 on the Clippers. The Lakers and Milwaukee Bucks are next at 9/2, and Rockers and 76ers rounding out the top five at 8/1.
Golden Boys Regroup
It will be a new-look Golden State Warriors next season. Not only will the Splash Brothers have a new arena to play in, but they'll also not be afforded the luxury of playing with Durant.
With KD, we had three straight Finals appearances," Steph Curry told ESPN this week. "We won two of them, and we accomplished a lot as a group. Everybody talks about the amount of talent that we had on that team, but that doesn't guarantee that you can figure it out on the court, that you can put all the pieces together to be successful."
There's still plenty of talent for the Warriors to again make a deep playoff run. The SuperBook has Golden State at 12/1 for the championship.
"I'm excited, to be honest with you. Five straight years in the Finals and we've accomplished a lot, and three championships. There's a lot to be proud of. But everybody wants a new challenge in terms of how do you get back to that level," Curry concluded.