Harrah's Cherokee Casinos Tap Actor-Comedian David Koechner for Ad Campaign
Posted on: August 1, 2023, 02:12h.
Last updated on: August 1, 2023, 11:26h.
Harrah's Cherokee Casinos in Cherokee and Murphy, NC, have hired actor and comedian David Koechner to headline a new regional marketing campaign. The program wil be promoting all the party capabilities that await guests at the two tribal resorts.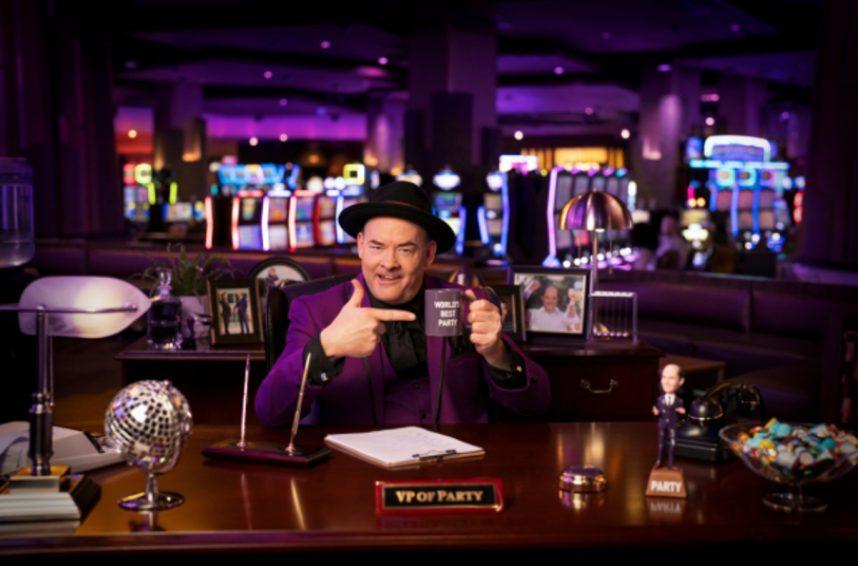 Dubbed the "VP of Party," Koechner stars in the cross-channel advertising campaign that highlights the two casinos owned by the Eastern Band of Cherokee Indians. Caesars Entertainment operates the resorts on the tribe's behalf.
San Diego-based advertising agency 62Above told Casino.org this week that Koechner is the new celebrity spokesperson for the tribal casinos. The campaign positions the actor-comedian in the role of "Vice President of Party," a comical, obviously fictional casino employee whose primary job responsibility is ensuring that guests let loose while staying at the properties, located in the rural southwestern part of the Tar Heel State.
62Above Creative Director Erik Dargitz explained that the campaign builds on Harrah's Cherokee Casinos' "Put On Your Party Hat" campaign, which has "become part of the ethos" at the tribal resorts.
'Office' Star Ready to Party
Koechner has appeared in more than 120 movies and television shows. His most famous roles are playing the fictional Todd Packer on "The Office" and Champ King in the "Anchorman" movies.
In his latest role as the "VP of Party," Koechner's character introduces viewers to all that Harrah's Cherokee Casinos have to offer. Koechner showcases the casino floors, numerous restaurants, bars, nightlife, and other entertainment. The Harrah's Cherokee Casinos consist of Harrah's Cherokee in Cherokee and Harrah's Cherokee Valley River in Murphy.
The television commercial spot opens with Koechner in character sitting at a desk with a nameplate that reads "VP of Party." Beginning Wednesday, August 2, Harrah's Cherokee guests will have the opportunity to take social media-ready photos at the desk and use the same props afforded to Koechner, including a party hat, disco ball, and "World's Best Party" mug.
With eccentric props … and a backdrop of the casino, guests will be able to promote themselves to VP of Party," the 62Above release hyped.
"We are excited to have David Koechner as the face of our new campaign encompassing television, print ads, and digital content that encourages visitors of our two properties to have a good time," said Brian Saunooke, regional vice president of marketing at Harrah's Cherokee Casinos. "His fun personality and sense of humor pair perfectly with the vibrant and exciting atmosphere guests will experience with us."
The integrated campaign is running across all media channels, including TV, digital, social media, and billboards in North and South Carolina, Georgia, and Tennessee.
Competition Forthcoming
Harrah's Cherokee Casinos are facing new competition by way of temporary casinos in Southern Virginia. Hard Rock opened a temporary casino in Bristol, Va., in July 2022, and Caesars Entertainment opened an interim casino space in Danville this past May.
Hard Rock International, owned by the Seminole Tribe of Florida, is spending $400 million to construct a permanent resort called Hard Rock Hotel & Casino Bristol. The resort is being built at the former Bristol Mall.
Caesars is spending $650 million to build Caesars Virginia in Danville.
Both properties are expected to pull some gaming money from Harrah's Cherokee Casinos. Harrah's Cherokee is about 150 miles, or a two-and-a-half hour drive, from Bristol. Danville is considerably farther at about four hours, or 260 miles.