NSFW: Fantasy Sports Sites Blocked at US Workplaces Including Fortune 100 Company
Posted on: October 2, 2019, 12:52h.
Last updated on: October 2, 2019, 02:40h.
Fantasy sports remains popular in the US despite the expansion of legal sports betting. But workers trying to access their weekly lineups while on the job are encountering internet barriers while using employer-supplied computers and devices.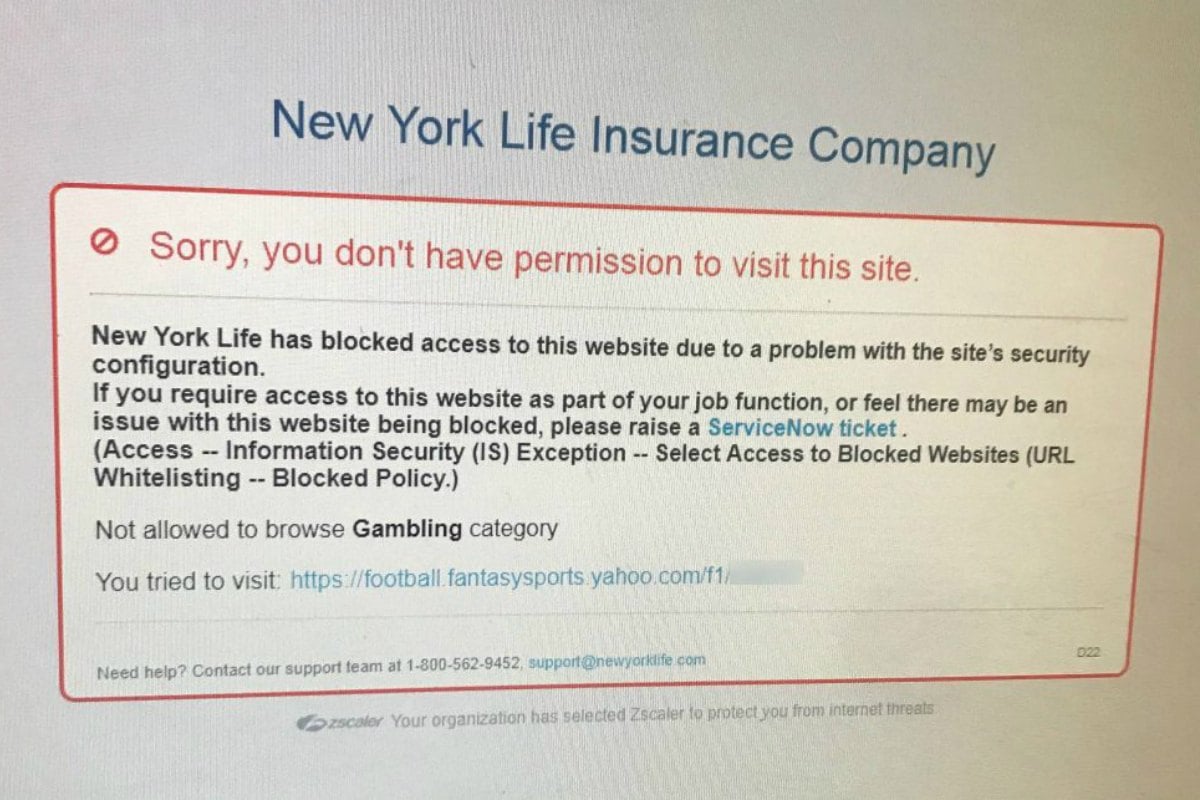 New York Life Insurance, No. 71 on the Fortune 500 – the list of the largest US corporations in terms of total revenue – began blocking access to DFS sites this week for its more than 11,000 employees.
A report posted to Ladders.com, an online job search site for careers featuring salaries of at least $100K, says New York Life staffers were "stunned" Monday morning when they found Yahoo Sports' DFS site inaccessible.
Sorry, you don't have permission to visit this site," a message read to employees trying to access football.fantasysports.yahoo.com. "Not allowed to browse Gambling category."
"New York Life has blocked access to this website," the notification added. Workers were instructed that if "you require access to this website as part of your job function" to contact the IT department.
Time Waster?
The Fantasy Sports & Gaming Association says 59.3 million people played a fantasy sports contest in 2017 in the US and Canada. Sixty-seven percent of those individuals had a full-time job, spent an average of $653 on DFS, and 70 percent participate in a season-long league. The most popular sport, of course: football.
The debate remains regarding a company blocking access to sites that seem rather unrelated to the job at hand.
Challenger, Gray & Christmas, Inc, an executive placement and business coaching firm, estimates that fantasy sports will cost employers $9 billion as a result of employees researching and assembling their teams on company time.
"While the cost to employers seems high, it likely will not affect any individual company's bottom line," Challenger President Andrew said in a release. "[It] can be a boost to a company's bottom line in terms of higher morale and lower turnover."
The firm estimates workers spend 30 minutes a day on DFS activities. Nielsen Sports saying 12.5 million US adults will play fantasy football this year.
In its cost projection, Challenger uses an average $27.98 hourly wage. "If players spend 2.5 hours on fantasy football each week over the 17 weeks of the pre- and regular seasons, the cumulative loss totals $9,022,675,625," the study said.
Fantasy Sports Prevalence
The Supreme Court ruled in May 2018 that the federal sports betting ban was unconstitutional. Nearly 16 months later, and legal sportsbooks are operational in 13 states, with more on the way.
However, DFS contests are being played in 40 states, including in New York, where the life insurance bigwig is headquartered. New York Life certainly isn't the only Fortune 500 company that is banning access to fantasy sports and other gaming websites. Challenger opines that might not be in the corporations' best interest.
These types of distractions can keep workers' creative juices flowing. Fantasy football can provide workers with common ground and a reason to connect when they otherwise would not interact," the study added.
Challenger went so far as to say that companies might even "want to encourage fantasy football leagues within the office."