Genting Receives Approval for Las Vegas Casino
Posted on: May 29, 2014, 05:30h.
Last updated on: May 28, 2014, 12:17h.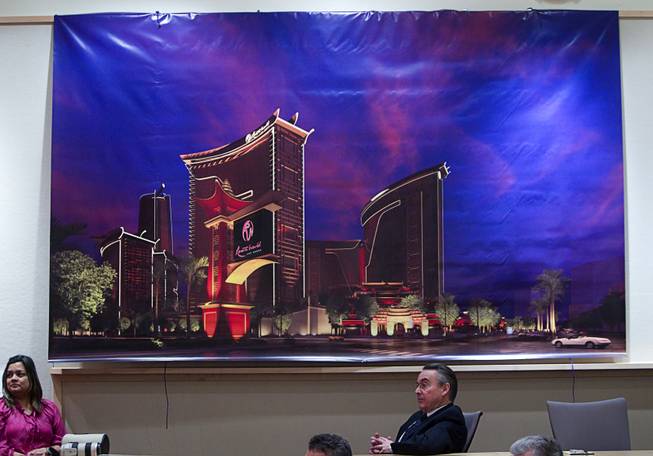 For years, Las Vegas casino giants have been spending billions to invest in the growing Asian gambling market. Perhaps it should be no surprise, then, that Asia might want to return the favor.
The Nevada Gaming Commission has given approval to Malaysia's Genting Berhad – the investment and management arm of the Genting Group – to build a $4 billion resort casino on the Las Vegas Strip. The commission found that Genting was a suitable company to do business in Nevada, granting them the preliminary approvals necessary to do so.
Approval Expected After Positive Meetings
The approval was no surprise. After a two-hour presentation from Genting in early May, the Gaming Control Board recommended that the company receive the approval. Genting's confidence may have been shown by the fact that just two representatives from the company were at the meeting, compared to a full dozen for an earlier presentation.
The more recent meeting went more or less without a hitch – about the only issue raised dealt with fines received by one of Genting's casinos in Singapore for minors being found in the casino, and players exceeding a 24-hour gaming time limit – and seemed to leave commission members impressed.
"It will be a game changer and a new step up (for the Strip), said Gaming Commission chairman Peter Bernhard. He added that Genting "clearly has the financial stability and business probity" to be worthy of licensing in Nevada.
Resort to be Built on Echelon Site
According to company officials, Genting plans to begin construction on the property – known as Resorts World Las Vegas – this summer. The resort will be built on the 87-acre site that previously hosted the Stardust, and where Echelon Place – the unfinished hotel, casino and shopping center built by Boyd Gaming – still stands. Echelon's construction was halted in 2008 after the recession and financial crisis began.
Resorts World Las Vegas will be a long-term construction project that will take multiple stages to complete. During the first phase of development, the resort will be home to 3,000 hotel rooms, a 4,000-seat theater, and a casino with up to 3,500 games. There will also be 30 food and beverage options and a garden attraction that will serve as the "front door" for the venue.
"We want to bring something new to Las Vegas," said Christian Goode, head of Genting's Americas division. "That is the goal on the project."
The presence of the partially built Echelon may come in handy for Genting. The company says that they'll be using 80 percent or more of those buildings in Resorts World. According to Goode, the first phase of the project should be completed in two to three years.
At the moment, Genting has only received a preliminary finding of suitability to hold a state gaming license. They will still need to apply for a full and final license before the resort would be allowed to open.
Genting Group
The Genting Group was established in 1965 by Malaysian entrepreneur Tan Sri Lim Goh Tong. While Genting is perhaps most well-known for their casino and hospitality holdings, they are also invested in oil and gas, biotechnology, power generation and e-commerce businesses. The current CEO is Tan Sri Lim Kok Thay. Genting generated $5.2 billion in total revenues in 2013.