Massachusetts Gaming Commission Allows for Delayed Revere Vote
Posted on: December 23, 2013, 05:30h.
Last updated on: December 22, 2013, 01:27h.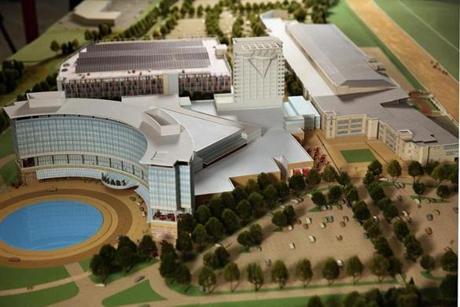 They say the house always wins, and right now, prospective casino operators Suffolk Downs and Mohegan Sun are definitely on a winning streak in Massachusetts. The Massachusetts Gaming Commission unanimously approved a waiver to the standing deadline for operators to file applications – including certified referendum results from their host communities – by the end of the year.
More Time, Next Year
That December 31 deadline was going to be a real problem with the Suffolk Downs casino proposal. While the gaming commission was willing to allow the race track and partner Mohegan Sun a chance to build a casino solely on land in the town of Revere, it also agreed that the original vote taken earlier this year was for a substantially different proposal. As such, a new vote was needed – one that would not be able to be held before the year-end deadline.
The decision was one that the panel said they made in an attempt to be as fair as possible to all sides. On November 5, both East Boston and Revere voted on whether to approve a Suffolk Downs casino that would have been primarily – and almost entirely – located on the Boston side of the border between the two communities. East Boston residents voted against that proposal, while Revere voters overwhelmingly approved it.
That left a lot of outstanding legal questions, the most important of which was whether Suffolk Downs could now build a casino solely on land in Revere, which had approved a casino. The decisions since then have essentially said that the answer is "yes"– but that it will be treated as a unique project that must be re-approved, separately from the previous proposal.
"We have wrestled hard with trying to figure out how to reconcile the 'no' vote in East Boston with the 'yes' vote in Revere, and there is no perfect solution," said Massachusetts Gaming Commission Chairman Stephen Crosby.
The waiver was the closest to that "perfect solution" that the commission could come up with, considering the tight deadline. Mohegan Sun must still file their application as a potential operator by the end of 2013, but a second referendum in Revere will take place sometime in the next 90 days – after the original deadline.
Boston Fires Back
Boston officials opposed the waiver, saying that the vote in East Boston should be "respected and maintained" in a letter to the commission. In addition, incoming Boston Mayor-elect Martin Walsh has said that he hasn't yet ruled out the possibility of taking legal action against this second casino proposal in Revere.
But Revere Mayor Dan Rizzo has expressed confidence that the residents of his city will not only get to vote on the new casino proposal, but that they'll back it with the same kind of support they did the first time around. On November 5, 61 percent of Revere voters agreed to endorse the Suffolk Downs casino proposal, though it's not clear if that support will increase or fall now that the casino will actually be in Revere.
Should the new proposal gain approval from voters and regulators, it will become the second project to compete for the one available eastern Massachusetts casino license. The other casino proposal in that region is located in Everett, and would be operated by Wynn Resorts. That project just passed the suitability quotient of the gaming commission's investigations.
Similar Guides On This Topic
Latest Casino Stocks:
Retrieving stocks data...
Retrieving stocks data...
Retrieving stocks data...
Retrieving stocks data...
Retrieving stocks data...