Full Tilt Accidentally Boasts About New Jersey License That Doesn't Exist
Posted on: January 22, 2015, 11:00h.
Last updated on: January 22, 2015, 12:22h.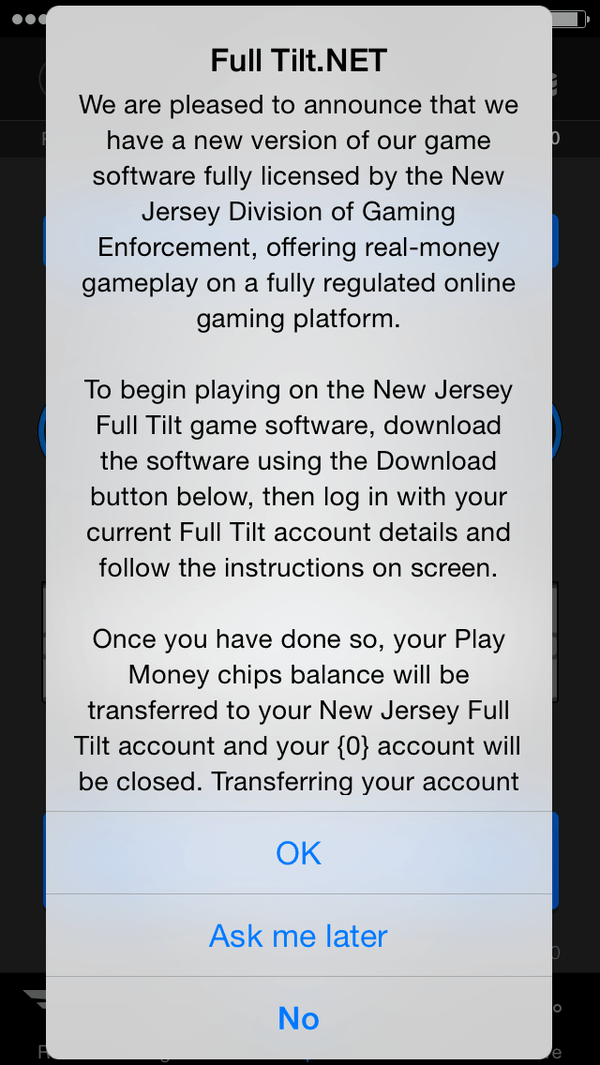 Full Tilt didn't mean it, folks, sorry to get you so excited.
New Jersey poker players have been on high alert these days, as they know that parent company Amaya is trying to gain a license to bring PokerStars and Full Tilt back to the state. So when the Full Tilt mobile app announced that the brand was now licensed for real money play in New Jersey, word got out fast.
Players who logged into the Full Tilt Poker app on Wednesday were surprised to find a message reporting that there was a new version of the software available, one that would allow for real money play in the state of New Jersey.
There was only one problem: there wasn't actually anything to get excited about, at least not yet.
Message Announces DGE Approval for Full Tilt
"We are pleased to announce that we have a new version of our game software fully licensed by the New Jersey Division of Gaming Enforcement, offering real-money gameplay on a fully regulated online gaming platform," the message read. "To begin playing on the New Jersey Full Tilt game software, download the software using the Download button below, then log in with your current Full Tilt account details and follow the instructions on screen."
The message gave sudden hope to some players who have been waiting for Amaya to finally gain approval in the Garden State. However, more knowledgeable players had to immediately wonder if there wasn't something amiss: after all, the licensing of PokerStars and Full Tilt would have been a major announcement, not something revealed by a pop-up on a mobile app.
Quickly, videos and photos were posted showing players who were able to get the message to pop up on their phones. But they found that they were unable to actually download the software, with some reporting that they were taken to iTunes where no software was put on their phones.
Amaya Says Message Was in Error
Before too long, Amaya responded to questions about the message, saying that it had been in error.
"We're looking into the errant message re NJ license," tweeted Eric Hollreiser, Head of Corporate Communications for the Rational Group. "It is an error and we are investigating."
That message was the only comment on the issue from either Amaya or the New Jersey DGE, and it's clear that no actual license has been awarded. But just the appearance of such a post is sure to spark some speculation about if and when Amaya will be ready to bring its powerful poker brands to the state.
The most recent opinion, which came from State Senator Raymond Lesniak (D-Union County), suggests that the licensing process could be over by March.
And Amaya is clearly planning for the possibility of gaining licenses: while sending the message out to players was obviously an error, the very existence of a pop-up like the one seen on the mobile app suggests that they expect to be approved at some point in the near future, and that the gaming operator will be ready to go when it happens.
Of course, there's always the possibility that errant messages like this one could be the kind of mistake that gets the DGE to reconsider licensing Amaya yet again. But other than a little embarrassment, it's hard to see any real consequences to the slip-up: if the DGE was moving towards approving the Amaya companies, it should still be only a matter of time before PokerStars and Full Tilt are, for real this time, available in New Jersey.
UPDATE: Rational Group's Hollreiser released this statement to pokerfuse on Thursday:
"Full Tilt has identified and corrected the cause of an inadvertent message in its play money iOS app which incorrectly stated that Full Tilt was licensed and would soon be launching in New Jersey.
We have been developing a real-money mobile poker app that has been submitted to the NJ Division of Gaming Enforcement as part of the review process of our application to offer real money gaming under a NJ DGE license.
Unfortunately, a bug in an update to the Full Tilt play-money poker app inadvertently included a pop-up window alerting players in New Jersey that a licensed real money offering is available. As a result of the bug, a very small number of people were exposed to this pop-up before we resolved the issue.
This was only a message alert – at no time was a real-money app available. No-one had the ability to play real-money games, nor register for the ability to play real money games on Full Tilt.
The bug was identified and fixed within hours of being alerted to the issue.
To be clear, we continue to be in dialogue with State officials but have not been granted permission to participate in real money gaming in New Jersey at this time. We apologize to the NJ Division of Gaming Enforcement and to any players who were inconvenienced by this mistake."