Hacker Group "Anonymous" Targets Terrorists Over Payment Processors
Posted on: November 16, 2015, 03:19h.
Last updated on: November 16, 2015, 03:31h.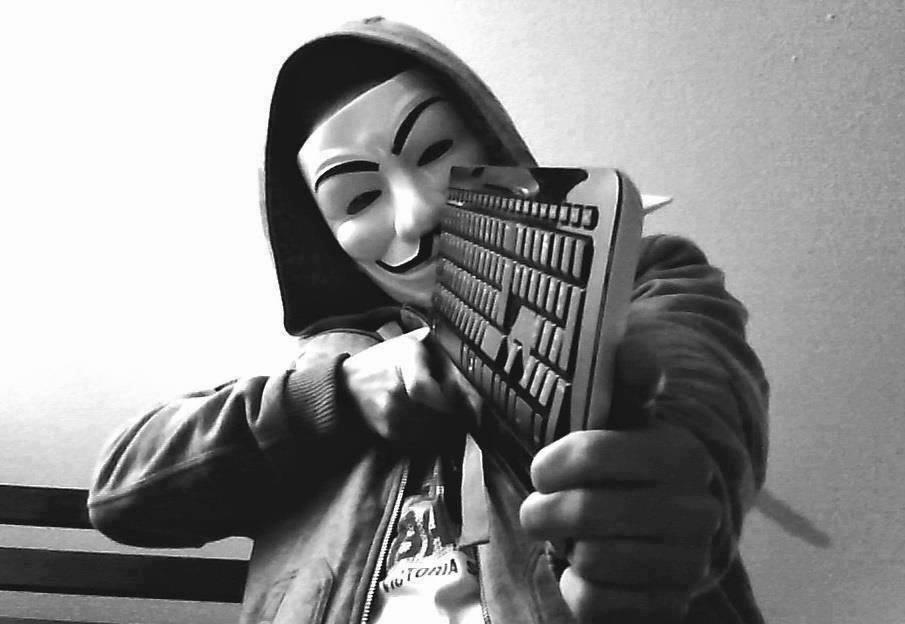 Call them Terrorist Haters Anonymous, if you will. But the group that lives up to its name is for once planning to bring down the bad guys with their own bad boy hacking skills.
Yup, the vigilante collective known as "Anonymous" is going to war, and they're going in with a kind of cyber-Robin Hood promise this time.
The Internet hackers posted a video declaration against terrorist group Islamic State of Iraq and Syria (ISIS) over the weekend, claiming the self-proclaimed perpetrators responsible for the attacks in Paris will be "hunted down" and stopped in their cyber tracks.
Online communications, apparently now largely moved onto gaming platforms in a "peer-to-peer" mode that is inaccessible to law enforcement without obtaining warrants, have been the primary mode for planning these global and deadly attacks, according to media sources.
Gaming World Knows DDoS Attacks All Too Well
While obviously no one would mind if Anonymous succeeds at disabling its victims and greatly hindering their operations, the gambling community has also become familiar with other (often unidentified) proficient computer hackers disrupting operations at both land-based and online casinos.
In 2009 and 2010, two separate incidents compromised popular online gambling payment processors Moneybookers and Neteller, with an untold number of addresses, emails, telephone numbers, birthdates, and password hints stolen.
Last year, Iranian hackers angered by Sheldon Adelson's pro-Israel position infiltrated network servers at the billionaire's Sands Bethlehem resort in Pennsylvania, effectively shutting down the casino. And in July, a series of Distributed Denial of Service (DDoS) assaults sent four Internet casinos offline in New Jersey for some 30 minutes.
Hackers have largely been a disruptive force that costs victims hundreds of millions of dollars each year to defend, but for now the masterminds are putting their skills to good use by going after ISIS, a group condemned by all 28 member states of the North Atlantic Treaty Organization (NATO).
Yes, ISIS Tweets
ISIS is a radical group that resides in the Iraq desert, primarily Ramadi, a city it captured once US forces withdrew from the area. ISIS' war-ravaged headquarters isn't without technology, the guerrillas possessing the capability to distribute its messages and claims of responsibility online, as it has reportedly done regarding the Paris attacks.
Distributed through Twitter, ISIS called the bombings and mass shootings in Paris that left more than 130 dead a "blessed attack" and the "first of the storm."
Anonymous responded in its own Internet message, a video showing a representative donning the group's Guy Fawkes mask saying, "Anonymous from all over the world will hunt you down … We will launch the biggest operation ever against you.
"The French people are stronger than you and will come out of this atrocity even stronger," the hackers concluded.
Consequential Results
The Anonymous collective's wishes to disrupt the online operations of ISIS could be significant. The first line of ISIS recruitment is performed through the Internet, the group maintaining a 24/7 social media presence that relies on its sympathetic followers to spread its messages and viewpoints.
"As part of its quest to terrorize the world, ISIS has mastered an arena no terrorist group had conquered before: the burgeoning world of social media," authors Jessica Stern and J.M. Berger wrote in their book on Islamic extremism, ISIS: The State of Terror.
A report in March by the Brookings Institution found upwards of 2,000 pro-ISIS Twitter accounts that were highly active, tweeting an average of 50 messages each day. Saudi Arabia, Syria, and Iraq were the top three claimed locales of the tweeters, but concerning to Americans is the fact that the United States was fourth.
Twitter doesn't reveal why or when it chooses to disable an account. "Is it ethical to suppress political speech, even when such speed is repugnant?" Brookings asks.
Anonymous is planning to answer that question on its own terms. Gamblers can only hope that other such cyber hackers turn their attentions elsewhere as well.