Former Pittsburgh Steelers Mike Merriweather Suing Area Casino
Posted on: January 1, 2014, 05:30h.
Last updated on: December 30, 2013, 11:13h.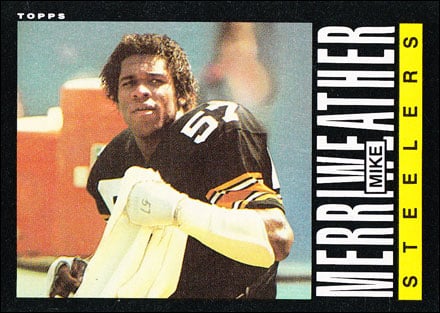 Mike Merriweather was a staple of the Pittsburgh Steelers defense in the 1980s. From 1982-1987, he played with the NFL team, making three Pro Bowl games and recording as many as 15 sacks in a season. He was even named the team MVP in the 1987 season.
Legal Proceedings Against Meadows Racetrack
But that was all long ago, and except among serious football fans, Merriweather's playing career has been largely forgotten. Now, he's making headlines in Pittsburgh for an entirely different reason: his lawsuit against a local casino, alleging that he was unjustly fired from a position due to racial stereotyping.
According to a lawsuit filed by Merriweather, he was hired at The Meadows Racetrack and Casino in April 2011, in order to be the property's director of sports marketing. His job was mainly one of promotion: he would promote special Steelers-themed events, along with bowling and blackjack tournaments. He was paid a salary, along with commissions from the money spent in the casino by clients he personally attracted to The Meadows.
In the lawsuit, Merriweather states that Meadows vice president and general manager Sean Sullivan said the retired player could potentially make over $100,000 a year in the position. Sullivan and Merriweather were teammates at the University of the Pacific, before Merriweather began his professional career.
Racial Discrimination Alleged in Suit
But according to Merriweather, what should have been a social job in a friendly atmosphere soon turned into a nightmare. According to him, white managers started to make comments about him – often, but not always, as jokes – and the casino's treatment of him became progressively worse over time.
"He was a large, obviously fit, black male who was known to have played in professional football, and white co-workers often acted as if they feared him," the complaint states. Managers are quoted as saying things such as "I don't want to get him mad" or "I don't want him to beat me up." If true, the statements were particularly misguided when directed towards Merriweather, who is an ordained minster and has received certification as an anger management facilitator.
Moreover, Merriweather alleges that a superior at the casino repeatedly failed to code the play of clients that Merriweather had brought into the casino, costing him commissions. After bringing his concerns to Sullivan, a group of managers – all of whom were white – stopped replying to his emails or greeting him in the hallways. Eventually, a superior removed Merriweather from an office, forcing him to work in a common area. In January 2012, he was fired from the position.
According to the complaint, the owners of The Meadows (Cannery Casino Resorts and The Washington Trotting Association) violated federal and state anti-discrimination laws. It also accuses those owners of breaking wage laws by withholding commissions that were promised to Merriweather. The lawsuit asks for payment of lost wages, legal fees, and punitive damages.
Spokespersons for The Meadows have not commented on the situation, saying that they cannot comment on litigation in progress.
This is not the first time a Western Pennsylvania casino has been accused of racial bias. Earlier this year, the Rivers Casino was accused of discriminating against black groups who planned events at the casino, as well as eliminating events and promotions that catered to African-American patrons.