Face Masks Remain Optional for Nevada Casino Guests
Posted on: June 15, 2020, 01:14h.
Last updated on: June 15, 2020, 02:09h.
Face masks for guests inside Nevada casinos will remain optional, the Nevada Gaming Control Board (NGCB) confirmed today.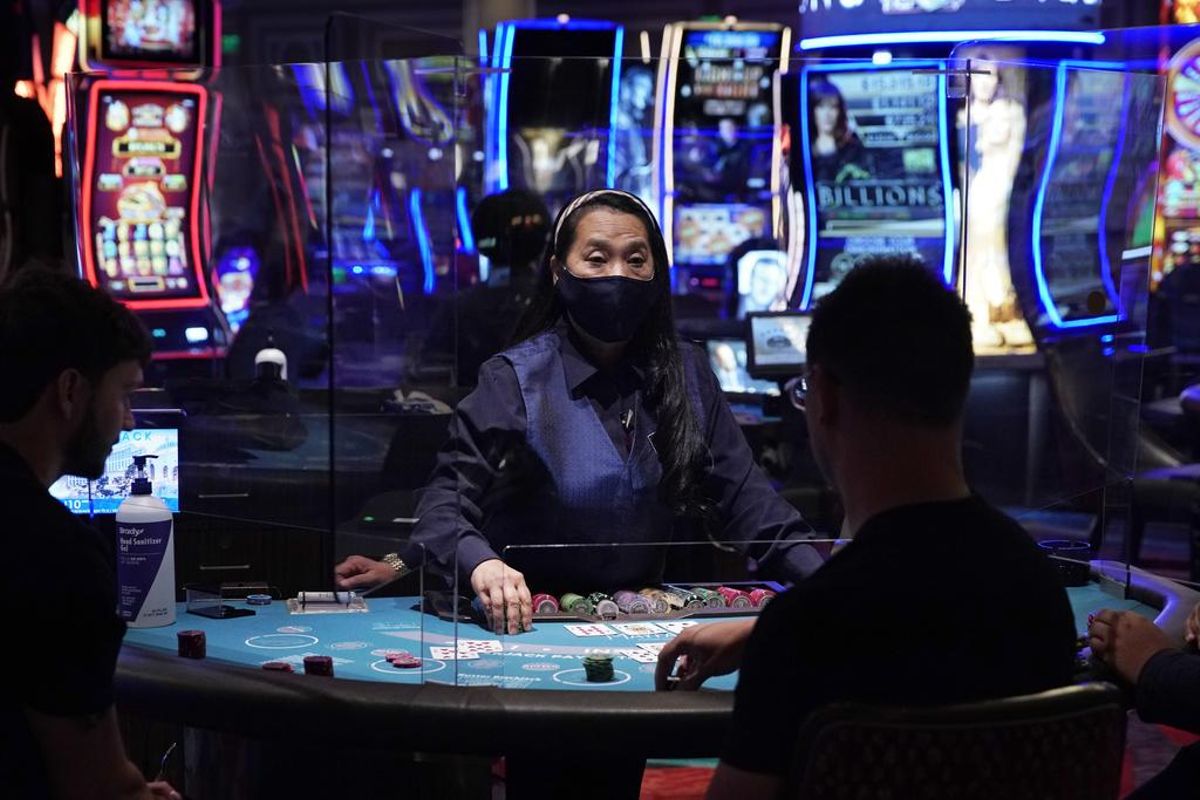 All casino employees must wear face coverings. But NGCB Chair Sandra Morgan told the Las Vegas Review-Journal that guests are not required to, and that isn't changing at this time. Many medical experts say wearing a face mask can help slow the spread of COVID-19.
"Per our current policy, all casino employees must be wearing masks. Licensees must have masks available for patrons and should strongly encourage patrons to wear them," Morgan explained.
These policies were created and implemented based on guidance and feedback from medical professionals and from the state's testing data, testing capacity, and contact tracing," Morgan added. "If that data changes and our percentage of positive cases increase, I would consider additional measures to ensure our healthcare system is not overburdened."
Nevada casinos began reopening June 4. Some people have expressed frustration on social media over the lack of gamblers wearing face masks and adhering to social distancing protocols.
State Encourages Use
Nevada eclipsed 11,000 total number of positive coronavirus cases over the weekend, including more than 200 new cases within the past 24 hours. The Nevada Department of Health and Human Services (DHHS) says Saturday was the state's 10th-highest single day increase.
Last Thursday, Nevada experienced its second-highest increase with 277 new infections, and Friday ranked third at 270.
On Monday, the Southern Nevada Health District (SNHD) said residents and visitors must remain vigilant in combating the coronavirus, explaining that it's "easy to forget that we are still responding to a pandemic."
"The Southern Nevada Health District recommends that people wear cloth face coverings in public, even more importantly, in environments where social distancing is not always possible," a SNHD statement read. "As businesses are reopening, the Health District has issued guidance and recommendations that employees should wear non-hospital grade, cloth face coverings to prevent the spread of COVID-19."
SNHD officials say face masks are "one of the most effective measures … for slowing community transmission of the virus." But certain segments of the population have been reluctant to don such protective gear.
Face Mask Backlash
Wearing a face mask has become a divisive topic in America. Some believe wearing a mask is one's way of protecting others, while another segment sees masks as overkill and unnecessary.
Las Vegas Locally ran a Twitter poll over the last day asking, "Would you be more likely or less likely to visit a Vegas casino if everyone had to wear a mask?" Nearly 70 percent said they would be likelier to visit.
Critics quickly responded to the NGCB statement today regarding not enforcing a face mask policy for guests inside casinos.
Tourists will spend a few days in Vegas, go back home, and infect people in their own communities, and that's where the spikes will be. It's incredibly irresponsible," said one Twitter user.
Another, however, had a vastly different response. "The way it should be. This is the Land of the Free. WE should decide what is best for ourselves. Others can decide if masks are good for them or not."
Similar Guides On This Topic