F1 Las Vegas Grand Prix Pit Building 95% Complete and 100% Renamed
Posted on: October 13, 2023, 01:44h.
Last updated on: October 13, 2023, 02:01h.
Ten months after construction began, the Formula 1 Pit Building is nearing its finish line. The 300K square-foot structure will host the inaugural Las Vegas Grand Prix's start and finish lines, as well as pit lane, team garages, and an ultra-VIP hospitality space.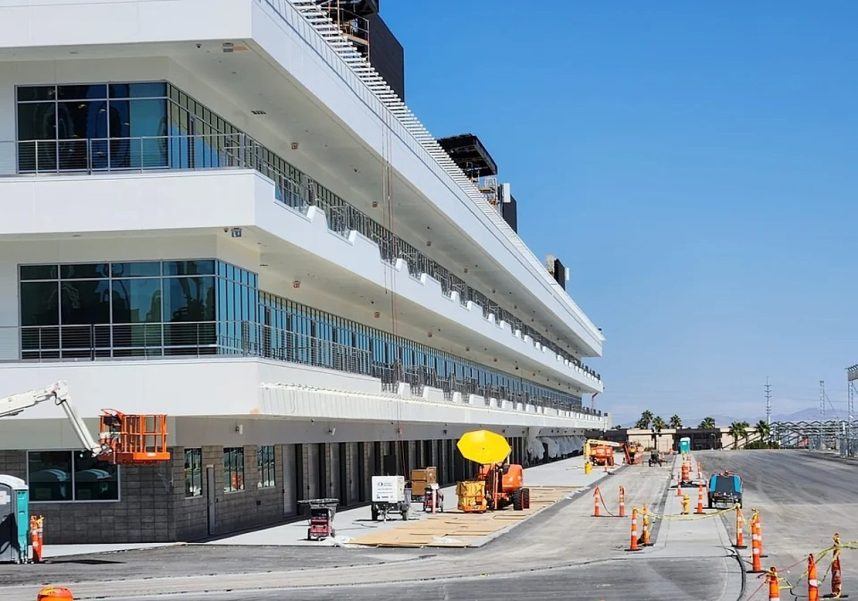 Elsewhere along what is slowly and painfully morphing into the 3.8-mile racetrack, most grandstands are nearly complete, including those across from the Pit Building, and the Bellagio grandstand, where an ironworker died in a gruesome accident on September 23.
There's only one more major green light to catch before the race can begin. During race week, officials with F1 and the Federation Internationale de l'Automobile (F1's governing body) will need to walk every inch of the track together to ensure that it conforms to all rules and regulations.
Since the FIA has been in close contact with F1, visiting Vegas regularly to oversee the track, grandstand, and Pit Building construction, that should only be a formality.
Renaming Controversy
You may have noticed we've been referring to it as the F1 Pit Building when that was not its original name. That's because the Paddock Building, and the Paddock Club therein, have both quietly been renamed by F1.
A paddock is standard terminology for a garage adjacent to a racetrack's pit, where race teams park their vehicles and store equipment.
However, at September's meeting of the Clark County Board of Commissioners, F1 rep Stephanie Allen acknowledged that race officials were aware of the correlation of the word "paddock" with the name Stephen Paddock, who was the gunman responsible for the worst mass shooting in US history during the Las Vegas Route 91 Harvest Festival on Oct. 1, 2017.
Back in March, Casino.org's own Vital Vegas blogger, Scott Roeben, was the first to tweet about the name's cringeful association with Las Vegas.
Other F1 Headaches
People who work on the Strip have been complaining for two months of hourlong waits just to exit their employers' parking garages. Traffic snarls have been most frustrating along Sands Avenue, Koval Lane, and the site of the Pit Building's construction at East Flamingo Road and Harmon Avenue.
Commutes during race week are expected to be much worse when road closures will span nine hours per race day.
The Las Vegas Convention and Visitors Authority (LVCVA) says it's making 4,300 parking spots available to Strip employees at the Las Vegas Convention Center. The LVCVA is also expected to charter 25 shuttle buses, and employees can also park at the Convention Center and ride the monorail, which will run 24 hours a day during race week.
It is not clear whether resorts will cover their employees' monorail fares.
Culinary Union Local 226, which represents 53K Las Vegas hospitality workers, is demanding that resorts cover the extra costs incurred by their employees, and that they be compensated for their elongated commute times.